The global intelligent virtual assistant market was valued at USD 2.62 billion in 2022 and is expected to grow at a CAGR of 24.0% during the forecast period. The demand for improved efficiency in service-based businesses and the incorporation of AI-powered Virtual Assistants (VAs) across multiple devices such as computers, tablets, and smartphones has increased. This increasing trend drives market growth.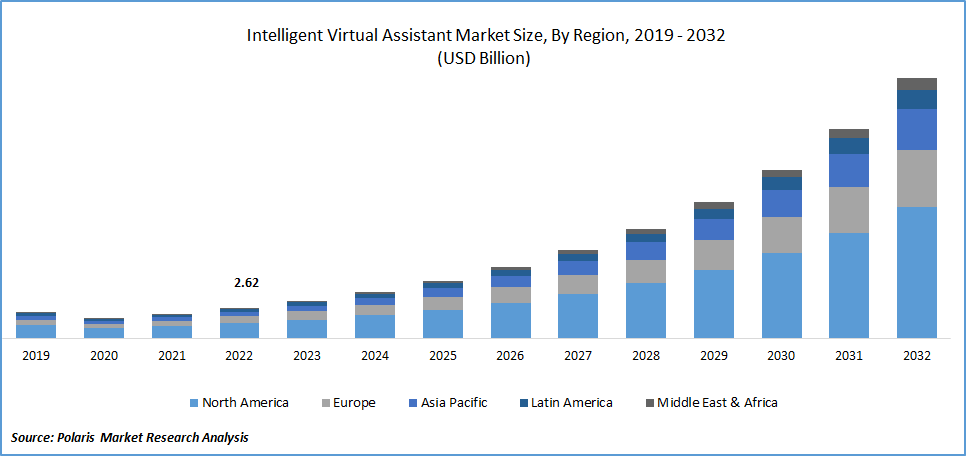 To Understand More About this Research: Request a Free Sample Report
Intelligent Virtual Assistants (IVAs) can perform various customer service functions, including providing product information, simplifying navigation, assisting customers in bill payment, and routing complex queries to human agents in customer service.
The integration of Virtual Assistants (VAs) is becoming increasingly prevalent in financial institutions worldwide, leading to industry growth. VAs offer efficient and versatile business functions across various sectors, such as retail, banking, IT, and automotive. IVA providers are making active efforts to support regional languages and provide specialized VAs for consumers in various regions. These virtual assistants offer improved conversational responses that enhance the customer experience.
IVAs have also contributed to advancements in smart home and security solutions. For instance, Amazon's acquisition of Ring has enabled the integration of voice-based technologies into Ring's home security products. Additionally, the Bring Your Own Device (BYOD) trend and technological advancements have increased remote work, with widely used cloud-based tools such as Skype and M.S. Office Online. As a result, VAS has become essential for remote workers, providing significant growth opportunities for the intelligent virtual assistant market.
Furthermore, IVAs are critical in mitigating driver distraction by enabling voice-enabled commands for various infotainment functions. Businesses are installing AI-based VAs in automobiles that can perform tasks such as recommending locations based on the calendar, reading out emails and messages, and delivering news, thus maximizing driver productivity. for instance, Skoda announced the integration of VAs in its vehicles in September 2019, supporting vocal commands in six languages.
The COVID-19 pandemic caused significant disruptions in various industries, including technology. However, advanced technology solutions are anticipated to play a vital role in responding to the pandemic and continuously evolving challenges. As a result, healthcare and pharmaceutical vendor establishments are expected to invest in R&D and launch AI-enabled products to address the crisis. The pandemic has also prompted businesses to adopt conversational AI tools and virtual assistants to enhance customer service. Chatbots have also been deployed by medical insurance companies and public health institutions worldwide to provide COVID-19 advice to patients.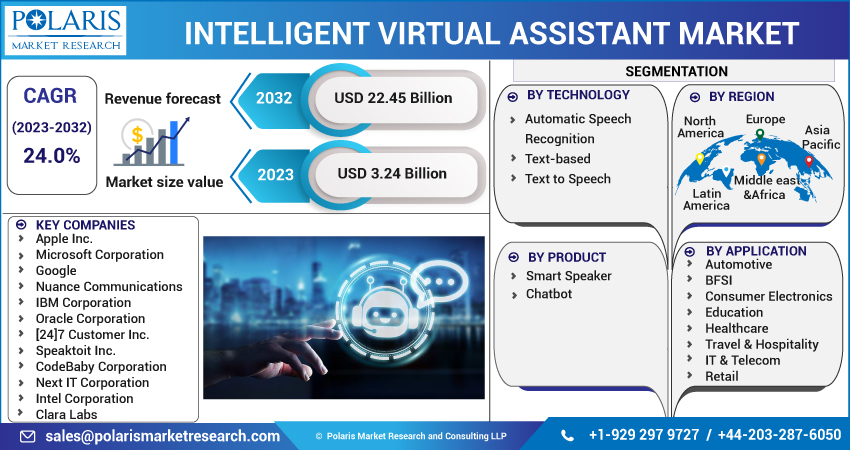 For Specific Research Requirements, Request for a Customized Report
Industry Dynamics
Growth Drivers
The Internet of Things (IoT) is rapidly transforming how users interact with their devices, and the Intelligent Virtual Assistant (IVA) market is no exception. Integrating IoT with IVAs enables more personalized and context-aware interactions, resulting in a better user experience. With the increasing adoption of IoT devices, such as smart homes and wearables, the demand for IVAs that can seamlessly integrate with these devices is also growing.
One of the significant advantages of integrating IoT with IVAs is the ability to control and manage connected devices using voice commands. For instance, an IVA can control smart home devices such as lights, thermostats, and locks. This integration not only enhances convenience but also improves energy efficiency and security. With the growing popularity of smart homes, the demand for IVAs that can work seamlessly with IoT devices is expected to surge.
Another area where IoT integration is revolutionizing the IVA market is in the healthcare sector. IoT-enabled medical devices, such as wearable fitness trackers, are becoming increasingly popular, and IVAs can assist users in monitoring their health by providing personalized insights and recommendations. Additionally, IVAs can assist healthcare professionals in managing patient data and providing remote patient care. With the COVID-19 pandemic highlighting the importance of remote healthcare, the demand for IoT-enabled IVAs in the healthcare sector is expected to increase significantly.
Report Segmentation
The market is primarily segmented based on technology, product, application, and region.
By Technology

By Product

By Application

By Region

Automatic Speech Recognition

Text-based

Text to Speech

Automotive

BFSI

Consumer Electronics

Education

Healthcare

Travel & Hospitality

IT & Telecom

Retail

Others

North America (U.S., Canada)

Europe (France, Germany, UK, Italy, Netherlands, Spain, Russia)

Asia Pacific (Japan, China, India, Malaysia, Indonesia, South Korea)

Latin America (Brazil, Mexico, Argentina)

Middle East & Africa (Saudi Arabia, UAE, Israel, South Africa)
To Understand the Scope of this Report: Speak to Analyst
Automatic speech technology segment is expected to experience the fastest growth over the forecast period
The automatic speech recognition technology segment is expected to experience the fastest growth rate in the coming years due to the widespread adoption of smart speakers in various industries. Smart speakers use speech recognition technology to respond to the speech generated by users in a predefined manner. The increasing global adoption of mobile computing technology is expected to boost the demand for automatic speech recognition, making it easier for customers to interact with their smartphones and applications.
Major smart speaker manufacturers, such as Google Home, Bose, and Amazon Alexa, are based in the United States, resulting in early launches and shipping in the region.
The text-to-speech recognition segment continues its dominance over the forecast period due to the practical application of the technology that benefits educational institutes, consumers, personal users, and businesses. Moreover, it enables owners to respond to the different needs and desires of users and the way they interact with the content. In the meantime, virtual internet assistants are designed to provide a range of customer services, such as marketing, support, order placement, and sales.
Chatbot segment accounted for the largest market share in 2022
The chatbot segment held the largest market share in 2022. Chatbots have been widely adopted in various sectors, such as banking, insurance, retail, and education. They provide ease of operation and access to the required information. The healthcare industry has shown the highest adoption of chatbots as they help physicians, nurses, patients, and their families at different levels of care. Furthermore, the growing number of social media platforms and the need to understand customer behavior are expected to drive the chatbot segment's growth in the coming years.
Meanwhile, the smart speaker segment is expected to grow at the fastest CAGR during the forecast period. Smart speakers are primarily used by residential consumers for daily tasks and have gained significant demand in smart offices and automotive applications. For instance, Amazon's Alexa can control smart appliances, stream music, set reminders and alarms, and turn lights on/off. The demand for a convenient lifestyle has led to the widespread adoption of smart speakers, expected to drive the market in the coming years.
The automotive segment is expected to grow prominently over the projection period
The automotive industry is rapidly emerging as one of the fastest-growing application segments. Integrating virtual assistants with infotainment systems offers personalized content and improves comfort and convenience for users. Daimler, BMW, and Hyundai are among the many companies that have integrated voice-enabled infotainment systems. Amazon introduced Echo Auto, a voice assistant device that enhances the driving experience, in January 2020. Companies invest heavily in developing advanced virtual assistants for the automotive platform to take full advantage of this segment's potential.
In the healthcare segment, virtual assistants foster connectivity and interaction between providers and patients, leading to a surge in demand in this segment. With continuous tracking of patient conditions through their smartphones, virtual assistants capture data through their voices and use natural language processing (NLP) to comprehend patient needs and conditions, providing meaningful data reports. Additionally, hospitals use Interactive Voice Response (IVR) to schedule appointments and request lab results, thereby boosting patient engagement and reducing healthcare inefficiencies. The round-the-clock assistance offered by virtual assistants' further fuels demand.
North America held the largest market share in 2022
The rise of remote working due to the Bring Your Own Device (BYOD) trend has created a demand for Virtual Assistants (VAs) as they speed up work processes, boost productivity, and provide employees with more flexibility. In addition, the healthcare industry in North America has also recognized the advantages of using Intelligent Virtual Assistants (IVAs) to improve the efficiency of healthcare systems. With a projected shortage of 40,000 primary care physicians by the American Medical Association of Medical Colleges, IVAs are expected to help bridge this gap by providing reliable and efficient solutions for health monitoring.
Meanwhile, the Asia Pacific region is expected to witness the fastest CAGR in the market due to the growth of China's retail and consumer electronics sectors. The development of AI-powered IVAs for professional conversations has proven highly effective in delivering services and performing business functions like appointment scheduling and consulting across various industries. Companies are launching products that enable an app or device to act as an AI agent.
Competitive Insight




Some of the major players operating in the global intelligent virtual assistant market include Apple Inc., Microsoft Corporation, Google, Nuance Communications, IBM Corporation, Oracle Corporation, [24]7 Customer Inc., Speaktoit Inc., CodeBaby Corporation, Next IT Corporation, Intel Corporation, and Clara Labs
Recent Developments
In February 2022, TD Securities and IBM collaborated to develop an AI-powered virtual assistant, powered by IBM Watson Assistant, to assist consumers with inquiries on the TD Precious Metals digital shop. The virtual assistant helps simplify the purchasing experience by answering frequently asked questions.

In May 2022, Sonos created a voice assistant called Sonos Voice. The voice assistant will allow customers to play and manage music on the Sonos platform, similar to existing voice assistants that can be used on smart speakers.
Intelligent Virtual Assistant Market Report Scope
| | |
| --- | --- |
| Report Attributes | Details |
| Market size value in 2023 | USD 3.24 billion |
| Revenue forecast in 2032 | USD 22.45 billion |
| CAGR | 24.0% from 2023 – 2032 |
| Base year | 2022 |
| Historical data | 2019 – 2021 |
| Forecast period | 2023 – 2032 |
| Quantitative units | Revenue in USD billion and CAGR from 2023 to 2032 |
| Segments Covered | By Technology, By Product, By Application, By Region |
| Regional scope | North America, Europe, Asia Pacific, Latin America; Middle East & Africa |
| Key Companies | Apple Inc., Microsoft Corporation, Google, Nuance Communications, IBM Corporation, Oracle Corporation, [24]7 Customer Inc., Speaktoit Inc., CodeBaby Corporation, Next IT Corporation, Intel Corporation, and Clara Labs |