The global internet of behaviors market was valued at USD 366.25 billion in 2022 and is expected to grow at a CAGR of 21.8% during the forecast period. The Internet of Behaviors (IoB) is an emerging trend that utilizes data from various sources to develop user behavior models and gain insights into individual behaviors, preferences, and decision-making patterns. By analyzing this data, companies can make more informed decisions, enhance user experiences, and improve operational efficiency. The IoB concept involves gathering data from multiple sources, including online and offline interactions, social media, wearable devices, and other connected devices. This data is then analyzed to create behavioral profiles, which can be used for various purposes such as targeted advertising, personalized marketing campaigns, product development, and improving customer service.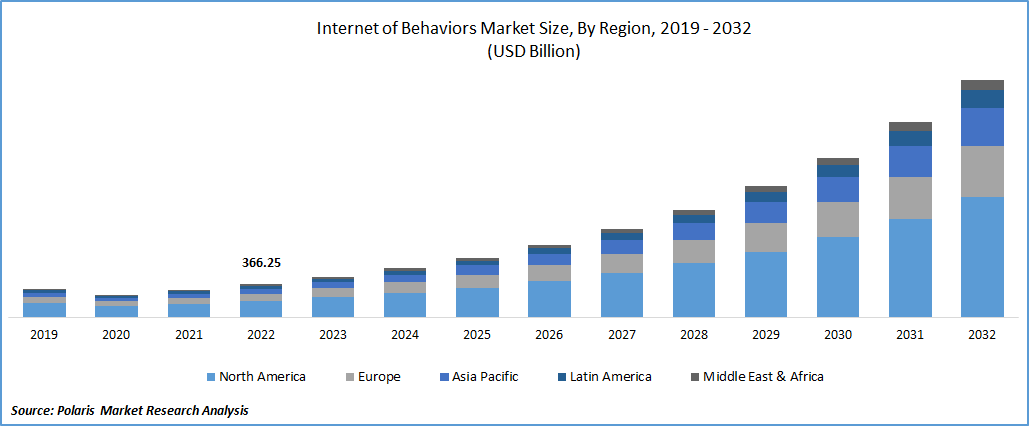 To Understand More About this Research: Request a Free Sample Report
Integrating IoB into decision-making processes allows companies to understand their users better, anticipate their needs, and tailor their offerings accordingly. For example, companies can identify potential churn risks by analyzing user behavior patterns and taking proactive measures to retain customers. Similarly, IoB can help optimize supply chain management by tracking user preferences and demand patterns, enabling companies to deliver products and services more efficiently.
By utilizing IoB applications, e-commerce companies can collect and analyze vast amounts of data on user behavior, preferences, purchase history, and browsing patterns. This data is then used to generate customer preference models, which help predict and understand user interests and buying habits. These models enable companies to offer personalized recommendations, targeted advertisements, and a customized user experience. In the case of Amazon, the use of user behavior models is exemplified through their "suggestions" feature. Amazon's algorithms generate product recommendations displayed in the suggestions field based on the analysis of customer preferences, browsing history, and purchase behavior. By presenting users with products, they are likely interested in, Amazon increases the chances of purchase and enhances the overall user experience.
By tracking browser cookies, search history, location data, and other relevant information, e-commerce platforms can gather valuable insights into user behavior patterns. These data points are analyzed to create accurate user behavior models, which help predict user preferences, interests, and buying behavior. Furthermore, establishing links between all connected devices users use allows companies to create a cohesive and flowing user behavior model. This means that interactions and preferences observed on one device can be seamlessly connected and reflected on other devices. For instance, if a user searches for a product on their mobile phone, that information can be used to provide relevant product recommendations on their desktop computer or tablet.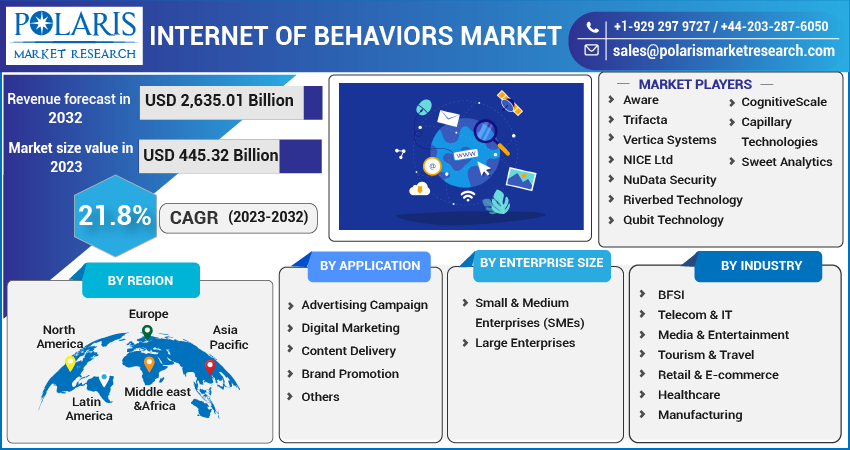 For Specific Research Requirements, Request for a Customized Report
Industry Dynamics
Growth Drivers
In the retail industry, IoB applications are utilized for various purposes, including inventory management and optimizing product layouts in physical stores. By leveraging user data models and analyzing customer behavior, retailers can identify the highest-selling products and strategically plan their inventory accordingly. This helps reduce stockouts, optimize supply chain operations, and improve overall customer satisfaction. Furthermore, IoB enables retailers to create personalized product layouts in stores based on user preferences and buying patterns. By analyzing customer behavior data, retailers can understand which products will attract attention and strategically position them in-store. This enhances the chances of sales and creates a more engaging and tailored shopping experience for customers.
Furthermore, internet of behaviors market is anticipated to advance due to the integration of various technologies such as artificial intelligence (AI), machine learning, the Internet of Things (IoT), augmented reality (AR), and more. These technologies are crucial in analyzing data, identifying behavioral patterns, and generating custom analytical models. The integration of AI in IoB enables companies to effectively research the collected data and interpret it in a structured manner. AI algorithms can identify behavioral patterns, preferences, and trends from the data, which in turn helps generate accurate and insightful user behavior models. This is particularly relevant in sectors such as tourism and travel, manufacturing, and media and entertainment, where the usage of AI is growing rapidly and driving market growth.
Report Segmentation
The market is primarily segmented based on application, enterprise size, industry, and region.
By Application

By Enterprise Size

By Industry

By Region

Advertising Campaign

Digital Marketing

Content Delivery

Brand Promotion

Others

Small & Medium Enterprises (SMEs)

Large Enterprises

BFSI

Telecom & IT

Media & Entertainment

Tourism & Travel

Retail & E-commerce

Healthcare

Manufacturing

Others

North America (U.S., Canada)

Europe (France, Germany, UK, Italy, Netherlands, Spain, Russia)

Asia Pacific (Japan, China, India, Malaysia, Indonesia. South Korea)

Latin America (Brazil, Mexico, Argentina)

Middle East & Africa (Saudi Arabia, UAE, Israel, South Africa)
To Understand the Scope of this Report: Speak to Analyst
Digital marketing segment accounted for the largest market share in 2022
The digital marketing segment accounted for the largest market share. Segment's growth is propelled by the utilization of IoB in creating personalized and targeted marketing campaigns. The availability of predictive data models and the increasing adoption of IoB on digital platforms contribute to the effectiveness and efficiency of digital marketing efforts, driving segment growth in the market.
The brand promotion segment witnessed robust CAGR over the study period. This growth can be attributed to the increasing practice of showcasing personalized advertisements to users based on the data collected and analyzed from their devices. Additionally, companies are utilizing the power of influencers in brand promotion by leveraging the capabilities of the IoBs to analyze factors such as influencer reach and engagement. These factors are anticipated to drive the growth of the brand promotion segment in the coming years.
BFSI segment garnered largest share in 2022
The BFSI industry has the highest revenue share due to the growing need for user-sensitive data to generate application statements and notifications. Banks and financial institutions also use personalized advertisements to attract users to invest in new products and schemes, contributing to the segment's growth. IoBs are expected to be adopted further in the BFSI industry with the smartphone and smartwatch banking trend.
The IT & Telecom segment is expected to grow fastest due to the widespread adoption of smartphones globally. Telecom companies are expected to use IoB to address intense competition and attract users to their services in the future. The IT industry can also use IoB to predict user behavior for targeted advertising and user retention purposes. By analyzing user data and behavior patterns, IT companies can tailor their advertisements and marketing strategies to engage users and improve user retention effectively.
North America dominated the global market in 2022
The global market for IoB solutions is largely dominated by North America due to its well-established IT & telecom companies and high adoption rate of modern technologies. Ongoing technological advancements in the region are expected to further increase the demand for IoB solutions. The growing automobile industry also contributes to this need, as companies can collect valuable driver data to create vehicles that align with customer preferences and enhance the overall driving experience.
APAC has also shown significant growth in the IoB market, particularly in developing countries like India. Smart city initiatives in these countries have utilized IoB to develop smart offerings and improve citizens' quality of life. For example, traffic flow can be optimized by equipping traffic lights with sensors that reduce wait times during low pedestrian traffic. This optimization is achieved by analyzing data such as peak pedestrian times, days of the week, and other relevant factors.
Competitive Insight
Some of the major players operating in the global market include Aware, Trifacta, Vertica Systems, NICE Ltd, NuData Security, Riverbed Technology, Qubit Technology, CognitiveScale, Capillary Technologies, and Sweet Analytics.
Recent Developments
In January 2023, NICE Ltd. and Cognizant entered a strategic partnership to collaborate on efficient customer experience transformation. The partnership aims to leverage technologies such as data analytics, artificial intelligence (AI), and more to enhance customer experiences and drive business growth.
Internet of Behavior Market Report Scope
| | |
| --- | --- |
| Report Attributes | Details |
| Market size value in 2023 | USD 445.32 billion |
| Revenue forecast in 2032 | USD 2,635.01 billion |
| CAGR | 21.8% from 2023 – 2032 |
| Base year | 2022 |
| Historical data | 2019 – 2021 |
| Forecast period | 2023 – 2032 |
| Quantitative units | Revenue in USD billion and CAGR from 2023 to 2032 |
| Segments covered | By Application, By Enterprise Size. By Industry, By Region |
| Regional scope | North America, Europe, Asia Pacific, Latin America; Middle East & Africa |
| Key companies | Aware, Trifacta, Vertica Systems, NICE Ltd, NuData Security, Riverbed Technology, Qubit Technology, CognitiveScale, Capillary Technologies, and Sweet Analytics |