The global intracranial aneurysm market was valued at USD 1.12 billion in 2020 and is expected to grow at a CAGR of 9.9% during the forecast period. An intracranial aneurysm is an expansion of the arteries present in the brain, resulting in blebbing, ballooning, and widening.
Intracranial aneurysm majorly occurs in the artery supplying oxygen to blood vessels of the brain. Smoking, drinking, injury to blood vessels, and genetic predisposition are largely responsible for the formation of a intracranial aneurysm. Current treatment methods include endovascular coiling, medical therapy, and surgical clipping.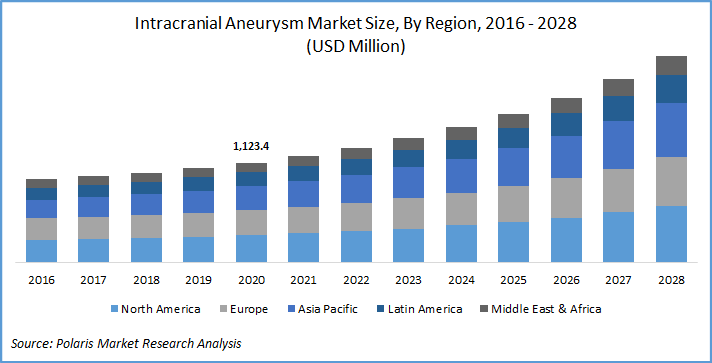 Know more about this report: request for sample pages
Factors boosting the intracranial aneurysm market growth include the rising number of individuals suffering from cardiovascular diseases, faulty lifestyles, and growing patient choices towards minimally invasive surgeries. Faulty and busier lifestyles coupled with hypertension significantly increases the risk of developing such aneurysms.
Currently, a large section of the population who have been smoking and drinking for the last few years, have higher chances of a intracranial aneurysm. For instance, according to WHO, in 2019, around 1.1 billion people were suffering from hypertension. Moreover, the population all across the globe is aging faster than expected, hence, major consumption of intracranial devices is expected to grow over the forecast period.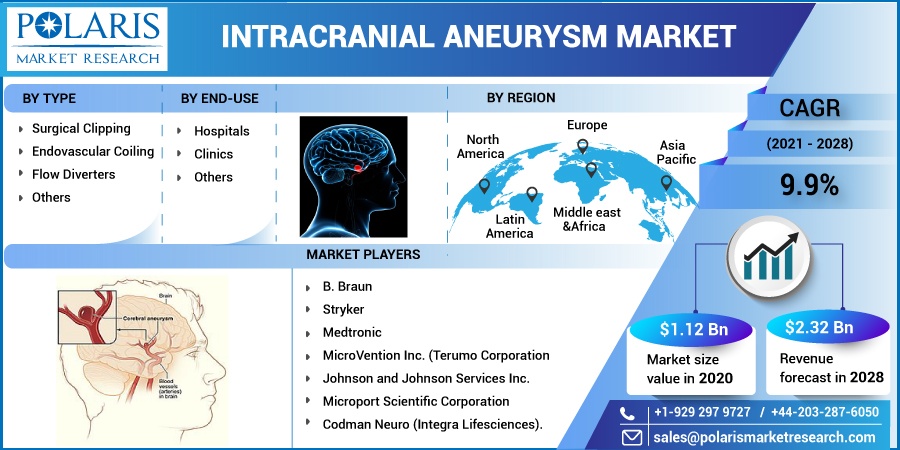 Know more about this report: request for sample pages
Industry Dynamics
Growth Drivers
An increasing number of individuals suffering from high blood pressure and hypertension is expected to be a prominent factor in the market. As per studies of the NCBI, the prevalence rate of intracranial aneurysms among old age people is rapidly rising. According to the WHO, in 2018, it was estimated that the old age population is projected to rise to 2 billion, by 2050. Hence, such a large population base is expected to be a key success driver in shaping the future of the market for intracranial aneurysm.
Nowadays, minimally invasive surgeries among patients are gaining importance, owing to their less risk and complications. Finer and smaller incisions decrease post-operative pain and promote faster recovery, thus led to its rapid adoption and has triggered R&D investments among market players. Big players are investing heavily to introduce minimal invasive devices.
For instance, in December 2019, USFDA has approved the endovascular device, Woven EndoBridge (WEB) for the treatment of the most challenging intracranial aneurysm. WEB is the unique device that allows both flow diversion and aneurysm, a sphere of woven wires, appearing like a spring basket, inserted via a minimally invasive catheter threaded into the aneurysm.
WEB mimics the shape of an aneurysm, preventing blood flow, and allowing blood vessels to heal. The entire surgical procedure takes around 50 minutes, which is much lesser in comparison with traditional interventions. Apart from its ability to decrease procedure time, it reduces patient's time under anesthesia, exposure to radiation and contrast media, and minimizing complications rate.
Intracranial Aneurysm Market Report Scope
The market is primarily segmented on the basis of type, end-use, and region.
By Type

By End-Use

By Region

Surgical Clipping
Endovascular Coiling
Flow Diverters
Others

North America (U.S., Canada)
Europe (France, Germany, UK, Italy, Spain, Netherlands, Austria)
Asia Pacific (Japan, China, India, Malaysia, Indonesia, South Korea)
Latin America (Brazil, Mexico, Argentina)
Middle East & Africa (Saudi Arabia, UAE, Israel, South Africa)
Know more about this report: request for sample pages
Insight by Type
Based on type, the intracranial aneurysm market is classified into endovascular coiling, surgical clipping, flow diverters, and others. In 2020, endovascular coiling held the largest revenue market share. Such segmental market growth was attributed to the growing preference of individuals towards minimally invasive procedures and benefits offered by endovascular coiling. It offers easy access to the vertebra-basilar region for multiple aneurysms within a short recovery time as compared to others. Hence, such benefits are expected to fuel the segment's growth prospects.
The flow diverters market segment is projected to register the highest growth rate over the study period. The consistent launch of products over the last few years have prompted the adoption of flow diverters. For instance, in August 2020, the U.S.-based medical device manufacturer introduced its first 64 wired Surpass Evolve flow diverter, designed specifically to redirect blood flow to promote self-healing of aneurysms. Earlier, in July 2018, Balt received approval for its Silk Vista flow diversion stent to treat unruptured aneurysms. Such initiatives are expected to fruitful results in the future.
Insight by End-Use
On the basis of end-use, the market is classified into hospitals, clinics, and others. In 2020, the hospital market segment is estimated to account for the largest share. Rapid uptake among hospitals is due to the increasing number of surgeries and the presence of funds to buy such market products. These devices not only simplify surgery procedures but also help to provide faster and accurate results. Moreover, these procedures are considered to be amongst the most complicated surgeries and also hospitals are equipped with post-operative complications.
Geographic Overview
North America market is estimated to hold the maximum share in the global market. Regional market factors responsible for such growth include the rising prevalence of intracranial aneurysms in the U.S. and Canada, increasing incidence of hypertension and stroke, and rapidly aging population. Moreover, the presence of robust healthcare facilities in the region also favored its market growth.
As per the market estimates of Neuro Intervention India, in 2017, in the U.S. alone around 6 million people had un-ruptured intracranial aneurysms. It is also being reported that each year, approximately, 30,000 people in the U.S. die with a ruptured intracranial aneurysm. Similarly, as per estimates of the Brain Aneurysm Foundation, in Canada, each year approximately 2,800 to 3,500 individuals suffer from an intracranial aneurysm.
Competitive Insight
Some of the major players operating the market for intracranial aneurysm are MicroVention Inc. (Terumo Corporation), B. Braun, Stryker, Medtronic, Johnson and Johnson Services Inc., Microport Scientific Corporation, and Codman Neuro (Integra Lifesciences).