The global legal AI market was valued at USD 1.51 billion in 2022 and is expected to grow at a CAGR of 18.00% during the forecast period.
The market's growth can be credited to the increasing adoption of automation in various legal applications, including case prediction, compliance, & contract review and management. Law firms and legal departments need help in handling extensive amounts of data & documents. Nevertheless, the adoption of artificial intelligence (AI) techniques has enabled legal firms, legal departments, and government entities to simplify tasks like contract review, legal research, & document analysis.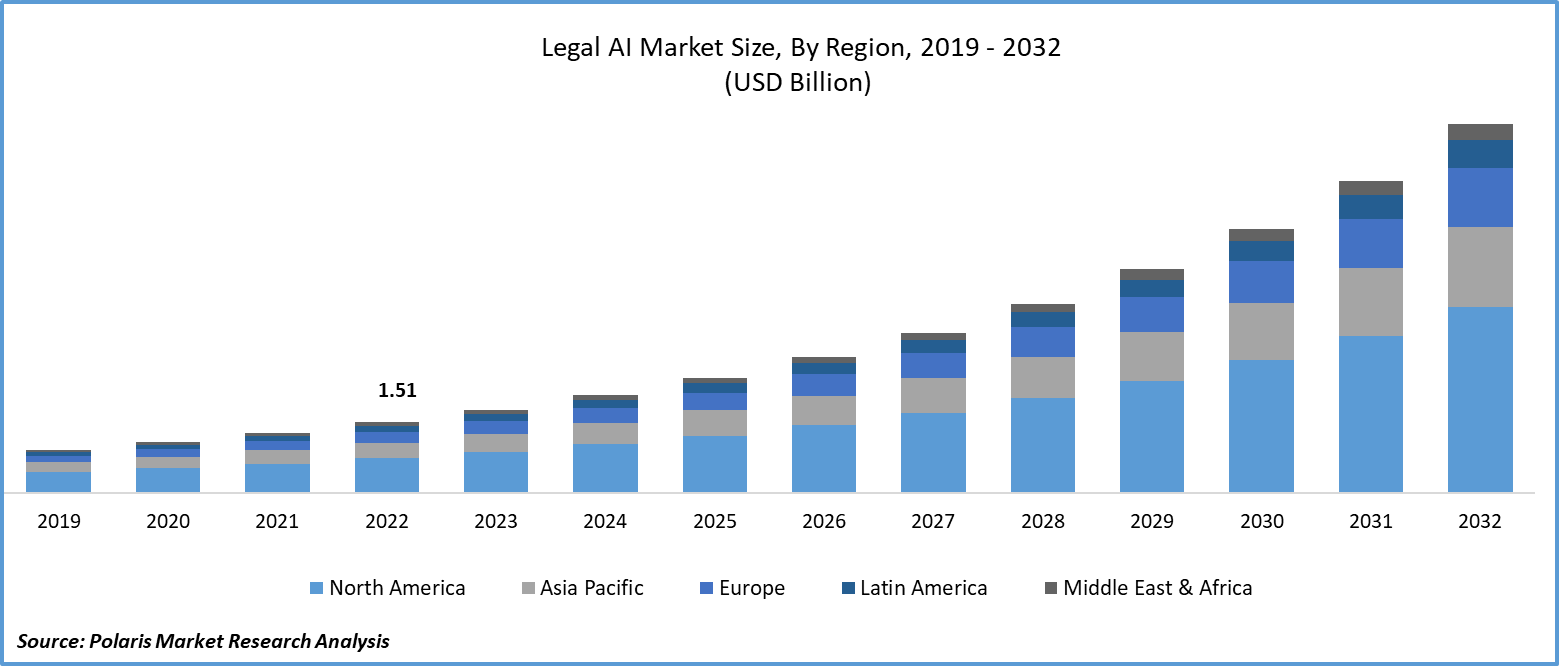 To Understand More About this Research: Request a Free Sample Report
AI algorithms can consistently monitor regulatory modifications, updates, and new legislation in diverse jurisdictions. These AI tools can autonomously detect pertinent changes and issue alerts to legal teams, ensuring they remain well-informed. This enables them to take necessary steps to revise policies, procedures, or practices to remain in compliance. Furthermore, AI has revolutionized compliance within contract management. AI-driven contract analysis tools can automatically extract and assess contract terms, clauses, and provisions, pinpointing potential compliance concerns. These advantages linked to legal AI are driving the market's expansion.
Industry Dynamics
Growth Drivers
Increasing legal workload demands efficiency
The increasing workload and complexity of legal operations, coupled with a heightened demand for efficiency and cost-effectiveness, have positioned Legal Artificial Intelligence (AI) as a significant growth driver in the legal industry. As law firms and legal departments grapple with mounting caseloads, regulatory changes, and the need to provide timely and accurate legal services, AI-powered solutions have become essential tools to streamline processes and enhance productivity. Legal AI offers capabilities like document review, contract analysis, legal research, and predictive analytics, allowing legal professionals to work more efficiently, reduce manual labor, and make informed decisions.
The adoption of Legal AI not only helps law firms and corporate legal departments manage their growing workloads but also significantly contributes to the bottom line by reducing operational costs and improving the quality of legal services. As the legal industry increasingly recognizes the value of AI-driven solutions, the Legal AI market continues to expand, offering a wide range of software and services to cater to the evolving needs of the legal profession.
Data privacy concerns have emerged as a powerful catalyst for the growth of the Legal AI market. In today's digital age, the protection of sensitive information is paramount, with numerous regulations and compliance requirements mandating robust data management and privacy practices. Legal AI, with its ability to analyze vast volumes of data and identify potential privacy breaches, has become indispensable in the realm of data protection. This technology helps legal professionals navigate complex privacy laws and regulations by automating the process of data classification, identifying vulnerabilities, and providing solutions for risk mitigation. The proliferation of data privacy laws like the General Data Protection Regulation (GDPR) and the California Consumer Privacy Act (CCPA) has prompted organizations to seek Legal AI solutions to ensure compliance and safeguard their reputations.
In March 2023, PwC introduced a chat-bot service to support its 4,000 lawyers present in more than 100 countries, aiming to boost their productivity. This trend reflects the growing role of AI in enhancing access to legal assistance and streamlining legal processes.
Report Segmentation
The market is primarily segmented based on component, technology, application, end use, and region.
By Component

By Technology

By Application

By End-Use

By Region

Solution

Services

Consulting Services

Support Services

Others

Natural Language Processing Technology

Machine Learning and Deep Learning Technology

E-discovery

Legal Research

Analytics

Compliance and Regulatory Monitoring

Document drafting and review

Contract Management

Legal Chatbots

Others

Law Firms

Corporate Legal Departments

Others

North America (U.S., Canada)

Europe (France, Germany, UK, Italy, Netherlands, Spain, Russia)

Asia Pacific (Japan, China, India, Malaysia, Indonesia. South Korea)

Latin America (Brazil, Mexico, Argentina)

Middle East & Africa (Saudi Arabia, UAE, Israel, South Africa)
To Understand the Scope of this Report: Speak to Analyst
By Component Analysis
Solutions segment accounted for the largest market share in 2022
Solutions segment accounted for the largest market share. This substantial share can be attributed to the growing utilization of legal AI software to streamline the operations of legal departments. AI-powered software solutions are instrumental in automating and expediting repetitive tasks within legal practices. Furthermore, the introduction of advanced software solutions incorporating features like data analytics, machine learning, predictive modeling, and automation presents significant growth opportunities for this segment.
Services segment will grow rapidly. This growth is primarily driven by the increasing demand for software integration and consulting services in the legal AI market. Additionally, the ongoing need for regular upgrades and maintenance of legal AI solutions is further bolstering the expansion of this segment. With significant investments flowing into the legal AI industry, it is creating attractive opportunities for both professional and managed services providers.
By Technology Analysis
Machine & deep learning segment held the significant market share in 2022
Machine & deep learning segment held the majority market share in terms of revenue. his segment's growth is fueled by the increasing adoption of ML and DL to create advanced algorithms capable of processing vast volumes of legal data, extracting valuable insights, and automating diverse legal processes. ML algorithms have been instrumental in analyzing a wide range of legal documents, including case law, statutes, and regulations. The expanded use of ML technology within legal research platforms has further propelled the growth of this segment.
NLP segment will grow at robust pace. NLP, a subset of artificial intelligence, specializes in the interaction between computers and human language, enabling machines to comprehend, interpret, and generate human language. Within the legal sector, NLP has revolutionized how legal practitioners manage extensive textual data, carry out legal research, scrutinize contracts, and automate various legal procedures. The demand for time-saving and enhanced legal research efficiency has been a significant driver behind the growth of this segment.
By Application Analysis
Analytics segment is expected to witness highest growth
Analytics segment will grow rapidly. This surge in growth is attributed to the expanding utilization of artificial intelligence and machine learning methodologies in legal analytics to extract valuable insights from extensive legal datasets. These insights empower lawyers and legal professionals to make informed decisions, predict potential outcomes, and enhance overall efficiency. Furthermore, predictive analytics has emerged as a potent tool in the legal arena. By harnessing historical case data, court rulings, and pertinent legal variables, predictive analytics models can anticipate potential outcomes in legal cases.
Construction segment garnered the largest share. E-discovery encompasses the processes of identifying, collecting, processing, reviewing, and producing electronic documents and data during the discovery phase of litigation. The expansion of electronic data volumes in the legal industry, driven by digitization, has been a key factor propelling the growth of this segment. Furthermore, the proliferation of digital communication channels and the rise of cloud computing have significantly contributed to the expansion of e-discovery within the legal AI market. The surge in digital data, particularly through cloud-based communication channels, has made manual data management and review increasingly challenging for legal professionals.
Regional Insights
North America region dominated the global market in 2022
North America emerged as the largest region due to increasing demand for efficiency and cost-effectiveness in legal operations, the substantial growth of legal data volumes, and the advancements in artificial intelligence and natural language processing technologies. With a growing emphasis on enhancing efficiency and productivity within the legal industry, law firms and legal departments across the region are grappling with the management of extensive volumes of data, documents, and research tasks. The adoption of AI solutions has emerged as a crucial strategy for legal firms in the region, enabling the automation and streamlining of various aspects of legal work.
Europe region will grow rapidly. The legal landscape in Europe is notably complex, featuring intricate laws, regulations, and compliance requirements across various jurisdictions. Consequently, law firms and legal departments in the region are facing mounting pressure to enhance their operational efficiency while simultaneously reducing costs. The deployment of AI tools has proven instrumental for law firms in Europe, enabling them to automate repetitive tasks such as document review, contract analysis, and legal research. This automation not only saves valuable time but also conserves valuable resources for legal professionals.
Key Market Players & Competitive Insights
Market is witnessing dynamic changes, with both established players evolving rapidly and new entrants gaining prominence. These companies are introducing AI-powered eDiscovery platforms that aid lawyers in the management and analysis of extensive electronic documents during litigation proceedings. Their technology integrates machine learning algorithms to simplify the discovery process and enhance the efficient identification of pertinent information.
Some of the major players operating in the global market include:
Casetext Inc.

CosmoLex Cloud, LLC

DocuSign, Inc.

Everlaw, Inc.

Filevine Inc.

IBM Corporation

Icertis, Inc.

Knovos, LLC

LegalSifter

LexisNexis

Luminance Technologies Ltd.

LAWYAW (Mystacks, Inc.)

Neota Logic

Open Text Corporation

Practice Insight Pty Ltd (WiseTime)

Themis Solutions Inc. (Clio)

Thomson Reuters

TimeSolv Corporation

Veritone, Inc.
Recent Developments
In May 2023, Lex Machina, a subsidiary of LexisNexis, has introduced its API system for state court Legal Analytics in response to high demand. This API system enables users to access court analysis data processing, facilitating smoother integration and workflow.

In February 2023, Allen & Overy, a leading global law firm, has revealed its plans to implement an AI-based solution from Harvey, a legal AI startup. This adoption will involve the firm's 3,500 lawyers and staff using the AI solution to automate tasks related to document drafting and research.

In April 2023, Harvey, a startup specializing in AI solutions and services for law firms, successfully secured USD 21 million in a Series A funding round. These funds will be used to develop new AI systems for the legal industry.
Legal AI Market Report Scope
| | |
| --- | --- |
| Report Attributes | Details |
| Market size value in 2023 | USD 1.78 billion |
| Revenue forecast in 2032 | USD 7.87 billion |
| CAGR | 18.00% from 2023 – 2032 |
| Base year | 2022 |
| Historical data | 2019 – 2021 |
| Forecast period | 2023 – 2032 |
| Quantitative units | Revenue in USD billion and CAGR from 2023 to 2032 |
| Segments covered | By Component, By Technology, By Application, By End Use, By Region |
| Regional scope | North America, Europe, Asia Pacific, Latin America; Middle East & Africa |
| Customization | Report customization as per your requirements with respect to countries, region and segmentation. |