The global linseed oil market size was estimated to be worth USD 924.6 million in 2018 and is anticipated to grow at a CAGR of 2.7% during the forecast period. An increasing application of linseed oil in several industries including food, cosmetics and pharmaceuticals as striking ones, are expected to drive demand. The market dynamics over the past few years have witnessed some changes, one of which is significant demand from variety of end-use industries. Europe has been striving to increase its production and Canada has made a rising comeback into the mainstream market after exports dropped drastically for many years in succession. Linseed Oil is extracted from dry flax seeds through crushing and solvent extraction. It is also called flaxseed oil. Linseed is also digested for human consumption in many countries on account of its nutritive values. It has been gaining popularity in niche segments ever since.
Linseed oil is used in manufacture of numerous products including putty, paints, gliding, wood finish, floorings, national supplement, linoleum and food processing. The oil in association with different types of resins and solvents is used in creating linoleum, impregnators and varnish for various industrial forays. The various medical benefits of the oils have opened one's eyes to its rising adoption in manufacture of nutritional supplements. Studies suggest that the oils are helpful in reducing risk of cancer and cardiovascular diseases. In addition, polymerization property of linseed oil to change form and blend with various solvents and resins as impregnators and linoleum in paints and coatings sectors are forestalled to drive growth. Linseed Oil takes part in production of other oils possessing properties of bonding, grinding, tempering and catalyzed curing.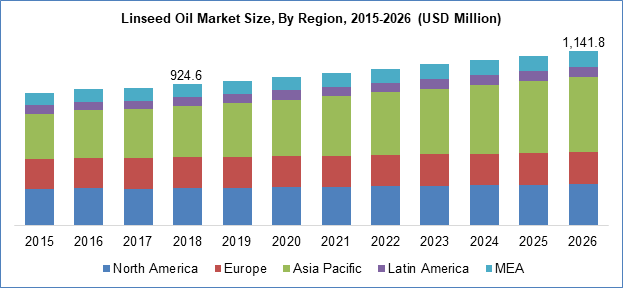 Know more about this report: request for sample pages
The restraints to the oils exist because of some issues pertaining to skin and eye irritations that reflect on it for not being introduced in childcare products. Furthermore, linoleum is fast on its way out with PVC taking its place and this is adversely affecting market for linseed oil.
A majority of flaxseed oil is derived from the most nutritious and disease preventing flaxseed. It is a source of fatty acids and healthy omega-3 components that gives it good reason for substituting it in pharmaceuticals, cosmetics and food products also. Oil consumption is most often faced via healthy or nutrition rich food and bakery products and its share of consumption are increasing worldwide.
The significant benefits of the product include its attribute to help in weight loss, provide relief to diarrhea victims, removes cellulite and eczema, assists in treatment of sjogren and boosts heart health.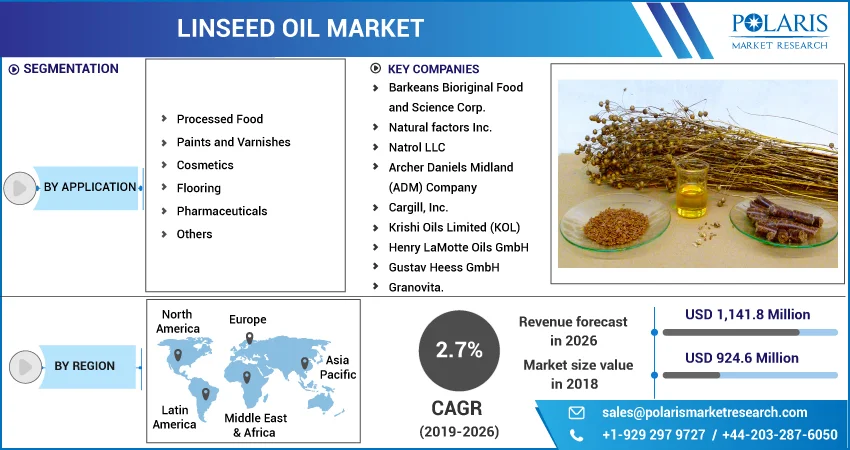 Know more about this report: request for sample pages
Linseed Oil Market Scope
By Application Type

By Region

Processed Food
Paints and Varnishes
Cosmetics
Flooring
Pharmaceuticals
Others

North America
(U.S., Canada)
Europe
(UK, France, Germany)
Asia Pacific
(India, China, Japan)
Latin America
(Mexico, Brazil)
MEA
Know more about this report: request for sample pages
Application Type Analysis
Paints and varnishes are another significant area of application that linseed oil contributes to famously. Traditionally, majority of linseed oil was used in paints, coatings, varnishes and few other industrial applications. Varnishes and paints made from this product are still considered high quality premium category products and were the most durable. The product finds selective use as diluents in paints and coatings. The product's uses extend to its by-products got from flaxseed oil meals that remain after oil extraction and are useful in animal feeds.
Linseed oil coatings and paints are permeable. This gives it the property of not letting the wood under the applied paint from decaying unseen and affecting the quality of the paint for worse. Most linseed oil colors are immune to bad effects of weather. Linseed oil has a small molecular size hence it is easily penetrable into applied surfaces. Linseed oil, in comparison to other colors provides the best possible bond. A unique feature of the bond is that the product increases its mass density after its application and hence prevents wood surface from water entering it. This prevents the wood from rotting. Furthermore, the applied surface is doubly protected from the sun's ultraviolet rays by the paint's own pigmentation.
Regional Analysis
Asia Pacific turns largest market for linseed oil market due to higher consumption. China recorded maximum flaxseeds crushing annually and was product leader in the market. The growing paints and coatings industry in the region is a primary factor driving the industry. China, Russia, Argentina and Kazakhstan are the major producers of linseed or flaxseeds. A copious demand from the regions processed food industry and a significantly fostering demand from pharmaceutical industry plays a crucial role in boosting product growth. The burgeoning population in India and China is also fueling growth for product in the region.
Competitive Analysis
Mergers and Acquisitions are being increasingly taken help from by key players to stay focused in the market. They are hinting at strong R&D efforts in order to pry out new application areas of linseed oils. Imposing favorable regulations on production of oil crops by U.S. Food and Drug Administration (U.S. FDA) will bolster market growth.
The key industry players in this market, Market include Barkeans Bioriginal Food and Science Corp., Natural factors Inc., Natrol LLC, Archer Daniels Midland (ADM) Company, Cargill, Inc., Krishi Oils Limited (KOL), Henry LaMotte Oils GmbH, Gustav Heess GmbH and granovita.