The global medical ceramics market was valued at USD 2.54 billion in 2022 and is expected to grow at a CAGR of 5.7% during the forecast period.
Medical ceramics commonly referred to as bioceramics are macro levels and nanomaterials employed in dental and other medical uses as well as for injured bone structures. They provide endurance, inertness, non-toxicity, hardness, high compressive strength, reduced friction coefficient, resistance to wear and chemicals, and inertness. They are widely used in x-ray tubes, temperature sensors, dentistry screws and bridges, joint replacement femoral head implants, screwdrivers, valves, and fillers. Medical ceramics are also frequently employed in hospitals, clinics, and ambulatory surgical centres (ASCs) around the world because they help replace body tissue in the hip, knee, joints, craniomaxillofacial, and spinal regions.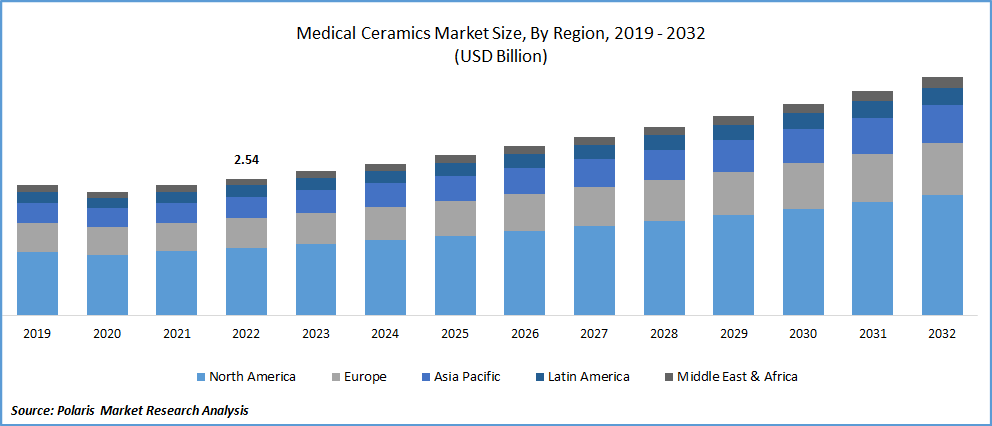 Know more about this report: Request for sample pages
The market is being driven by growing demand for minimally invasive surgeries as a result of the increase in surgical procedures. One of the key factors fueling the growth of this market is the increase in the number of medical procedures requiring implants, such as orthopaedic implants and dental treatment. For instance, the National Center for Biotechnology Information reported in December 2021 that the knee was the most frequently damaged joint in adolescent athletes, with an anticipated 754,000 knee arthroplasty (replacement) surgeries performed globally in 2021.
Furthermore, the European Commission estimates that 450,000 hip replacement surgeries were performed worldwide in 2019. Technical ceramics are becoming more and more used in endo-prosthetics due to their superior frictional qualities on the order of 0.5 to 1.0. There is an increasing demand for medical ceramics items including dental screws and bridges, valvular, and femoral head implantation for hip replacement due to the rise in trauma instances as a result of slips, trips, and falls and the necessity for medical intervention (orthopaedics). This emerging hip & knee replacement procedure is expected to boost the adoption of minimally invasive surgical instruments as its offers higher safety and efficiency as compared to traditional methods.
Additionally, a significant rise in the number of qualified surgeons who provide patients with safe care is encouraging market expansion. In addition, the growing awareness among people of the importance of their physical appearances and the aesthetic advantages of cosmetic surgery operations is fostering market expansion. However, the great brittleness of medical ceramics causes unexpected fractures, and the fragments of those fractures may later attach to delicate tissues and create problems.
Three key ways that COVID-19 has impacted the economy are: by directly influencing the supply and demand for medical ceramics; disrupting the medical ceramics distribution networks. Many nations experienced difficulties moving medical ceramics from one location to another as a result of widespread lockdowns.
The COVID-19 epidemic, however, had a bad effect on the global medical ceramics industry since fewer orthopaedic and dental implant procedures were performed. The cancellation of elective surgical cases and the postponement of interventional orthopaedic procedures and operations occurred at the same time as this considerable change in a clinical role. These cancellations are made for two reasons: first, to lower patient and provider COVID-19 exposure; and second, to save personal protective equipment and other priceless resources.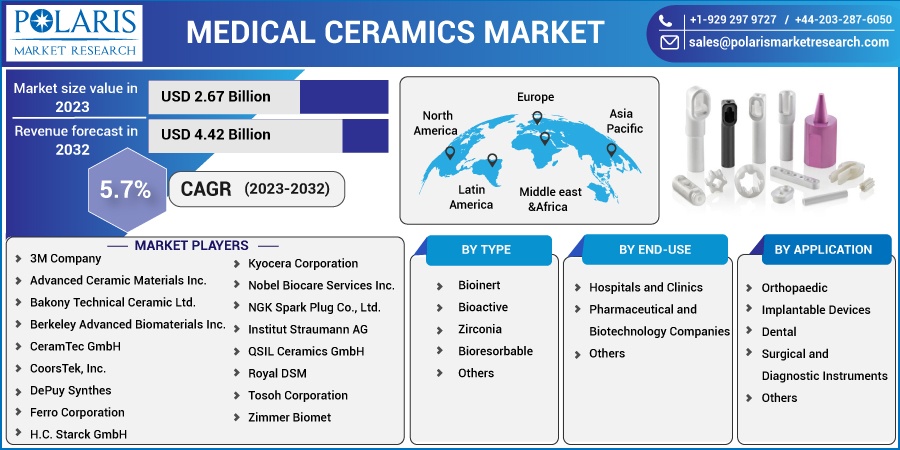 Know more about this report: Request for sample pages
Industry Dynamics
Growth Drivers
One of the main elements supporting the global demand for medical ceramics is the rising incidence of cardiovascular illnesses (CVDs) and musculoskeletal diseases. Cardiovascular diseases, including cancer and heart attacks, are now the world's leading cause of mortality. The main causes of the widespread of these illnesses include poor air quality due to high CO2 emissions, inadequate plastic management, farmer stubble burning, prolonged sittings, weakened immunity, and bad eating habits. On the other hand, 1.7 billion people worldwide have musculoskeletal difficulties, according to a report issued by the World Health Organization (WHO) in 2021. The greatest burden was caused by lower back problems, which affected more than 500 million people. The market for medical ceramics is expanding as a result of all the aforementioned factors.
Medical Ceramics can also be ascribed to the growing elderly population, who are more prone to suffering from serious medical conditions. The Economic Times reported that by 2050, there will be around two billion people over the age of 60, an increase of almost 20%. This is going to lead to a surge in bone-related conditions where medical ceramics are utilised extensively, such as joint replacement, osteoarthritis, and back discomfort, which will impressively drive the medical ceramics market. Older people are more likely to develop osteoarthritis (OA), the most common kind of arthritis. It is the main cause of physical impairment and persistent pain in elderly adults. In terms of prevalence, OA is the sixth most prevalent disability worldwide. The Arthritis Foundation estimates that 30.8 million adults in the United States had OA in 2017 and that 14 million Americans had osteoarthritis of the knee that was symptomatic. As people age, OA becomes more prevalent. Up to 80% of persons over 65 have been found to have OA in high-income nations. As the world's population ages, degenerative joint illnesses like OA are predicted to afflict at least 130 million individuals globally by 2050.
Report Segmentation
The market is primarily segmented based on type, end-use, application, and region.
By Type

By End-Use

By Application

By Region

Bioinert
Bioactive
Zirconia
Bioresorbable
Others

Hospitals and Clinics
Pharmaceutical and Biotechnology Companies
Others

Orthopaedic
Implantable Devices
Dental
Surgical and Diagnostic Instruments
Others

North America (U.S., Canada)
Europe (France, Germany, UK, Italy, Netherlands, Spain, Russia)
Asia Pacific (Japan, China, India, Malaysia, Indonesia, South Korea)
Latin America (Brazil, Mexico, Argentina)
Middle East & Africa (Saudi Arabia, UAE, Israel, South Africa)
Know more about this report: Request for sample pages
The bioinert segment industry accounted for the highest market share in 2022
The bioinert ceramics are further divided into zirconia and alumina, among other materials. The oxides zirconia and alumina are used by manufacturers to create a variety of ceramic medical equipment. Devices such as ceramics-on-ceramics in the joint systems required different specifications before being regarded as FDA-safe. Moreover, electronic ceramic sensors, a fusion of medical processing with contemporary technology also known for their exceptional durability.
Further, Zirconia ceramic is known for being a very durable material. The metal yttrium is frequently used with this material, even though it is known for its strength, to prevent product disintegration. Due to its common good tolerance by physiological tissue, alumina is used in medical ceramic applications. A compound of aluminium and oxygen makes up the majority of it. It is suitable for use as a surgical implant due to its exceptional toughness and hardness as well as the fact that it does not wear out quickly.
Alumina is mostly composed of small, closely packed crystals. Due to characteristics like high fracture toughness, exceptional bending & compressive strength, low thermal conductivity, and great resilience to wear and corrosion, among many others, the market for bionert ceramics is anticipated to hold the largest share.
The demand in North America is expected to witness significant growth
North America has had the largest share of this market. This is related to the increase in cancer and cardiovascular disease incidence. The market share now held by North America is likely to remain dominant throughout the forecast. Among the causes contributing to this region's significant market share are the high utilisation rates of diagnostic imaging tools and implantable medical devices, as well as the existence of a disproportionately higher number of medical device makers here. Along with this, rising demand for these ceramics in cosmetic procedures is anticipated to fuel market expansion.
Asia Pacific is also anticipated to become a significant source of revenue. This may be connected to rising healthcare costs, high levels of unmet medical requirements, and increased demand for medical device outsourcing in emerging economies. Along with this, increasing public knowledge of oral health issues and cosmetic procedures is anticipated to encourage consumers to spend more on their health. Demand is anticipated to come from nations including Brazil, China, and India among others.
Competitive Insight
Some of the major players operating in the global market include 3M Company, Advanced Ceramic Materials, Bakony Technical Ceramic, Berkeley Advanced Biomaterials, CeramTec, CoorsTek, Inc., DePuy Synthes, Ferro Corporation, Kyocera Corporation, Morgan Advanced Materials, Nobel Biocare Services, Institut Straumann, QSIL Ceramics, Royal DSM, Superior Technical Ceramics, Tosoh Corporation, and Zimmer Biomet.
Recent Developments
In January 2021, CeramTec acquired Dentalpoint, a manufacturer of ceramic-based dental implants. With this acquisition, the world's largest provider of medical technology has added to its selection of high-performance ceramics suppliers. Patients all over the globe benefit from CeramTec's high-quality, bio-degradable ceramic components for joint & dental implantation.
Medical Ceramics Market Report Scope
| | |
| --- | --- |
| Report Attributes | Details |
| Market size value in 2023 | USD 2.67 billion |
| Revenue forecast in 2032 | USD 4.42 billion |
| CAGR | 5.7% from 2023 - 2032 |
| Base year | 2022 |
| Historical data | 2019 – 2021 |
| Forecast period | 2023 - 2032 |
| Quantitative units | Revenue in USD billion and CAGR from 2022 to 2030 |
| Segments Covered | By Type, By End-Use, By Application, By Region |
| Regional scope | North America, Europe, Asia Pacific, Latin America; Middle East & Africa |
| Key Companies | 3M Company, Advanced Ceramic Materials Inc., Bakony Technical Ceramic Ltd., Berkeley Advanced Biomaterials Inc., CeramTec GmbH, CoorsTek, Inc., DePuy Synthes, Ferro Corporation, H.C. Starck GmbH, Kyocera Corporation, Morgan Advanced Materials Plc, Nobel Biocare Services Inc., NGK Spark Plug Co., Ltd., Institut Straumann AG, QSIL Ceramics GmbH, Royal DSM, Superior Technical Ceramics Corp., Tosoh Corporation, and Zimmer Biomet. |