The global optical character recognition market was valued at USD 10,631.63 million in 2022 and is expected to grow at a CAGR of 13.2% during the forecast period. The growing demand for digital transformation is driving the market.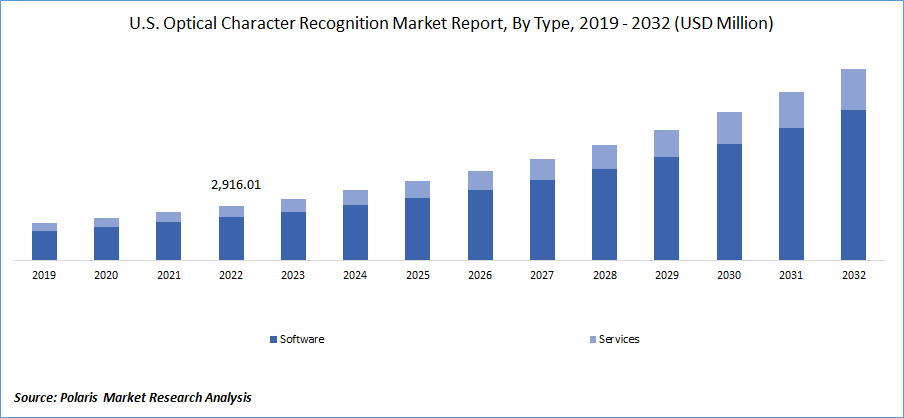 To Understand More About this Research: Request a Free Sample Report
The increased use of mobile devices for capturing and processing text-based data and the expansion of digital document management are also contributing to the industry's growth. Additionally, advancements in machine learning and artificial intelligence are accelerating the market as they improve the accuracy and speed of OCR systems.
For instance, in January 2023, Cognex Corporation added Optical Character Recognition (OCR) to its In-Sight 2800 vision system. The new "ViDi (TM) EL Read" tool utilizes edge learning technology to easily decode readable characters on shiny, low-contrast, and irregular surfaces.
OCR is a platform or solution that converts text images into a machine-readable format. OCR systems utilize hardware and software to transform printed documents into text machines can read. In OCR software, artificial intelligence can be utilized to implement more advanced intelligent character recognition (ICR) methods, like identifying languages or handwriting styles. OCR technology can decrease expenses by converting data into a machine-readable format, eliminating the need for physical storage, printing, or shipping. This allows employees to work with the data digitally, saving on user budget costs.
The introduction of OCR (optical character recognition) system operations in the transportation and logistics sector thriving the industry growth. Transport resources such as drivers and pallets confirm that the right batch of products is loaded on the specified truck. They also ensure that the necessary shipping documents are securely attached to the vehicle. The OCR technology scans the vehicle license plate, container number, driver's license, etc. In other words, Logistics management benefits from OCR technology, which offers precise and visible supply chain tracking.
Growth Drivers
Growing adoption of OCR due to the integration of advanced capabilities
OCR technology is widely used in various applications, including converting written information into speech through text-to-speech technologies, making it accessible to blind and visually impaired individuals. It is also employed in organizing letters at post offices, arranging documents in law firms and courts, preserving cultural and historical materials and orders, processing invoices, managing personal identity, and additional documents. Optical character recognition technology offers numerous advantages.
It saves time by automating data entry into computers, improves work management, reduces the cost of digitizing documents, and eliminates manual errors. Additionally, it enhances customer service and document security, driving demand in industries such as BFSI and retail. The optical character recognition market is expected to grow as cognitive solution developers focus on integrating new technologies to enhance accuracy.
As an example, Envision, a smartphone app catering to blind and low-vision users, has developed AI-powered smart glasses that provide hands-free access, making everyday life more accessible for visually impaired individuals. These smart glasses enable optical character recognition capabilities, expanding their usability and functionality.
As organizations increasingly recognize the value of OCR in streamlining processes, improving productivity, and ensuring inclusivity, the demand for OCR solutions is expected to grow steadily in the coming years.
Report Segmentation
The market is primarily segmented based on type, vertical, end-use, and region.
By Type

By Vertical

By End-Use

By Region

Retail

BFSI

Government

Education

Transport & Logistics

Healthcare

IT & Telecom

Manufacturing

Others

North America (U.S., Canada)

Europe (France, Germany, UK, Italy, Netherlands, Spain, Russia)

Asia Pacific (Japan, China, India, Malaysia, Indonesia. South Korea)

Latin America (Brazil, Mexico, Argentina)

Middle East & Africa (Saudi Arabia, UAE, Israel, South Africa)
To Understand the Scope of this Report: Speak to Analyst
By Type Analysis
The software segment accounted for the largest market share in 2022
The software segment held the largest market share in 2022 due to technological advancement. OCR (Optical Character Recognition) software is crucial in converting printed or handwritten text into machine-readable text, enabling computers to interpret and analyze the extracted data. Technological advancements have enabled various organizations to launch software, apps, and OCR-based services with better efficiency.
For instance, IBM has developed a new Optical Character Recognition (OCR) technology that leverages the power of IBM's artificial intelligence platform, Watson, to provide accurate and efficient text recognition capabilities. IBM's new OCR technology showcases the potential of artificial intelligence and deep learning in improving the accuracy and efficiency of text recognition tasks. By leveraging advanced algorithms and the cognitive capabilities of Watson, this OCR solution offers enhanced capabilities for data extraction, document analysis, and intelligent information processing.
By Vertical Analysis
BFSI segment dominated the market in 2022
The BFSI segment dominated the market in 2022 and will continue its dominance over the forecasted period. The BFSI sector can significantly enhance its operations, efficiency, compliance, and customer service by implementing Optical Character Recognition (OCR) technology. By efficiently processing and extracting valuable data from various financial documents, organizations in the industry can maintain a competitive edge.
OCR enables credit card scanning, document scanning, and data entry, transforming the data into a form that computers can identify and understand. For example, Appzillon, a low-code digital platform developed by i-exceed, offers banks and financial institutions digital banking solutions, facilitating improved process efficiency. Citigroup Inc., a prominent U.S.-based banking and financial services corporation, utilizes Appzillon's banking solution to enhance its corporate banking operations, simplifying processes and delivering a superior customer experience through the latest digital advancements.
By End-Use Analysis
The B2B segment is expected to witness significant growth during forecast period
The OCR (Optical Character Recognition) market in the B2B user segment is experiencing significant growth due to the increasing adoption of OCR technology by businesses and organizations for efficient data processing, document management, and automation. The expanding need for accuracy, efficiency, regulatory compliance, and the integration of OCR with advanced technologies drives the growth of the OCR market in the B2B segment.
Integrating AI techniques, such as deep learning and neural networks, into OCR solutions enables better accuracy in text recognition, including handwritten text, and improves OCR performance. B2B users increasingly adopt mobile OCR apps for on-the-go document capture, data extraction, and real-time text recognition, providing flexibility and convenience. The demand for OCR solutions capable of recognizing and extracting text from documents in multiple languages is increasing as businesses operate in diverse global markets.
Regional Insights
North America region dominated the global market in 2022
North America dominated the global market in 2022. The market is experiencing rapid growth in document management and data extraction. OCR technology is pivotal in converting printed or handwritten text into machine-readable data, enabling businesses to automate data entry, enhance document processing, and improve overall operational efficiency.
Several key players dominate the OCR market in North America. With ongoing digital transformation initiatives, the increasing demand for data analytics, the rising adoption of AI and ML and the necessity for enhanced operational efficiency, the OCR market in North America is projected to continue its upward trajectory across various industries, such as finance, healthcare, legal, and logistics.
For Specific Research Requirements: Request for Customized Report
The OCR market has been witnessing rapid investment in various countries of the Asia Pacific region, such as China, India, Japan, Indonesia, South Korea, and others. The Asia-Pacific optical character recognition (OCR) market has been driven by several key factors, including surging investments in AI and related technologies, the rise of startups, and the growing focus on self-driving cars and smart cities. These drivers have contributed to the region's market growth by fostering technological advancements and creating opportunities for OCR implementation.
Key Market Players & Competitive Insights
The Optical Character Recognition market is fragmented and is anticipated to witness competition due to several players' presence. Major service providers in the market are constantly upgrading their technologies to stay ahead of the competition and to ensure efficiency, integrity, and safety. These players focus on partnership, product upgrades, and collaboration to gain a competitive edge over their peers and capture a significant market share.
Some of the major players operating in the global market include:
ABBYY

Adobe

Amazon Web Services, Inc

Anyline

Creaceed

Google LLC

IBM Corporation

Kritikal Solutions

LEAD Technologies, Inc.

Microsoft

NAVER Corp

NTT DATA Corporation

Open Text Corporation

Prime Recognition

SS&C Chorus Document Automation (SS&C Technologies Holdings, Inc.)

Super.AI
Recent Developments
In May 2023, Adobe has recently announced the Adobe PDF Accessibility Auto-Tag API, leveraging the power of Adobe Sensei, the company's AI and machine learning platform. This innovative solution aims to streamline and expedite the conversion of PDF content, making it more accessible.

In April 2023, Flashpoint and Google Cloud expanded their partnership to integrate generative AI and enhance risk intelligence solutions. Flashpoint will utilize Google Cloud Vertex AI services, including Vision AI and Translation AI, to introduce conversational intelligence and advanced AI-driven innovations such as optical character recognition (OCR) for image and video processing.
Optical Character Recognition Market Report Scope
| | |
| --- | --- |
| Report Attributes | Details |
| Market size value in 2023 | USD 12,015.86 million |
| Revenue forecast in 2032 | USD 36,733.45 million |
| CAGR | 13.2% from 2023 – 2032 |
| Base year | 2022 |
| Historical data | 2019 – 2021 |
| Forecast period | 2023 – 2032 |
| Quantitative units | Revenue in USD million and CAGR from 2023 to 2032 |
| Segments covered | By Type, By Vertical, By End-Use, By Region |
| Regional scope | North America, Europe, Asia Pacific, Latin America; Middle East & Africa |
| Customization | Report customization as per your requirements with respect to countries, region and segmentation. |