The global packaging printing inks market was valued at USD 8.95 billion in 2020 and is expected to grow at a CAGR of 5.9% during the forecast period. Global packaging printing is mainly driven by the rapid growth of the packaging industry.
Packages industry growth is an outcome of a number of trends depending on different geographical regions. Investments in construction & housing, growing urbanization, flourishing cosmetics & healthcare sectors, and the development of retail chains are some of the crucial drivers for the global packaging printing ink market.
Know more about this report: request for sample pages
An increase in the personal income and the living standard of consumers in the developing as well as in some emerging nations has fueled consumption across a wide array of consumer products that require packing. Different trends in the packing industry such as the Internet of Things (IoT), 3D printing, and consumer parcel shipping business concerning dimensional weight pricing have also played a vital role in the market growth for packing printing toners.
The packaging market is very dynamic, influencing directly or indirectly all other industries and significantly underpins the packing dyes market. The packing ink processes differ in different regions of the world. For instance, flexographic is the leading packaging ink process in North America whereas gravure is the dominant process in the Asia Pacific region.
Packaging ink is one of the largest application segments for global printing inks. Packing inks are applied on different substrates via different processes depending on the requirement. Some of these major substrates include plastics, metal, and paper.
Material advancements and technological trends have not just become advancements in the packing market but also hold the same significance in the packaging inks sector. Technological advancements resulted in the development of water-based inks that are an environmental solution to their solvent-based counterparts. Several regulatory agencies such as Environmental Protection Agency (EPA) have imposed stringent regulations on the use of printing inks with a high level of volatile compounds by its end-users.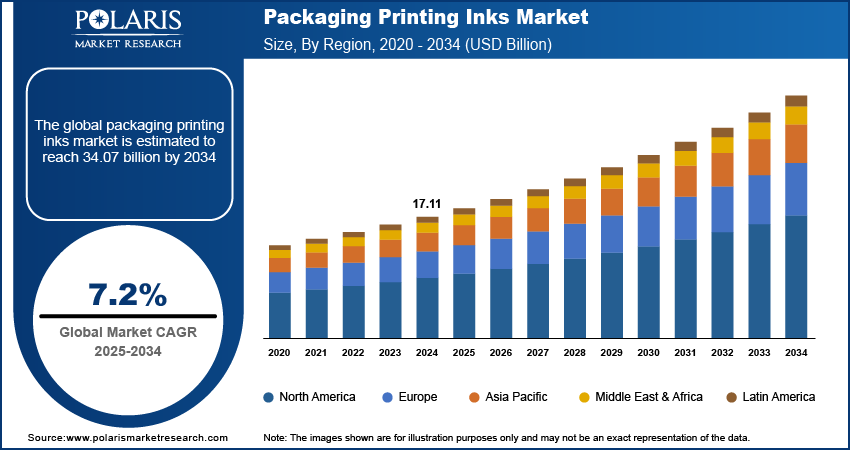 Know more about this report: request for sample pages
Packaging Printing Inks Market Report Scope
The market is primarily segmented on the basis of substrate, printing process, end-use, and region.
By Substrate

By Printing Process

By End-Use

By Region

Paper
Metal
Plastic
Others

Lithographic
Flexographic
Digital
Gravure
Others

Food & Beverage
Cosmetics
Pharmaceuticals
Industrial
Others

North America (U.S., Canada)
Europe (France, Germany, UK, Italy, Spain, Netherlands, Austria)
Asia Pacific (Japan, China, India, Malaysia, Indonesia, South Korea)
Latin America (Brazil, Mexico, Argentina)
Middle East & Africa (Saudi Arabia, UAE, Israel, South Africa)
Know more about this report: request for sample pages
Insight by Substrate
Inks are applied to different substrates; among which plastics are the largest segment and flexible plastics are the fastest growing. This is on account of a large number of consumer commodities and advanced packaging in the pharmaceuticals and food & beverage industry. Other types of substrates include metal, paper, and rubber.
Insight by Printing Process
On the basis of processes, the market is segmented into lithographic, gravure, flexographic, digital, offset, and others. Depending on the requirement and substrate different types of processes are used. For instance, flexography is mainly used on plastics, cellophane, and metals.
Insight by End-Use
The food & beverage segment witnessed significant demand in the year 2020, with the trend for wide choices in food packing to cater to the consumer with portion control options. Increasing development in innovative packing solutions and consumer awareness are the key factors in the growth of the segment.
Geographic Overview
The Asia Pacific and North America are the popular regional markets for the packaging inks industry. China, Japan, India, and Southeast Asian countries have mainly driven the demand in the Asia Pacific with steadily growing trends concerning packing inks in the food & beverage industry. Eastern Europe is also a crucial market for the packaging industry and has substantial consumption of packing inks.
North America has also witnessed significant growth in the packing inks industry due to its tremendously growing packing industry. This region is an economically developed market and includes many trends impacting the packing industry such as accompanying rise in demand for smaller and convenience packing products among the consumers.
Competitive Landscape
The global packaging printing inks market comprises large multinational and domestic companies. The industry is fragmented and highly competitive in tandem with a high degree of integration across the manufacturing and distribution stage.
Some of the key packaging printing inks market players include PPG Industries, Inc., AkzoNobel NV, Flint Group, Valspar Corporation, Sun Chemical Corporation, Siegwerk Druckfarben AG & Co., ALTANA, Sakata, Toyo Ink, Nippon Paints, Arkema, ColorMatrix, and others.