The global pentaerythritol market size was valued at USD 1.39 billion in 2017 and is forecasted to grow at a CAGR of 6.1% from 2018 to 2026. Beta-carotenes are colored pigments, which impart color to plants and are antioxidant in nature. They belong to carotenoid family. Pentaerythritol is raw material for many application and industries including automotive, construction, and food. The raw material is already scarce in nature wherein the increasing demand in end use industries is expected to ascend the scarcity rate of pentaerythritol. There is absence of substitute for it which is expected to increase the prices for the same over the forecast period.
The pentaerythritol has few environmental impacts which may hold back the market but with the latest technology advancement, it is expected to grow. The alkyd paints manufactured using pentaerythritol release volatile organic compound while drying the coating process, may hamper the environment as well as market. Post coating, if it meets sunlight and oxygen it releases greenhouse gas causing ozone layer to deplete, and global warming. After releasing it may cause irritation in the eyes, headache, skin allergy and trigger asthmatic reaction. The manufacturers of the raw material set quality checks on the raw material as the demand for pentaerythritol is significant considering the end use application which triggers the economy of the country in an indirect manner. The process of production of pentaerythritol is continuously constant enabling low utility demand.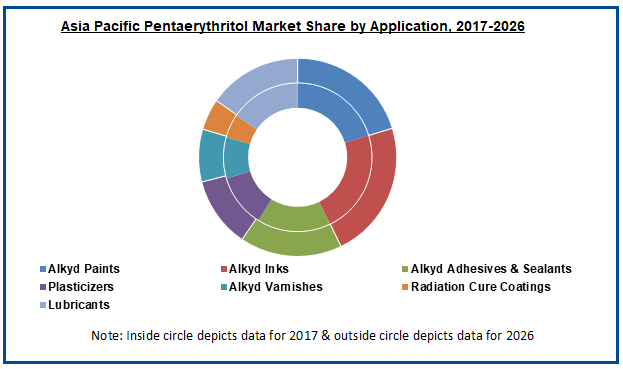 Know more about this report: request for sample pages
Countries like India are rigorously trying to upgrade the quality of the product made in the region due to which, it has implemented laws to encourage production of the same. To safeguard make in India Idea and encourage local producers, India has passed anti-dumping duties on China. The same is expected to boost the production and growth of pentaerythritol market and become a contributing factor towards the same. Regions like Europe and the U.S., they are being restrict in terms of usage of paints which may hamper the operation of paints leading to hampering of the market.
Technological advancement is a major factor for the industry to make it grow. Digital automation is being updated time to time in order to achieve high quality of product and reduce cost. To enhance operational efficiency, companies are adopting and enhancing already established plant lifecycle. It provides a detailed operation and could alter the operations accordingly. Recently, alkyd resin manufacturers have innovated a resin named waterborne latex which meets to the standards of VOC by stringent regulations in some parts of the U.S., and Europe. Owing to eco-friendly nature, pentaerythritol is a greener and useful material to use.
The preparation of it creates very less waste and is created from materials which are derived naturally. It is created by condensing formaldehyde (CH2O) and acetaldehyde (CH3CHO) in a liquid solution with the presence of sodium hydroxide (NaOH), a strong basic hydroxide.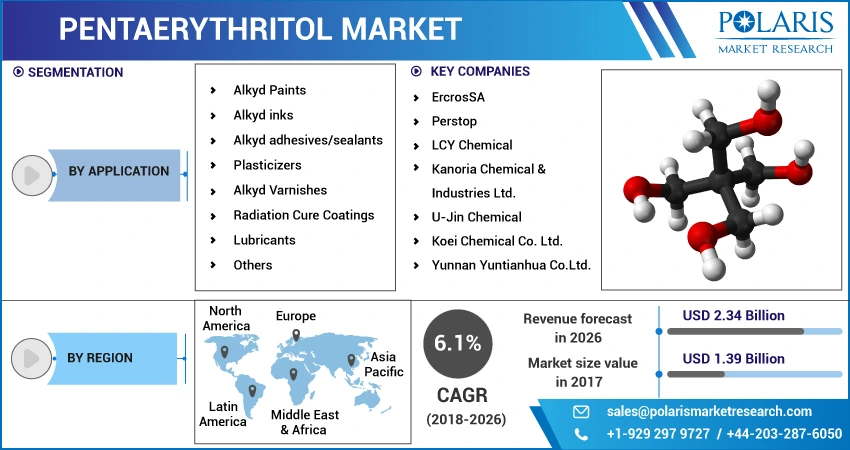 Know more about this report: request for sample pages
Segment Analysis
Pentaerythritol is extensively used in construction and automotive industry as coatings, lubricants, plasticizers, radiation cures, and varnishes. It is likewise utilized as a part of the blend of polyurethane foams, which are additionally utilized as a part of automobile interiors. The automobile industry is expected to grow significantly with increase in sales of vehicles. The automobile industry witnessed strong global growth due to one of the fastest growing countries in terms of economics in the world, China. Since 2010, the automotive is witnessing growth. Additionally, the technology advancement in the automotive is expected to fuel the automotive industry leading to the growth of pentaerythritol.
Majorly, in coating industry, pentaerythritol acts as a source of alkyd resin which can create the coating film gloss, hardness with enhanced durability. It is also used as a synthetic fiber antistatic agent, solvent conditioner, resin, and oil. Majorly, in coating industry, pentaerythritol acts as a source of alkyd resin which can create the coating film gloss, hardness with enhanced durability.
Pentaerythritol Market Report Scope
By Application

By Region

Alkyd Paints
Alkyd inks
Alkyd adhesives/sealants
Plasticizers
Alkyd Varnishes
Radiation Cure Coatings
Lubricants
Others

North America (U.S., Canada)
Europe (Germany, UK, France, Italy, Spain, Russia)
Asia-Pacific (China, Japan, India, Australia, Korea, Singapore)
Latin America (Brazil, Mexico, Argentina)
Middle East and Africa
Know more about this report: request for sample pages
Regional Analysis
The pentaerythritol market is growing on an account of increasing use of coating in automotive industry, and growing number of houses due to ascend in population. There has been recent advancement in the pentaerythritol resulting in less of waste material. Taking regions into consideration, North America, the U.S. specifically, is expected to witness significant growth over the forecast period owing to low gas prices, and interest rate the sales of automobiles in the region has increased significantly in the past few years.
The reduction in purchasing tax in China is expected to ascend the growth of smaller cars in the region which is expected to propel the growth of automotive industry over the forecasted period. Overall, the automotive industry is expected to witness significant growth owing to the aforementioned factors leading to increase in demand for pentaerythritol.
Competitive Analysis
Companies are focusing on developing regions such as Asia Pacific to gain market share. Strategies such as the opening regional offices, manufacturing facilities, are adopted by companies to increase their regional footprint. Major industry participants include ErcrosSA, Perstop, LCY Chemical, Kanoria Chemical & Industries Ltd., U-Jin Chemical, Koei Chemical Co. Ltd., Yunnan Yuntianhua Co.Ltd.