The global phytosterols market was valued at USD 745.1 million in 2020 and is expected to grow at a CAGR of 8.4% during the forecast period. The growing use of phytosterols in various sectors is a primary factor influencing phytosterols market growth. Food & beverage, pharmaceutical products, and cosmetics are only a few application industries that use phytosterols.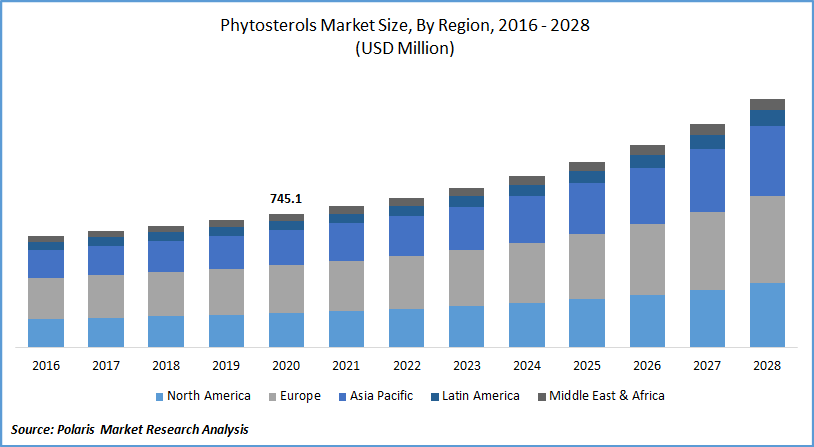 Know more about this report: request for sample pages
Since phytosterols are commonly used as food products, their market demand in the foodservice industry is growing. The market demand for phytosterols has increased significantly owing to the growing health concerns among food producers and consumers. The pharmaceutical industry is a major end-user of the product, as phytosterols help to reduce the risk of heart failure, which is why they are in high market demand across the globe.
COVID-19 has had a detrimental effect on the phytosterols industry in two ways: it has directly affected production and consumption and disrupted the supply chain and industry. Increased competition, phytosterols, which are plant compounds with a structure identical to cholesterol, reduce cholesterol absorption in the small intestine.
These are often recommended to treat a heart-healthy eating plan, which is likely to positively affect the industry. However, several research studies recognize phytosterols' ability, leaving plenty of space to reshape the market even in the face of ongoing COVID-19 constraints.
Industry Dynamics
Growth Drivers
The use of phytosterols as a value-added ingredient is expected to rise as demand for dietary supplements that support cardiovascular health grows. Growing per capita expenditure on healthcare and pharmaceutical products has intensified this trend. Biotechnological advancements, on the other hand, are expected to accelerate development shortly.
Due to the broad range of applications in various end-use industries such as healthcare, food, and cosmetics, other micro or small players exhibit interest in the phytosterols market. In addition, industry players are pursuing several mergers & acquisitions to improve their product offerings.
For example, in June 2019, Raisio Group announced a USD 55 million investment in the growth of nutritious foods and plant-based value-added goods. The business has strengthened its marketplace in Europe as a result of this investment.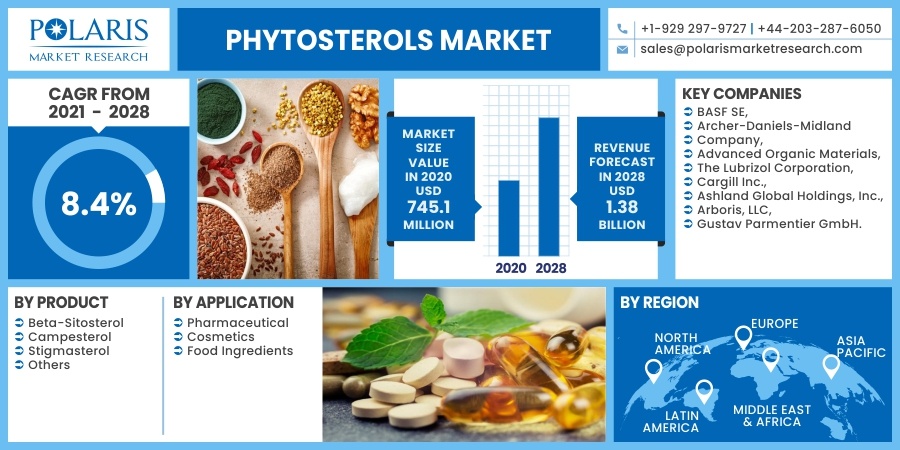 Know more about this report: request for sample pages
Phytosterols Market Report Scope
The market is primarily segmented based on product, application, and region.
By Product

By Application

By Region

Beta-Sitosterol
Campesterol
Stigmasterol
Others

Pharmaceutical
Cosmetics
Food Ingredients

North America (U.S., Canada)
Europe (France, Germany, UK, Italy, Spain, Netherlands, Austria)
Asia Pacific (Japan, China, India, Malaysia, Indonesia. Australia)
Latin America (Brazil, Mexico, Argentina)
Middle East & Africa (Saudi Arabia, UAE, Israel, South Africa)
Know more about this report: request for sample pages
Insight by Product
Based on product, beta-sitosterol was accounted for the majority market share due to the increased use of beta-sitosterol in the pharmaceutical industry, particularly in medication used to treat prostate diseases. Beta-sitosterol is used in drugs to treat lower urinary tract symptoms, cholesterol reduction, colon cancer, migraines, asthma, and heart disease.
On the other hand, campesterol is anticipated to be the fastest-growing segment due to its blood pressure properties. Campesterol is used as a functional food and is also sold as a nutritional supplement. Over the forecast period, the rising market demand for phytosterols-fortified dietary supplements and food items is anticipated to propel the segment growth.
Followed by beta-sitosterol and campesterol, stigmasterol is likely to gain traction over the forecast period as it is used as an intermediate in the synthesis of vitamin D3. Stigmasterol is an excellent candidate for pharmaceutical use. Furthermore, over the forecast era, research activities aimed at the production of stigmasterol in the prevention of breast and colon cancer are expected to open new avenues in the industry.
Insight by Application
Based on application, the pharmaceutical industry dominated the global market for phytosterols in 2020. Phytosterols are being used in tablets, creams, and herbal drugs owing to its wide range of advantages. Growing cases of excessive cholesterol among the elderly and the incidence of lifestyle disorders and other health problems have fueled the market for phytosterols in therapeutic formulations. In turn, it is expected to further fuel the market segment growth over the forecast period.
Followed by the pharmaceutical industry, the cosmetic industry is projected to attain the highest CAGR in the coming years as phytosterols are widely used in anti-aging and sun care products due to their superior anti-inflammatory and SPF properties.
Innovative technological methods are used to extract it primarily from soy, corn oil, bran, and a variety of other vegetable plants. They are commonly used in concentrations ranging from 0.2 percent to 5%. When applied to aged skin, these materials have to restore and rejuvenating properties.
France, the United States, South Korea, and Germany are the top exporters of skincare products, accounting for a large portion of the cosmetic industry's market. Because of the aging population in countries like Japan, anti-aging skincare products are in high market demand.
Geographic Overview
In terms of value, Europe is dominated by North America, which is accompanied by other lucratively rising regions such as the Asia Pacific and South America. Europe is projected to be one of the most important markets for phytosterols, with a substantial increase in market demand in the given timeframe.
The mature cosmetics, pharmaceutical, and food industries in the UK and Germany are driving product demand in the region. The market is boosted even more by the region's early embrace of the bio-based economy, which has facilitated the use of bio-based ingredients in end-use industries like cosmetics.
As per a European Commission study titled "A prosperous bioeconomy for Europe: reinforcing the link between economy, society, and the environment," the bioeconomy implemented by Europe endorses the restructuring and transformation of the continent's manufacturing industry by developing a new supply chain that is greener, more competitive, and cost-effective. The development of sectors such as cosmetics, which use plant-based or bio-based ingredients, has been aided by the advancement of biotechnology and associated operations.
Followed by Europe, North America is anticipated to attain a lion's market share by 2028, owing to the growing demand for nutraceuticals and their various applications in the pharmaceutical industry. Phytosterols are anticancer and prostrate-cure agents that help lower blood cholesterol levels.
Plant sterols have a molecular structure that is identical to cholesterol, minimizing bad cholesterol absorption in the intestine and lowering blood cholesterol levels. These compounds are not biologically synthesized in the body and must be obtained from food sources in the form of fortified foods.
Rising customer consumer awareness and the health benefits of phytosterols would support the industry landscape. The US Food and Drug Administration (FDA) has released an interim final rule allowing health claims for plant sterols and sterol esters to treat coronary heart disease. Phytosterols content in food products has also been licensed by the Canadian Food Inspection Agency (CFIA) and Health Canada.
These regulatory standards could raise phytosterols' penetration in fortified foods, thus boosting regional market dynamics. The Middle East and Africa are projected to develop slower than the rest of the world due to a lack of knowledge and acceptance of dietary supplements in the region.
Competitive Insight
Companies are focusing their efforts on organic growth to strengthen their research and development, which will allow them to offer innovative services to consumers and achieve a competitive edge. Some of the major players operating in the global market include BASF SE, Archer-Daniels-Midland Company, Advanced Organic Materials, The Lubrizol Corporation, Cargill Inc., Ashland Global Holdings, Inc., Arboris, LLC, and Gustav Parmentier GmbH.
Report Scope
| | |
| --- | --- |
| Report Attributes | Details |
| The market size value in 2020 | USD 745.1 million |
| The revenue forecast in 2028 | USD 1.38 billion |
| CAGR | 8.4% from 2021 - 2028 |
| Base year | 2020 |
| Historical data | 2016 - 2019 |
| Forecast period | 2021 - 2028 |
| Quantitative units | Revenue in USD million/billion and CAGR from 2021 to 2028 |
| Segments covered | Product, Application, Region |
| Regional scope | North America Europe Asia Pacific Latin America; Middle East & Africa |
| Key Companies | BASF SE, Archer-Daniels-Midland Company, Advanced Organic Materials, The Lubrizol Corporation, Cargill Inc., Ashland Global Holdings, Inc., Arboris, LLC, and Gustav Parmentier GmbH. |