The global probiotic dietary supplements market size was valued at USD 3.60 billion in 2017 and is estimated to grow at a CAGR of 7.8 % during the forecast period. The utilization of probiotics as an essential ingredient in sports nourishment is turning into a prominent pattern. For example, organizations like Ingredion, GoodBelly, and NextFoods Inc., are planning to take advantage of the sports drinks and energy drinks market, by enhancing their items utilizing probiotics as an essential part of the product portfolio. Rising health concerns along with adequacy of these products is anticipated to drive the industry growth over the forecast period.
The business is profoundly focused and is described by the vast numbers of market players. The industry participants have been expanding their product offerings by introducing of modified and enhanced version of the existing products by developing new ingredient formulations to cater global consumers.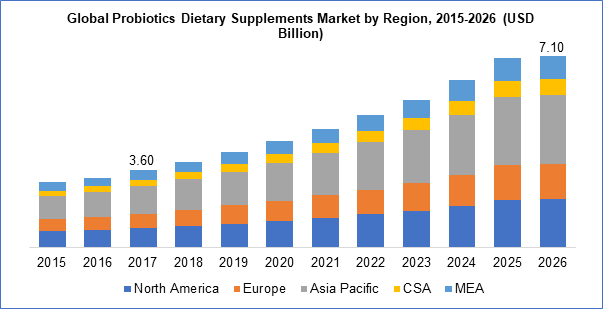 Know more about this report: request for sample pages
Research & Development in generating new and advanced products is anticipated to be the major success factor of the industry. The improvisation of internet by market players as an effective platform for product positioning and marketing, leads to select targeted consumers globally.
With the expanding health conscious population, shoppers are concerned about their snacking and like to prefer the consumption of healthy snacks a more. consumption of probiotic filled snacks fuels metabolism and help consumers in weight reduction, by conveniently satisfying hunger while providing the vitamins and nutrients to the body.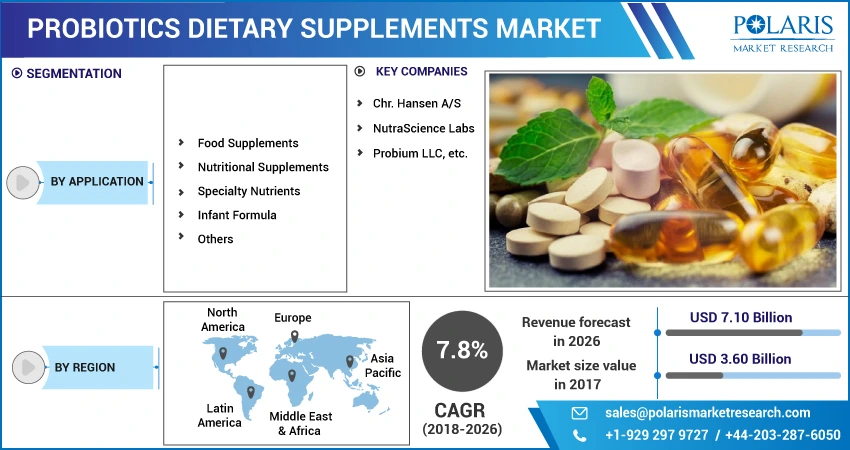 Know more about this report: request for sample pages
Application Analysis
Nutritional supplements application is expected to be the largest application segment for the market. The capacity of nutritional supplements to facilitate the general body capacities, for example, digestion of consumers is expected to drive future growth. Additionally, ability of supplements to suit specific needs among consumers that covers immunity and gastrointestinal functions, and recent product development to cater changing needs are anticipated to aid demand growth.
Probiotic dietary supplements are principally utilized in nutritional supplements to satisfy the expanding demand of consumers to boost the nutritional content of their diet. Probiotic supplements, for example, nutrients, minerals, meal enhancements, herbs, and sports nourishment items among others. They are added to boost the eating routine to help by and large the health and vitality of the customers. Steady demand for this industry segment drives the growth of the probiotic dietary supplements market.
Probiotics Dietary Supplements Market Scope
By Application

By Region

Food Supplements
Nutritional Supplements
Specialty Nutrients
Infant Formula
Others

North America (U.S., Canada)
Europe (Germany, UK, France, Italy, Spain, Belgium, Russia, Netherlands)
Asia-Pacific (China, Japan, India, Australia, Korea, Singapore, Malaysia, Indonesia, Thailand, Philippines)
Latin America (Brazil, Mexico, Argentina)
Middle East and Africa (UAE, Saudi Arabia, South Africa)
Know more about this report: request for sample pages
Regional Analysis
Europe dominated the worldwide market for probiotic dietary supplements, with around xx% of share of the overall industry. Strong consumer awareness with respect to probiotics consumption, ease in accessibility, and the presence of significant industry players and their concentration towards developing new and enhanced products are expected to define the market growth over the forecast period.
Asia-Pacific is growing as the fastest region for probiotic supplement market. Expanding population and changing lifestyle are attributable to the expansion of probiotic dietary supplements market over the forecast period
Competitive Analysis
The global industry is highly competitive and dynamic. A larger focus of companies is on research & development activities to launch novel products. New probiotic applications are developed by the leading companies to achieve competitive advantage among others. Few of the primary industry participants include Chr. Hansen A/S, NutraScience Labs, Probium LLC, etc. among others.
The characterization of this industry is defined by a higher integration level between the manufacturers, raw material providers, and ingredient manufacturers. Probi AB and BioGaia show immense rate of integration across the entire value chain. Suppliers are significant role player in integrating the components of value chain by providing raw materials for manufacturers. It facilitates the companies to integrate their businesses by shielding them from aggravations that are associated with the procurement of raw material and operate the entire business in a cost-effective way.