The global proteomics market was valued at USD 23.40 billion in 2021 and is expected to grow at a CAGR of 13.4% during the forecast period. The rising need for customized medicine, increased R&D expenditure and government support for proteomics, and technical improvements are some of the reasons driving proteomics market expansion. Proteomics is a discipline in illness diagnostics that is fast evolving.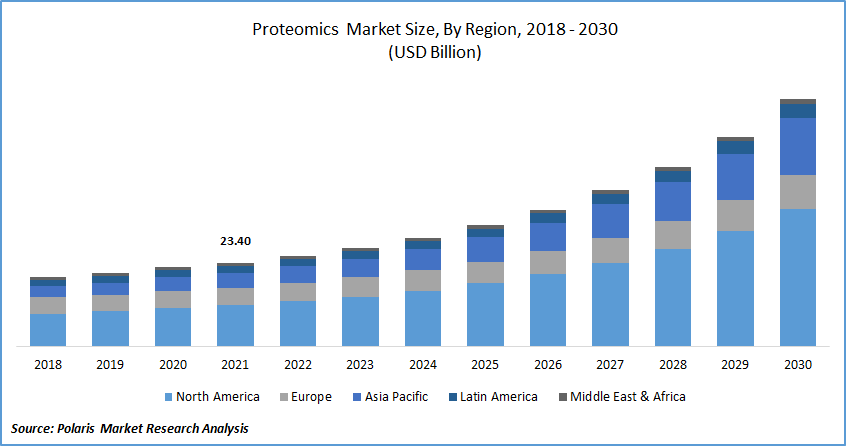 Know more about this report: Request for sample pages
Proteomics is a technique for identifying proteins that are implicated in disease and studying their production, function, and structure. Proteomic research is also being used to uncover prognostic markers and provide diagnoses for cancer, infectious illnesses, malaria, and tuberculosis. In the pharmaceutical sector, proteomics is utilized to examine the mechanism of medication action or toxicity. They are also commonly employed in the identification and confirmation of biomarker effectiveness.
Furthermore, various proteome labs are investigating therapy alternatives, and these studies have revealed prospective drug targets, some of which are now being evaluated, as well as information that may aid in the development of faster diagnostics for the virus. To a certain extent, this is intended to mitigate the loss caused by the pandemic.
Increased demand for personalized pharmaceuticals, as well as increased research and development in proteomics, are further driving drivers in the market. However, the proteomics market is hampered by stringent regulatory requirements as well as the expensive cost of the devices.
Covid-19 has harmed several healthcare-related sectors. This pandemic is expected to provide future growth prospects for the proteomics market. Effective prevention and treatment strategies necessitate detailed knowledge about the importance that proteins perform in the Severe acute respiratory infection process and the survivability of Covid-19.
The global pandemic is predicted to have a significant impact on the proteomics market's rapid growth. Pharmaceutical businesses, which have been key market end consumers, are reducing medicine production due to a lack of raw materials. Active pharmaceutical players are changing their focus to the production of critical medicines that are desperately needed right now. As a result, the proteomics market is projected to take a back seat in manufacturers' priorities for the time being.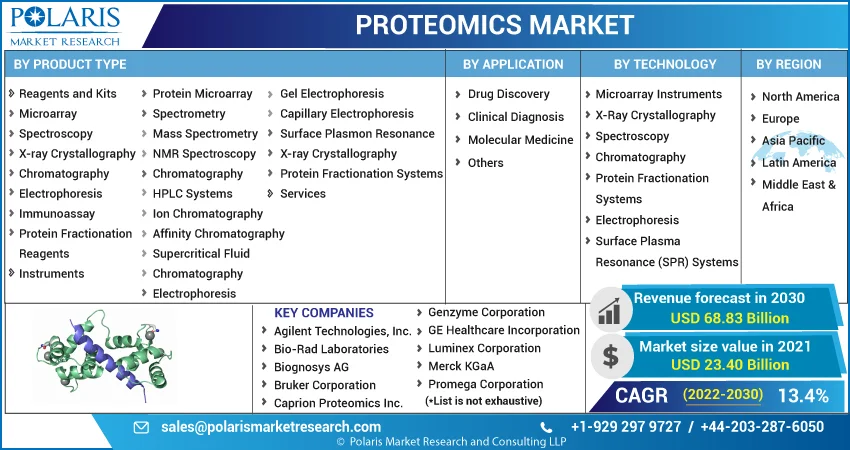 Know more about this report: Request for sample pages
Industry Dynamics
Growth Drivers
Increased emphasis on product attributes in drug design, biomarker discoveries, and clinical diagnostics for diagnosing and treating diseases will promote market growth. The protein research being undertaken to treat COVID-19 individuals is also boosting the market growth. For example, in June 2022, scientists from the Indian Institute of Science (IISc) Bangalore produced a novel class of synthetic peptides or mini-proteins, and the researchers say that it can kill viruses such as SARS-CoV-2.
In addition, according to a research study published in the journal Nature Chemical Biology, the mini-proteins can inhibit virus entry into human cells and cluster virus particles together just to reduce their infectious potential. As a result, the sector is expected to gain from more research on peptide therapeutics, which is expected to expand owing to the COVID-19 pandemic.
Further, the rising public and private funding for proteomics research are driving market growth over the forecast period. For instance, In June 2021, the Chan Zuckerberg Initiative (CZI) announced approximately $28 million in awards to promote technological advancements that would enable researchers to explore the internal workings of cells at relatively close resolution using next-generation transmission electrons.
CZI has also announced a new financing chance to support plugin infrastructure development for the napari image processing platform, which is a community-built, Python-based, open-sourced tool for exploring, annotation, and analyzing big multi-dimensional pictures. This opportunity seeks to improve comprehension of how disease originates and progresses, as well as to enable robust cancer biomarker development and clinical usage on a micro-scale.
Report Segmentation
The market is primarily segmented based on technology, product type, application, and region.
By Product Type

By Application

By Technology

By Region

Reagents and Kits

Microarray
Spectroscopy
X-ray Crystallography
Chromatography
Electrophoresis
Immunoassay
Protein Fractionation Reagents

Instruments

Protein Microarray
Spectrometry

Mass Spectrometry
NMR Spectroscopy

Chromatography

HPLC Systems
Ion Chromatography
Affinity Chromatography
Supercritical Fluid Chromatography

Electrophoresis

Gel Electrophoresis
Capillary Electrophoresis

Surface Plasmon Resonance
X-ray Crystallography
Protein Fractionation Systems

Services

Drug Discovery
Clinical Diagnosis
Molecular Medicine
Others

Microarray Instruments
X-Ray Crystallography
Spectroscopy
Chromatography
Protein Fractionation Systems
Electrophoresis
Surface Plasma Resonance (SPR) Systems

North America (U.S., Canada)
Europe (France, Germany, UK, Italy, Netherlands, Spain, Russia)
Asia Pacific (Japan, China, India, Malaysia, Indonesia, South Korea)
Latin America (Brazil, Mexico, Argentina)
Middle East & Africa (Saudi Arabia, UAE, Israel, South Africa)
Know more about this report: Request for sample pages
The Drug Discovery segment is expected to witness fastest growth
One of the most promising discoveries in the research of human genes and proteins has been the discovery of potential novel medications for illness treatment. This is dependent on genome and proteome data for the detection of proteins linked with a disease, which can subsequently be employed by computer software as targeted for novel medications. To evaluate the impact of drug candidates on cellular systems and organisms, preclinical phases of drug discovery require a plethora of genetic and biochemical assays.
Almost every major pharmaceutical business has proteome-focused biotech or academic collaborator, or it has established its proteomics section. In the pharmaceutical business, general implications of proteomics include the discovery of efficacy and safety biomarkers from easily available biological fluids, target acquisition and validation, and investigation into pharmacological action or toxicity processes.
Reagents and kits segment accounted for the highest market share in 2021
During the forecast period, this is growing due to the increased usage of reagents & kits, chemicals, and strips for the inspection of diverse biological materials in research universities, research facilities, and others, which will raise the need for reagents & kits, propelling sector expansion.
Furthermore, technical advancements in advanced instruments, such as 2-D electrophoresis proteins analyzers, that enhance the speed, efficiency, and productivity of biological research, will promote market expansion.
The most often used equipment for protein determination is the electrophoresis apparatus and biochip analyzers. Furthermore, the growing demand for greater automation in diagnostic approaches, as well as the requirement for a cost-effective infrastructure for sample analysis, has raised manufacturers' interest in focusing on product development and improvement. Furthermore, technological innovations (the rising downsizing and inclusion of biochips, as well as improvements in mass spectrometry instruments and processes) in proteomic instruments are projected to drive market trends in the next years.
Clinical Diagnostics is expected to hold the significant revenue share
Clinical diagnostics was the market's dominant segment. This is due to the widespread use of protein analysis by researchers and clinicians to identify illness biomarkers for early detection and detecting individual risk factors. This is expected to provide new avenues for disease early detection and prevention. It is feasible to discover prospective biomarkers and protein transcriptional regulation that can be used to identify and predict malignancies, as well as evaluate their prognosis, using proteomics-based diagnosis, which promotes the segment's growth.
The demand in North America is expected to witness significant growth
Antibody-drug conjugates and protein therapies are important in the treatment and diagnostics of diseases in North America. This is a subject that is constantly growing, with substantial research being conducted on unique and creative next-generation medicines. Hundreds of protein therapies are being tested in clinical trials to treat cancer, immunological disorders, infections, age-related diseases, and a variety of other problems.
Furthermore, proteomics research is at its peak in countries such as the United States. The high frequency of hereditary disorders like cancer, as well as infectious diseases like malaria and tuberculosis, is driving the economy for proteomic services in the region.
Europe is predicted to be the second largest market for proteomics. Rising cancer research activities and government assistance are driving market expansion in this region. Because of the increased prevalence of cancer and other such diseases, as well as the presence of a significant number of personalized medicine producers in the region, the Asia-Pacific region is predicted to be the fastest expanding market.
However, due to factors including a huge population base, an increasing incidence of cancer and other infectious diseases, and widespread use of proteomics in genetic disorder diagnostics, East Asia and South Asia are positioned for significant expansion in the global market throughout the forecast period. In these regions, rising R & D expenditures and social programs are projected to drive significant growth for proteomic-based diagnosis of diseases.
Competitive Insight
Some of the major players operating in the global proteomics market include Agilent Technologies, Inc., Bio-Rad Laboratories, Biognosys AG, Bruker Corporation, Caprion Proteomics Inc., Danaher Corporation, Genzyme Corporation, GE Healthcare Incorporation, Luminex Corporation, Merck KGaA, Promega Corporation, PerkinElmer Inc., Siemens Ltd., Thermo Fisher Scientific, Inc., and Waters Corporation.
Recent Developments
In May 2022, Proteomics International Laboratories Ltd received USD 13,516 in funding to enable the production of its PromarkerD clinical diagnosis in Australia, the world's first prediction diagnostic test for diabetes-related kidney disease. The program's goals are to encourage new health innovations, move discoveries toward proof-of-concept and commercialization that address important health concerns, and maximize entrepreneurial and idea potential.
Proteomics Market Report Scope
| | |
| --- | --- |
| Report Attributes | Details |
| Market size value in 2021 | USD 23.40 billion |
| Revenue forecast in 2030 | USD 68.83 billion |
| CAGR | 13.4% from 2022 - 2030 |
| Base year | 2021 |
| Historical data | 2018 - 2020 |
| Forecast period | 2022 - 2030 |
| Quantitative units | Revenue in USD billion and CAGR from 2022 to 2030 |
| Segments Covered | By Product Type, By Application, By Technology, By Region |
| Regional scope | North America, Europe, Asia Pacific, Latin America; Middle East & Africa |
| Key Companies | Agilent Technologies, Inc., Bio-Rad Laboratories, Biognosys AG, Bruker Corporation, Caprion Proteomics Inc., Danaher Corporation, Genzyme Corporation, GE Healthcare Incorporation, Luminex Corporation, Merck KGaA, Promega Corporation, PerkinElmer Inc., Siemens Ltd., Thermo Fisher Scientific, Inc., and Waters Corporation |