The global recycled ocean plastics market was valued at USD 1.42 billion in 2021 and is expected to grow at a CAGR of 7.5% during the forecast period. The growing awareness of recycling plastic across the globe has increased the growth of the recycling market. Companies are collecting plastics in massive amounts and recycling it. The government authorities, as well as non-profit groups, are actively working on reducing the use of plastic and recycling it.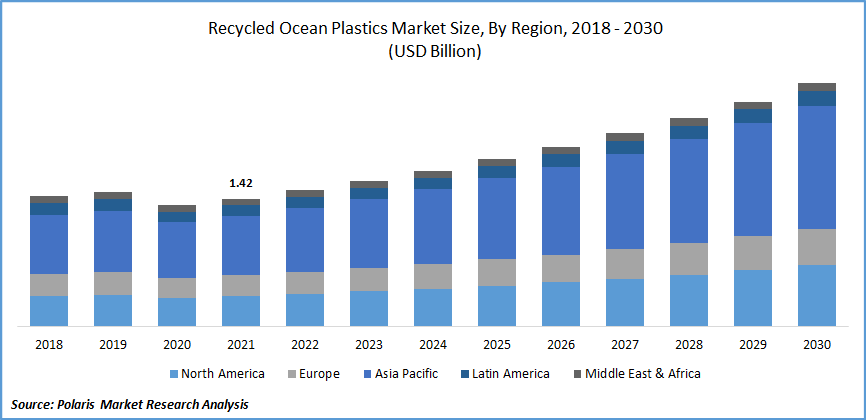 Know more about this report: Request for sample pages
Polyethylene Terephthalate (PET) is the highest used plastic over the globe. It is easily recycled, and thus the growth rate of PET is higher. Furthermore, the growing demand for recycled plastic increases recycled plastics market growth. Sea waste harms marine life and human life as humans indirectly are affected through the seafood we consume, salt, and water. When we burn plastic, harmful chemicals are released, which penetrate the human body. Thus, plastics causes various infectious diseases which are easily spread.
The COVID-19 pandemic had ramified impact on the growth of the recycled ocean plastics market. All the countries around the globe were affected by COVID-19, and because of this, there was an economic breakdown. The operations of companies in most countries were not operating; as a result, the export-import of raw materials for recycling was unavailable.
Social distancing was one reason for a market breakdown as people were not allowed to work. During the pandemic, people switched to the home delivery option, which increased the use of plastics. Soon after the pandemic, the recycled plastic market gained pace and will have positive outcomes over the forecast period.
As awareness regarding recycling plastic is growing and new technologies are emerging in developing economies, the demand for recycled plastic will grow steadily. European countries are engaging more in the recycling plastics market, and the Asia Pacific is likely to raise the market as governments and companies are taking the initiative to ban non-recycled plastic.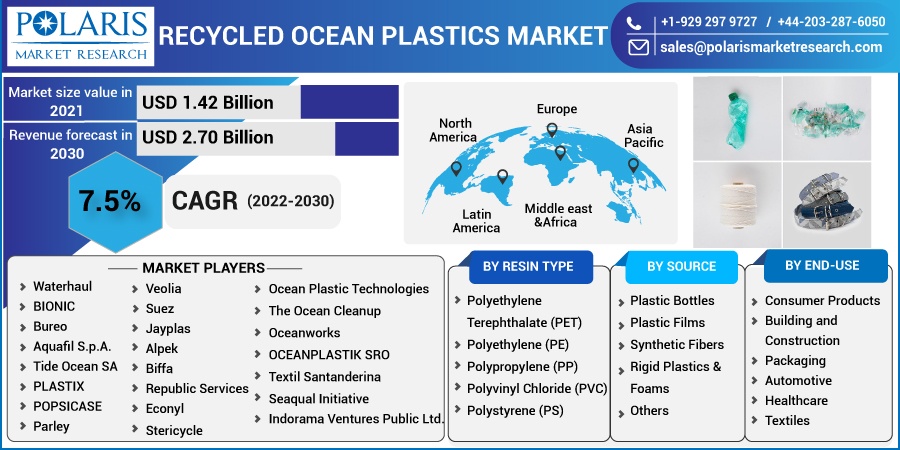 Know more about this report: Request for sample pages
Industry Dynamics
Growth Drivers
The increasing urbanization and industrialization lead to the high usage of plastic. Plastic costs are less and can be easily molded to widely used applications or products. As plastic usage increases, the high risk of non-degradation also increases, thus stimulating the awareness of recycling plastic usage. Many companies are working on recycling plastic, where they make usable products that are used again. Increasing pollution is the key driver for introducing new products through plastic reusing in the valuable form.
Government authorities are taking initiatives in recycling plastics, thus increasing the market for recycled plastic. The friendly government policies help the industry to grow and aware more people about recycling plastic waste. Many non-profit groups and organizations work in the market collecting ocean plastic and then recycling it for further use.
Report Segmentation
The market is primarily segmented based on Resin type, source, end-use, and region.
By Resin Type

By Source

By End-Use

By Region

Polyethylene Terephthalate (PET)
Polyethylene (PE)
Polypropylene (PP)
Polyvinyl Chloride (PVC)
Polystyrene (PS)

Plastic Bottles
Plastic Films
Synthetic Fibers
Rigid Plastics & Foams
Others

Consumer Products
Building and Construction
Packaging
Automotive
Healthcare
Textiles
Others

North America (U.S., Canada)
Europe (France, Germany, UK, Italy, Netherlands, Spain, Russia)
Asia Pacific (Japan, China, India, Malaysia, Indonesia, South Korea)
Latin America (Brazil, Mexico, Argentina)
Middle East & Africa (Saudi Arabia, UAE, Israel, South Africa)
Know more about this report: Request for sample pages
Polyethylene Terephthalate (PET) segment accounted for the largest share in 2021
Resins are of different types, but the highly used resin is Polyethylene Terephthalate (PET), which conquered the largest market share. Polyethylene Terephthalate resins are widely used in the packaging industry in water bottles, juices, drinks, food, and many more. PET is easily recycled, and thus the industry for packed food is at a higher rate use of PET is at higher rate.
Polyethylene is also used at a higher rate as it is used to make construction materials, pipes, containers, buckets, benches, and many materials. Polypropylene will expand its industry as it is highly used in making car parts, disposable diapers, and medical devices.
Usage of Plastic bottle are at higher rate
Plastic bottle usage is at a higher rate, as bottles can be seen everywhere. The bottles are made of PET and hence can be easily recycled. However, a large amount of the bottles are thrown away, and with the flow of streams or rivers, they get disposed of in the ocean, because of which the contamination is at a higher rate, and much marine life suffers.
Plastic bags also contribute to the contamination of marine life. As awareness is increasing among people, they are shifting to eco-friendly bags. Many governments have banned the use of plastics, and instead of that, plastics that can be recycled are used, and primarily eco-friendly bags are used, which are made of paper and jute.
Consumer products dominated the market by higher revenue share
Consumer products are used on a daily basis owing to the high demand as end-users. All the consumer products are packed in PET resins which are easily recycled. Soft drinks, juices, and distilled water are the primary drivers of the demand. The packaging of many products is changing and are becoming eco-friendly and recyclable; thus, the need for it is increasing.
With the growing industrialization and urbanization, the sector is expected to expand in the market over the forecast period. The need for fibers will also increase with the increasing urbanization.
North America dominated the market and is expected to expand over the forecast period
North America is the largest region for recycled ocean plastics market. It is expected to witness faster growth over the forecast period owing to government initiatives across the countries. In addition, the excellent infrastructure with high technology leads to the higher usage of recycled plastic. North America focuses on making products from recycled plastics, followed by European countries.
The Asia Pacific is expected to grow during the forecast period as the primary waste in the ocean is from the Asia Pacific. India contributes majorly reasons being mismanagement of the trash that is collected. Thus, improving government policies and initiatives will help the Asia Pacific region expand the recycled ocean plastics market.
Competitive Insight
Some of the major players operating in the global market include Ocean Plastic Technologies, The Ocean Cleanup, Oceanworks, OCEANPLASTIK SRO, Textil Santanderina, Seaqual Initiative, Waterhaul, BIONIC, Bureo, Aquafil S.p.A., Tide Ocean SA, PLASTIX, POPSICASE, Parley, Econyl, Indorama Ventures Public Ltd., Veolia, Suez, Jayplas, Alpek, Biffa, Republic Services, Stericycle, Far Eastern New Century Corporation, KW Plastics, B. Schoenberg & Co., B&B Plastics, Remondis SE & Co. KG, Clear Path Recycling, Custom Polymers, Plastipak Holdings, Waste Connections, Inc., MBA Polymers.
Recent Developments
In June 2022, MBA Polymer participated in a Plastic recycling show held in Amsterdam, where MBA Polymer introduced its latest recycling technologies and their usage.
In September 2021, Microsoft announced a new computer mouse made from recycled ocean plastic.
Recycled Ocean Plastics Market Report Scope
| | |
| --- | --- |
| Report Attributes | Details |
| Market size value in 2021 | USD 1.42 billion |
| Revenue forecast in 2030 | USD 2.70 billion |
| CAGR | 7.5% from 2022 - 2030 |
| Base year | 2021 |
| Historical data | 2018 - 2020 |
| Forecast period | 2022 - 2030 |
| Quantitative units | Revenue in USD billion and CAGR from 2022 to 2030 |
| Segments covered | By Resin Type, By Source, By End-Use, and By Region |
| Regional scope | North America, Europe, Asia Pacific, Latin America; Middle East & Africa |
| Key companies | Ocean Plastic Technologies, The Ocean Cleanup, Oceanworks, OCEANPLASTIK SRO, Textil Santanderina, Seaqual Initiative, Waterhaul, BIONIC, Bureo, Aquafil S.p.A., Tide Ocean SA, PLASTIX, POPSICASE, Parley, Econyl, Indorama Ventures Public Ltd., Veolia, Suez, Jayplas, Alpek, Biffa, Republic Services, Stericycle, Far Eastern New Century Corporation, KW Plastics, B. Schoenberg & Co., B&B Plastics, Remondis SE & Co. KG, Clear Path Recycling, Custom Polymers, Plastipak Holdings, Waste Connections, Inc., MBA Polymers. |