The global rubber molding market size is expected to value at USD 33.97 billion in 2019 and is anticipated to grow at a CAGR of 6.3% during the forecast period. There is a paradigm shift in every industry which is now focusing on adopting greener, safer, environmentally conscious technology. Companies operating in the rubber molding industry are employing cutting-edge technologies to cultivate innovative raw materials and product formulations that help overcome the challenges of the most complex and aggressive rubber compounds. Companies use combination of various instruments and analytical techniques such as chromatography, spectroscopy, thermal analysis, and polymer analysis to develop highly efficient products. Rapid advancements in the development and manufacturing process helps the companies to increase their productivity and provide cost-effective products, which in turn improves their reputation in the industry. Advancements with respect to the equipment and new ways of manufacturing tiny parts is also keeping the rubber molding industry on the cutting edge of innovation. Introduction of robotics is simplifying the manufacturing process and making it easier for the companies. Thus, offering significant growth opportunities in the rubber molding industry.
Factors such as rapid developments in the automotive industry, and technological advancements, are the primary factors fueling the growth of the rubber molding market during the forecast period. Additionally, improving living standards and growing urbanization which have in turn increased the demand for advanced automobiles, production at faster rates, rapid industrialization, and modernization of industrial machinery are also driving the growth of this industry across the globe. Furthermore, increasing demand for innovative technologies in developing nations, paradigm shift towards adoption of green materials, growing research activities, and stringent regulations with respect to vehicular emissions and safety are also expected to provide significant growth opportunities in this market. However, price volatility, shortage of advanced raw material, and regulatory issues are some of the factors that are likely to restrain the growth of this market during the forecast period.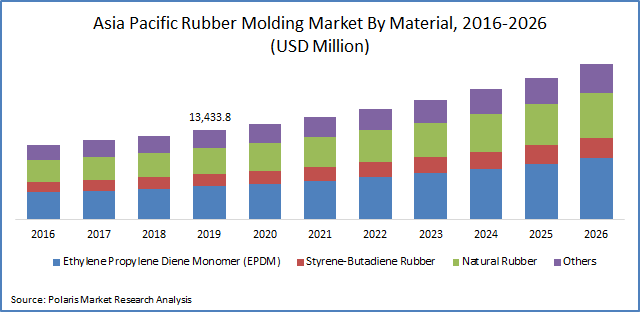 Know more about this report: request for sample pages
Globally, one of the major trends observed in comprehensive mechanization and automation of production processes is modernization of equipment. There are numerous developments taking place in the field of manufacturing with regards to the machinery which has a greater impact on the manufacturing processes. Various new technologies with molding equipment are being developed and designed to make the machines operate more on their own without having to have any human involvement. One such advancement is introduction of robotics in the manufacturing process which has helped revolutionize molding machines, turning them into a perfunctory extension of the workforce.
Each process of rubber molding has its own advantages and disadvantages, be it from compression and transfer to injection molding and plastic injection molding. With rapid developments in the end user industries, the demand for rubber molded products and accessories has experienced a huge leap. Due to the technological advancements in the automotive industry there is increasing adoption in vehicles, which has created a huge demand for rubber molded products. The traditional processes were time consuming and costly which encourages the development and implementation of automated equipment and process. Companies such as Proto Labs, Continental AG, Freudenberg and Co. Kg, and many more have transformed their methods which has helped them provide more diversity in prototyping and small volume manufacturing.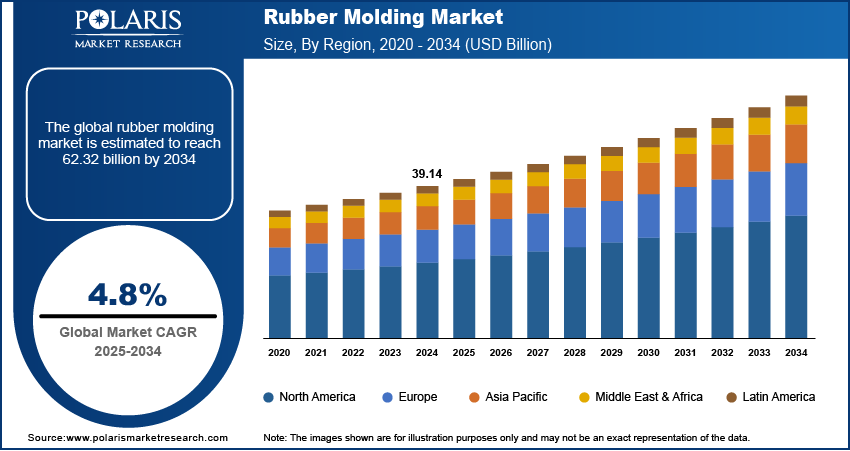 Know more about this report: request for sample pages
Rubber Molding Market Report Scope
The market is primarily segmented on the basis of type, deployment model, application, end user, and geographic region.
By Type

By Material

By End User

By Region

Injection Molding
Transfer Molding
Compression Molding
Others

Ethylene Propylene Diene Monomer (EPDM)
Styrene-Butadiene Rubber (SBR)
Natural Rubber (NR)
Others

Automotive
Healthcare
Industrial
Sporting Goods
Others

North America (U.S., Canada)
Europe (France, Germany, UK, Italy, Spain, Belgium, Russia, Netherlands, RoE)
Asia Pacific (India, Japan, China, Korea, Singapore, Malaysia, Indonesia, Thailand, Philippines, RoAPAC)
Latin America (Brazil, Mexico, Argentina, RoLATAM)
MEA (UAE, Saudi Arabia, South Africa, Rest of MEA)
Know more about this report: request for sample pages
Type Outlook
Based on type, the market is segmented into injection, transfer, compression, and other molding types. The injection molding segment dominated the global market in 2019 and this segment is expected to grow at a highest CAGR during the forecast period. This growth is mainly attributed to benefits offered by this type as automatic material feeding, use in high precision applications, high level of repeatability, and closed mold injection. Rubber injection molding is considered as an economical process for high volumes of medium to high precision components. It is capable of producing over molded components with minimal wastage of material. These advantages increases the adoption of this segment and thus drives the growth of this market.
Furthermore, several advantages associated with transfer molding process include shorter production cycle times compared to traditional compression type, supports high precision applications, closed mold transfer supports mold of complex geometries and over-molding, and advantages for colored or translucent compounds. These advantages contribute to the increasing use of transfer molding process drive the growth of this market.
Material Outlook
On the basis of material, the global market is segmented into ethylene propylene diene monomer, styrene-butadiene rubber, natural rubber, and others. The ethylene propylene diene monomer (EPDM) segment dominated the global industry in 2019 by holding largest market share in the industry. This segment is expected to grow at a significant growth rate based on the factors such as increasing demand from the automotive sector, rising penetration of electric vehicles, and stringent government regulations. EPDM has unique properties such as excellent ozone and UV resistance, great weather ability, broad and low operating temperature ranges, ability to form into highly loaded compound formulations with less costly fillers like clay and carbon black. Based on these properties EPDM is sold in many niche applications markets.
End User Outlook
On the basis of end user, the global rubber molding market is segmented into automotive, healthcare, industrial, sporting goods, and others. In 2019, the automotive sector accounted for the highest market share and is expected to grow at a highest CAGR during the forecast period. The growth of this segment is attributed to increasing demand for passenger vehicles, and increasing restrictions regarding vehicle performance, safety, and emissions. As the automotive industry grows due to technological advancements and growing adoption of vehicles, the demand for rubber molded products is gradually expected to increase. According to the market experts, in 2018, auto makers spent a record high of $11 billion on tooling, up from $9 billion in 2017.
Furthermore, the medical device industry is a fast-changing one, and new technology and new applications are requiring new designs that affect the evolution of molded rubber formulations. It is critical for medical device manufacturers and designers to make the effort to be aware of new materials being developed and the advantages they offer.
Regional Outlook
In 2019, In Asia-Pacific dominated the market as the automotive industry is this regional segment is growing at a rapid pace. Moreover, rapid urbanization, increasing research and development activities, expansion of international players in this region, and technological advancements are some of the additional factors attributed to the growth of this regional segment. Companies are expanding their presence in this region to avail the opportunities and enhance their presence in Asia-Pacific region. For instance,
In August 2018, Continental established its new 3D blow molding plant in Changshu, China. This enabled the company to enhance its presence in Asia-Pacific.
Furthermore, Europe is expected to follow Asia-Pacific and hold second highest market share in the global market. Large presence of key players operating in this industry, and rapid advancements in automotive industry are considered to the factors attributed to the huge market in this region.
North America also showcases a significant growth based on various strategic initiatives taken by the players operating in this regional segment. For instance,
In February 2018, Dow Medical Solutions, a business unit of the DowDuPont Specialty Products Division, launched its two new Dow Corning QP1-33X0 Liquid Silicone Rubber (LSR) grades and new Dow Corning QP1-5040 Self-Adhesive LSR grade, in the US market.
Competitive Landscape
Companies are expanding their presence across various geographies and entering new markets in developing regions to expand their customer base and strengthen presence. The companies are also introducing new innovative products in the market to cater to the growing consumer demands. The key leading players in the market include Freudenberg and Co. Kg, Continental AG, Sumitomo Riko Co. Ltd., NOK Corporation, Federal-Mogul Corporation, Hutchinson SA, Toyoda Gosei Co., Ltd., Trelleborg AB, Bohra Rubber Pvt. Ltd, and Steele Rubber Products among others.