The global set top box market was valued at USD 23.41 billion in 2022 and is expected to grow at a CAGR of 3.3% during the forecast period.
The market outlook is being positively influenced by shifting consumer behavior towards consuming media content through television and the internet, particularly considering ongoing transitions in the digital TV domain. Additionally, the market is being boosted by the increasing penetration of the internet and broadband services, as well as the growing preference for high-definition (HD) channels and on-demand video services. These factors collectively contribute to the growth of the market.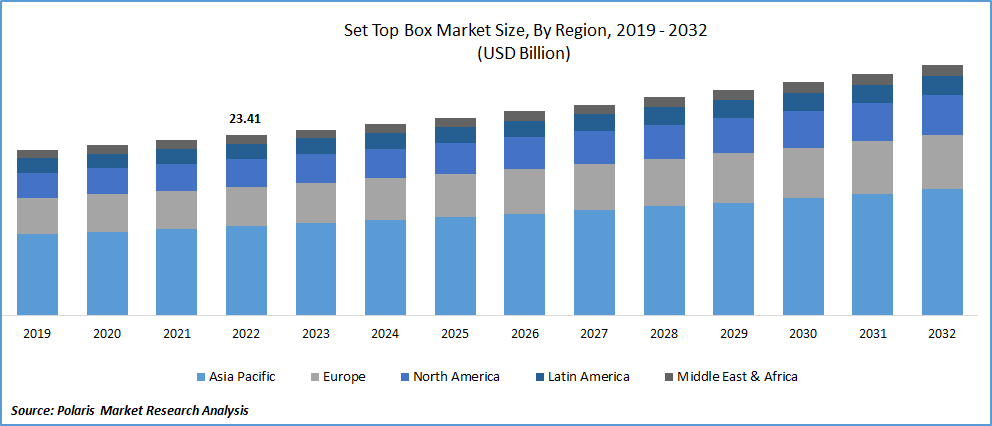 To Understand More About this Research: Request a Free Sample Report
The demand for Android set-top boxes (STBs) is experiencing significant growth due to their ability to provide an enhanced & personalized user experience. These STBs offer a robust app ecosystem, the TV Input Framework (TVIF), and even video conferencing features. The availability of diverse connectivity options such as Wi-Fi, Ethernet, HDMI, & Bluetooth is also driving the demand for the latest models of STBs. Moreover, the integration of advanced technologies such as Bluetooth Low Energy (BLE), voice-enabled remote controls, and support for Full HD, 4K, and 8K resolutions sets these latest STB models apart from conventional set-top boxes, contributing to the set top box market growth potential throughout the forecast period.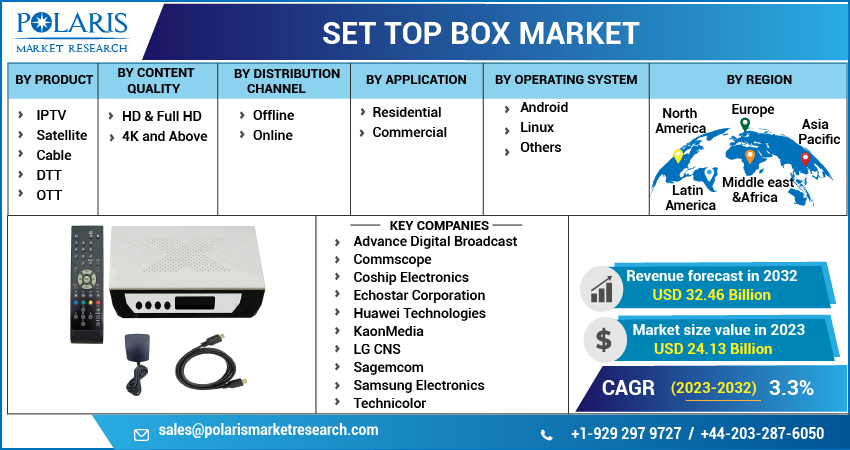 For Specific Research Requirements, Request for a Customized Report
Industry Dynamics
Growth Drivers
Rise in Demand for High-Quality Content
The COVID-19 pandemic had a transformative impact on the media industry, leading to a shift in the media landscape and an increased adoption of digital technologies. Market players responded to these changes by embracing the latest technologies and replacing traditional setups. For instance, in March 2022, KAONMEDIA & 3 Screen Solutions collaborated to new TV services in Scandinavia using KAON BCM72180 PVR, an Android TV set-top box that supports the DTH satellite, OTT, & IPTV. This innovative solution was introduced to cater to the needs of over 1 Mn subscribers of the Allente.
Furthermore, in November 2022, DISH Network introduced a new offer aimed at attracting new long-term customers. The offer included the locking of subscription prices on 3-year plans, ensuring that customers would not experience any price increases during the specified period. This strategic move was intended to provide customers with price stability and incentivize them to commit to long-term subscription plans.
Report Segmentation
The market is primarily segmented based on product, content quality, distribution channel, application, operating system, and region.
By Product

By Content Quality

By distribution channel

By Application

By Operating System

By Region

IPTV

Satellite

Cable

DTT

OTT

HD & Full HD

4K and Above

North America (U.S., Canada)

Europe (France, Germany, UK, Italy, Netherlands, Spain, Russia)

Asia Pacific (Japan, China, India, Malaysia, Indonesia. South Korea)

Latin America (Brazil, Mexico, Argentina)

Middle East & Africa (Saudi Arabia, UAE, Israel, South Africa)
To Understand the Scope of this Report: Speak to Analyst
By Product Analysis
OTT segment accounted for the largest market share in 2022
OTT segment held the largest share. This is primarily due to ongoing technological advancements that enable broadcasters to provide improved sound quality and high-resolution picture quality. OTT platforms offer various enhanced features, including simplified payment methods, reduced time-to-content, and the ability to watch content at a preferred time. The increased viewership on popular OTT platforms like Amazon Prime Video, Hulu, Disney+ Hotstar, and Netflix is also playing a significant role in driving the growth of this segment.
Cable segment is likely to grow at fastest growth rate. Government mandates for cable digitization and the advantages associated with cable TV, such as increased channel capacity, are also contributing to the demand for cable STBs. Recognizing cable TV as a popular platform, several cable service providers are enhancing their technology and services. However, the popularity of cable TV has been declining in recent years due to shifting consumer preferences towards technologically advanced content viewing platforms.
By Content Quality Analysis
HD and Full HD segment held the significant market revenue share
HD & full HD segment held the majority market share. It is due to rising demand for these STBs, driven by their ability to provide access to a wider range of channels compared to their 4K counterparts. These STBs are gradually replacing traditional SD boxes due to their enhanced sound and picture quality, as well as the availability of exclusive channels. Furthermore, the increased sales of the smart TVs have contributed to the growing demand for such set-top boxes, further supporting the growth of this segment.
4K and above segment is likely to exhibit fastest growth rate. Segment's growth is due to the growing demand for high-resolution content and sharp picture quality provided by these STBs. Additionally, the favorable regulatory environment, which promotes the installation of set-top boxes and encourages large-scale digitization initiatives in different countries, is anticipated to drive the growth of this segment. In the United States, regulatory bodies like the Federal Communications Commission (FCC) are implementing initiatives to support third-party STB manufacturers, opening new opportunities for manufacturers of 4K STBs.
By Application Analysis
Residential segment held the significant market revenue share
Residential segment held the majority market share. This significant share can be attributed to the widespread presence of television sets in residential households. Furthermore, the increasing trend of entertainment through movies and TV shows is met by set-top boxes, which further drives the demand within this segment. Additionally, the impact of the pandemic is expected to have contributed to the growth of the residential segment as people installed set-top boxes to keep themselves entertained during government-imposed lockdowns.
Commercial segment is likely to exhibit fastest growth rate. This growth can be attributed to the rising adoption of set-top boxes in various commercial establishments such as restaurants, bars, and other venues for hosting sports events and movie screenings. Additionally, the cost-effectiveness of using set-top boxes in commercial entities is expected to drive the demand even further. Moreover, the versatility of set-top boxes, with multiple output ports enabling connection to multiple TVs, is anticipated to fuel the demand within the commercial segment. This feature offers scalability options to business owners, enhancing the attractiveness of set-top boxes for commercial applications.
By Operating System Analysis
Linux segment held the significant market revenue share
Linux segment held the majority market share. This notable share can be attributed to the advantages offered by the open-source nature of the Linux operating system, enabling manufacturers to reduce costs through streamlined implementation. Furthermore, the highly customizable nature of the Linux OS is expected to drive its adoption among manufacturers, who can develop set-top boxes with tailored smart features to attract users.
Android segment is likely to exhibit fastest growth rate. This growth can be attributed to the increasing popularity of OTT and video sharing platforms, as the applications of these platforms can be easily downloaded and utilized on Android-based set-top boxes. Additionally, the rising demand for smart TVs is expected to drive the growth of the Android segment, as Android-based set-top boxes provide smart features and functionalities without requiring a separate smart TV.
Regional Insights
Asia Pacific region dominated the global market in 2022
APAC dominated the global market. This can be attributed to the increasing consumption of media and entertainment content, particularly among the middle-class population in the region. The growing demand for technologically advanced solutions that offer high quality, functionality, and affordability is creating lucrative opportunities in the market. To capitalize on these opportunities, prominent players such as Kaonmedia & Huawei Technologies are actively integrating the latest technologies, including Bluetooth, motion sensors, and Virtual Reality, into their products.
North America expected to witness steady growth rate. The market in this region is relatively mature, with a high penetration of set top box devices in households. Region serves as a significant hub for emerging Internet-based set top boxes, including IPTV and OTT platforms, which offer customizable configurations and deliver high-quality video and sound content. Furthermore, the increasing prominence of OTT providers such as Netflix, & Amazon Prime is contributing to the expansion of the market.
Key Market Players & Competitive Insight
To bolster their market presence, key players in the set top box industry are placing emphasis on technological advancements, launching new products, and forming strategic alliances. They are incorporating Artificial Intelligence (AI) into set top boxes to offer personalized services, optimize backend server expenses, minimize human intervention, and efficiently utilize available bandwidth.
Some of the major players operating in the global market include
Advance Digital Broadcast

Commscope

Coship Electronics

Echostar Corporation

Huawei Technologies

KaonMedia

LG CNS

Sagemcom

Samsung Electronics

Technicolor
Recent Developments
In February 2023, ADB has introduced Cheetah, a cutting-edge Wi-Fi 7 gateway based on multi-gigabit XGS-PON technology. This advanced gateway incorporates the essential features of Wi-Fi 7, such as 4k-QAM modulation, an ultra-wide 320MHz channel, Preamble Puncturing, and Multi-Link Operation.
Set Top Box Market Report Scope
| | |
| --- | --- |
| Report Attributes | Details |
| Market size value in 2023 | USD 24.13 billion |
| Revenue forecast in 2032 | USD 32.46 billion |
| CAGR | 3.3% from 2023 – 2032 |
| Base year | 2022 |
| Historical data | 2019-2021 |
| Forecast period | 2023 – 2032 |
| Quantitative units | Revenue in USD billion and CAGR from 2023 to 2032 |
| Segments covered | By Product, By Content Quality, Distribution Channel, By Application, By Operating System, By Region |
| Regional scope | North America, Europe, Asia Pacific, Latin America; Middle East & Africa |
| Customization | Report customization as per your requirements with respect to countries, region and segmentation. |