The global sisal market was valued at USD 1,299.31 million in 2022 and is expected to grow at a CAGR of 4.2% during the forecast period. Agave sisalana is the scientific name for sisal, a coarse and robust fiber obtained from the leaves of agave plants. It has historically been employed in producing rugs, rough purses, ropes, cordage, dartboards, and especially naval rope. Materials can also be polished using sisal cloth. Sisal fiber is obtained from the sisal plant leaves and is a type of bast fiber. Decortication, a method of securing sisal fibers, involves crushing the leaf among rollers and mechanically scraping it. The fiber is then cleaned and dried in preparation for processing. The leaves of the endemic tropical plant known as sisal are a source of durable natural fiber that can be used to make ropes, carpeting, twines, and sacks. The sisal industry can spread more broadly by using a hybrid sisal plant to produce high-quality paper production pulp.
Significant growth in the market for sisal products is anticipated throughout the projected period. Sisal fiber has unique properties, such as a high bulk, tear resistance, & high porosity, which make it suitable for a variety of specialty papers and support the market's growth throughout the projection period. Moreover, research on site suitability and soils suggests that continuous sisal farming depletes the soil's nitrogen stores, making the crop unable to reach high output levels.
The market for sisal is additionally anticipated to expand due to consumers' growing awareness of eco-friendly products. Energy efficiency, using renewable feedstocks in polymer goods, supporting industrial practices that lower carbon emissions, and creating recycled waste all support the idea of a "green" economy. Unquestionably, the attractiveness of natural fibers can be attributed to the fact that they are not only healthy for the skin but also beneficial to the environment. Cultivating one ton of jute fiber uses less than 10% of the energy needed to make polypropylene, a plastic polymer. However, the decline in sisal production is due to limited sisal market prospects, unfavorable worldwide sisal market prices, and inadequate research and development.
The COVID-19 pandemic is a factor in the rise in face mask use. An increase in plastic pollution is endangering marine life. Using natural plant fiber to make face masks is a sustainable technique for building material production using waste from recycled masks. Due to the growing usage of face masks and the shift in customer preference to single-use masks due to the hygiene issue, there has been a significant increase in the generation of plastic trash during COVID-19. Natural fibers from plants, including cacti, bananas, avocados, lotuses, sisal, straw, hemp, maize, bamboo, hemp, coffee, and sugar cane, may produce masks that are up to standards.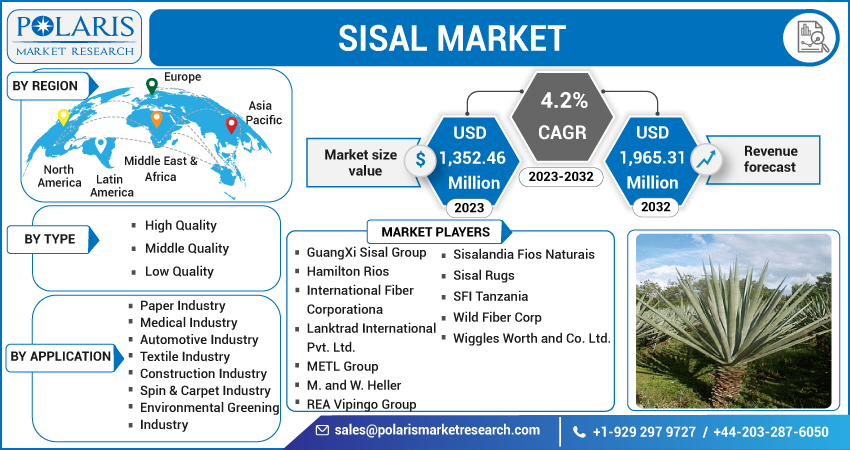 For Specific Research Requirements, Request a Customized Report
Industry Dynamics
Growth Drivers
Rising applications for sisal across various verticals rapidly drive the market's growth over the forecast period. Sisal was previously commonly used to make ropes, general cordage, and twines, but as businesses began utilizing sisal to make paper, buffing cloth, dart-boards, handicrafts, geo-textiles, rope cores, & mattresses, the product variety progressively increased. Other sisal-inclusive items include steel-based cable yarn, twisted thread, common yarn, and knitted crafts. High-quality papermaking pulp may be produced using a hybrid of sisal plants, which would help the sisal market increase overall.
Further, the sisal plant is used to manufacture the carpets & ropes, which is expected to boost demand for sisal goods during the projected period. As a result of its excellent folding endurance and high cellulose content, sisal tree pulp is perfect for making paper. Sisal is a natural strengthening agent that can replace asbestos and fiberglass in composite materials, making its application in non-woven textiles of equal importance. As a result, sisal fiber employment in the automotive industry has expanded. The grade of sisal fiber affects its application. Sisal production is expected to rise due to the material's broad applications.
Report Segmentation
The market is primarily segmented based on type, application, and region.
By Type

By Application

By Region

High Quality

Middle Quality

Low Quality

Paper Industry

Medical Industry

Automotive Industry

Textile Industry

Construction Industry

Spin & Carpet Industry

Environmental Greening Industry

Other

North America (U.S., Canada)

Europe (France, Germany, UK, Italy, Netherlands, Spain, Russia)

Asia Pacific (Japan, China, India, Malaysia, Indonesia. South Korea)

Latin America (Brazil, Mexico, Argentina)

Middle East & Africa (Saudi Arabia, UAE, Israel, South Africa)
To Understand the Scope of this Report: Speak to Analyst
The medium-quality segment is expected to witness the fastest growth during the forecast period
Sisal is generally divided into lower, medium, and high grades. The rising adoption of middle-quality sisal fibers due to their benefits is driving segmental growth. Because hemicelluloses and cellulose make up a sizable component of lower-grade fiber, manufacturers in the paper industry use that variety. The cordage industry mostly uses medium-grade fiber to make ropes, balers, and binder twine. These goods are largely utilized for industrial, commercial, and agricultural reasons. The carpet business uses high-grade sisal from the third quality to create yarn. Sisal is used alone or in carpets containing wool and acrylic for a softer hand.
The demand in Europe is expected to witness significant growth during upcoming year
Europe is dominating the market growth. Brazilian sisal growers and processors focus on key industries like agriculture, maritime, and automobiles to reclaim the market share lost to synthetic fibers in the USA and Europe. To represent the sisal sector before governmental and international organizations and to look for advantages for the fiber industry, Sindifibras was established as a private institution in the state of Bahia.
Furthermore, the rising cost of petroleum, related chemicals, and raw materials for synthetic fibers is a significant factor influencing a resurgence in interest in sisal on a global scale. Sindifibras is placing a greater emphasis on research and investment to raise production standards and promote new applications for sisal. Also, due to the lower manufacturing cost in the region, North America is anticipated to be the largest market for natural fabrics such as sisal due to the expanding vehicle industry and substantial R&D in creating natural polymer matrices for automobile applications.
Competitive Insight
Some of the major players operating in the global market include GuangXi Sisal, Hamilton Rios, International Fiber Corporationa, Lanktrad International, METL, M. and W. Heller, REA Vipingo, Sisalandia Fios Naturais, Sisal Rugs, SFI Tanzania, Wild Fiber, and Wiggles Worth.
Recent Developments
In April 2020, the China Great Cause (Cambodia) Investment was granted a license in Preah Vihear province to construct a processing factory; Cambodia began farming sisal, an agave plant that provides a strong fiber. Agave sisalana, the botanical name for sisal, was imported by the corporation and will be grown on 180 ha of its 1,200 ha plantations in the province's Rovieng region.

In December 2020, a Dutch company planned to develop a USD 6 million sisal processing facility in the Tanga. For the needs of the international market, Grosso Sisal produced concentrate based on sisal products, e.g., fibers. Sisal farmers in the area will also profit from the investment because it would open up markets for their goods.
Sisal Market Report Scope
| | |
| --- | --- |
| Report Attributes | Details |
| Market size value in 2023 | USD 1,352.46 million |
| Revenue forecast in 2032 | USD 1,965.31 million |
| CAGR | 4.2% from 2023- 2032 |
| Base year | 2022 |
| Historical data | 2019- 2021 |
| Forecast period | 2023- 2032 |
| Quantitative units | Revenue in USD million and CAGR from 2023 to 2032 |
| Segments Covered | By Type, By Application, By Region |
| Regional scope | North America, Europe, Asia Pacific, Latin America; Middle East & Africa |
| Key Companies | GuangXi Sisal Group, Hamilton Rios, International Fiber Corporationa, Lanktrad International Pvt. Ltd., METL Group, M. and W. Heller, REA Vipingo Group, Sisalandia Fios Naturais, Sisal Rugs, SFI Tanzania, Wild Fiber Corp., and Wiggles Worth and Co. Ltd. |