The global tannin market was valued at USD 10.18 billion in 2022 and is expected to grow at a CAGR of 7.0% during the forecast period. Tannins are biomolecules with astringent properties extracted from different parts of plants and fruits, such as seeds, barks, stem tissues, leaves, and roots. Plants contain much tannin content, which saves them from predation and helps regulate their growth. Tannin-rich fruits include blueberries, cranberries, hazelnuts, strawberries, walnuts, pecans, oranges, and grapes.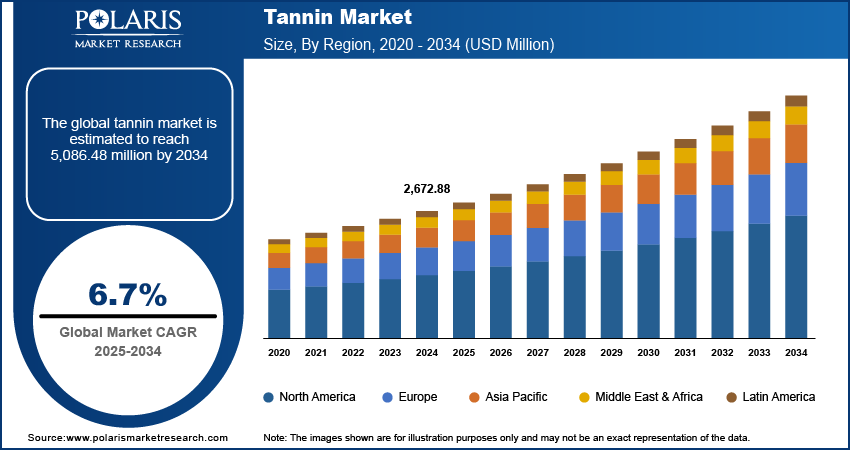 To Understand More About this Research: Request a Free Sample Report
The enterprise in the region is expected to be propelled by the increasing demand from the leather manufacturing and pharmaceutical industries due to rising disposable income and the presence of major players. Tannins are available in three main forms: non-hydrolyzable, phlorotannins, and hydrolyzable. These tannins have strong binding properties with amino acids, proteins, and alkaloids, making them useful in various industries such as winemaking, leather tanning, and wood adhesives. Oak, quebracho, and mimosa tree extracts are commonly used for leather manufacturing and treatment.
For vinification and aging purposes, the winemaking industry needs extracts in large quantities. Wines that have been aged are frequently called premium goods and status symbols by consumers. The rise of the wine business is boosting the demand for wine applications because of increased disposable income and consumers' willingness to pay a premium for high-end goods like wine.
Businesses are spending money on R&D projects and working to create environmentally friendly production methods. The creation of new technologies and continuous improvement is steering industry growth.
Fruits, plant tissues, galls, and tree bark can all be used to extract tannin. It is described as an organic substance with a harsh taste and a brown appearance. It is used in the production of wines because it has a wealth of oxidation qualities. Moreover, it aids in preventing lipid peroxidation and other forms of cellular oxidative damage. Furthermore, tannins shield the human body from external influences like microorganisms, food germs, and water bacteria.
The tanning process for leather uses tannin. The leather business uses tannins from plants, including oak, quebracho, and mimosa. The leather business has historically benefited from the availability of a broad product range, a growing population, and changes in customers' attitudes regarding clothing. The trend will continue over the projected period, benefiting the tanning sector.
Leather is frequently produced using tannins taken from various tree parts, including the bark, roots, and leaves. The substance is used to tan leather because it does not decompose due to its insoluble proteins. Tannins help to improve the leather's wearability, solidity, and water resistance. It is becoming increasingly popular to utilize leather in household and automotive applications, as well as in shoes and garments. As a result, the demand for tannin extracts used in leather tanning has skyrocketed. The need for leather is also expected to be fueled by rising consumer disposable income and population growth. Over the projected period, these elements are anticipated to contribute to expanding the worldwide market.
Industry Dynamics
Growth Drivers
Tannins are naturally occurring polyphenolic compounds found in plants, fruits, and vegetables and are used in various industries, including food and beverages, cosmetics, and pharmaceuticals.
Tannins are widely used as natural food additives and flavor enhancers in the food and beverage industry. As consumers become more health-conscious and demand for natural and organic products grows, the market for tannins in this sector is expected to increase. Tannins are used in cosmetics and personal care products due to their anti-inflammatory, antioxidant, and astringent properties. With the rise in demand for natural and organic cosmetics, the use of tannins in this industry is expected to increase.
Tannins are used in the pharmaceutical industry due to their antimicrobial, antiviral, and anticancer properties. With the growing prevalence of chronic diseases and the need for new and effective treatments, the use of tannins in this industry is expected to increase. Tannins are a key component in wine and other alcoholic beverages and are responsible for the astringency and bitterness of these products. With the growing demand for wine and other alcoholic beverages, the market for tannins in this sector is expected to increase.
With the increasing focus on developing new and innovative applications of tannins, there is a growing demand for research and development activities in this field. It is expected to drive the growth of the tannin market in the coming years.
Report Segmentation
The market is primarily segmented based on source, product type, application and region.
By Source

By Product Type

By Application

By Region

Hydrolysable

Non-Hydrolysable

Phlorotannin

Wine Production

Tea

Coffee

Juices

Medical/Pharmaceutical

Leather Tanning

Wood Adhesives

Others

North America (U.S., Canada)

Europe (France, Germany, UK, Italy, Netherlands, Spain, Russia)

Asia Pacific (Japan, China, India, Malaysia, Indonesia. South Korea)

Latin America (Brazil, Mexico, Argentina)

Middle East & Africa (Saudi Arabia, UAE, Israel, South Africa)
To Understand the Scope of this Report: Speak to Analyst
The plant

segment held the highest market share in 2022
The plant segment held the highest market share in the 2022. Condensed tannins, the most abundant organic compounds in almost all plant families, are responsible for this growth. Some examples of tannin-containing plants include trefoil, wattle, sainfoin, mangroves, quebracho, canaigre, and eucalyptus. These plants are readily available, and their tannin manufacturing processes are also simple, which is expected to drive growth in this segment.
Brown algae, on the other hand, are located in various aquatic environments such as rock pools, tidal splash zones, intertidal zones, and nearshore waters. These algae are typically fast-growing and large seaweeds. However, their procurement, handling, and treatment are difficult and costly, resulting in a low market share for this segment.
The leather tanning segment

is expected to hold the largest revenue during the forecast period
Leather tanning segment is anticipated to hold largest revenue during the forecast period. Proteins called tannins are insoluble and do not break down. Animal skins are treated throughout the tanning operations for leather. Due to its numerous uses in furniture, clothing, and car seats, the demand for leather is rising. Increasing consumer disposable income and demand for leather goods will promote industry expansion.
Tannins have strong anti-oxidant qualities that are necessary for the creation of wines. It gives wines the appropriate structure and stabilizes their color. These extracts aid in the wines' proper fermentation, aging, and fragrance development. In the coming years, rising alcohol production and concurrent consumption are expected to drive the market.
Europe is expected to witness the significant growth during forecast period
Europe is expected to witness the significant growth during the forecast period due to its highly developed wine industry, particularly France, which has a large share of the global tannin market.
The growth is driven by increasing tannin consumption in the leather and wine processing industries. Germany is the largest leather producer in Europe, has over 100 leather manufacturers, and utilizes a significant amount of tannin. Furthermore, Germany is the fourth largest wine producer in the European Union after Spain, Italy, and France. According to the United States Department of Agriculture (USDA), Germany's wine production for 2019 was estimated at 8.4 million hectoliters.
North America, following Europe, held a significant share of the total revenue in 2022. Growing alcohol consumption and increasing demand for leather commodities are expected to remain key driving factors for the industry in this region. Additionally, major players in North America are expected to drive industry growth over the forecast period.
The United States is one of North America's projected consumers of tannin, with most of the tannin produced in the country primarily used by the leather industry for tanning and dyeing processes. The United States Hide, Skin, and Leather Association (USHSLA) reported that the government is a major exporter of tanned skins and hides, valued at USD 3 billion as of 2019. China, Italy, Vietnam, the U.K., Thailand, and Taiwan are among the major importers of U.S. hides and skins.
Competitive Insight
Major players operating in the global market include UCL Company (Pty) Ltd., Polson Ltd., Zhushan County Tianxin Medical & Chemical Co., Ltd., Tannin Corporation, S.A. Ajinomoto OmniChem N.V., Forestal Mimosa Ltd., Tanin Sevnica Ltd.., Ever s.r.l, LaffortSA, Tanac S.A, W. Ulrich GmbH.
Recent Developments
In May 2018, in Belgium, the Europe Pilot Plant (BBEPP), which is Bio Base and Rehab, worked for the upscaling and development of tannin hot water extraction.
Tannin Market Report Scope
| | |
| --- | --- |
| Report Attributes | Details |
| Market size value in 2023 | USD 10.82 billion |
| Revenue forecast in 2032 | USD 19.86 billion |
| CAGR | 7.0% from 2023 - 2032 |
| Base year | 2022 |
| Historical data | 2019 - 2022 |
| Forecast period | 2023 - 2032 |
| Quantitative units | Revenue in USD billion and CAGR from 2023 to 2032 |
| Segments covered | By Source, By Product Type, By Application, By Region |
| Regional scope | North America, Europe, Asia Pacific, Latin America; Middle East & Africa |
| Key companies | UCL Company (Pty) Ltd., Polson Ltd., Zhushan County Tianxin Medical & Chemical Co., Ltd., Tannin Corporation, S.A. Ajinomoto OmniChem N.V., Forestal Mimosa Ltd., Tanin Sevnica Ltd.., Ever s.r.l, LaffortSA, Tanac S.A, W. Ulrich GmbH. |