The global vapor recovery units market was valued at USD 0.88 billion in 2021 and is expected to grow at a CAGR of 4.0% during the forecast period. This eliminates undesired vapors present in crude oil or distillate tanks. They assist in extracting and removing harmful vapor and fluid contaminants from crude products, resulting in enhanced purity and reduced emission of toxic pollutants.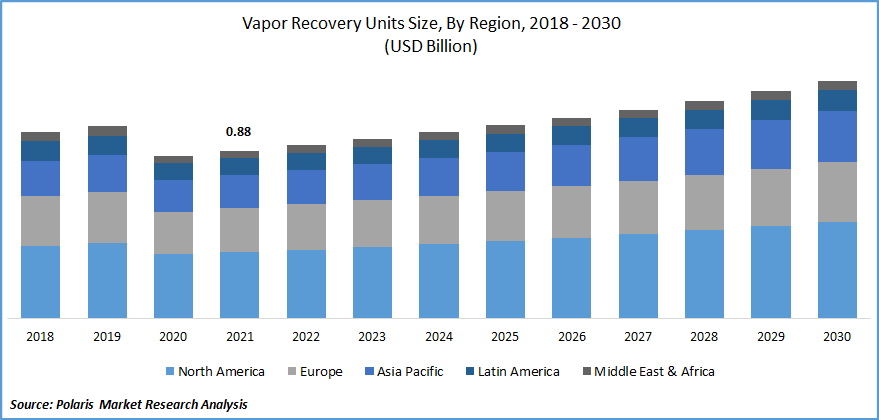 Know more about this report: Request for sample pages
The demand for such units has increased over the years owing to the introduction of stringent emission regulations. These units also enable the recovery of hydrocarbon gas, which can be used as fuel or re-ejected in oil wells.
They are increasingly being used in chemical industries for recovering undesired vapors from storage units, improving the purity of chemicals, and ensuring safe use and transport. These are designed to acquire almost 95% of Btu-rich vapors. The use of these units increases profitability while decreasing operating costs.
These units are used in various applications, such as oil tank vapors. Marine loading terminals, storage terminals, truck loading, railcar loading, barge degassing, and vapor particulate filter, among others. This recovery unit based on adsorption offers a large filtration system for managing vapor offset during liquid loading of trucks, railcars, marine vessels, or tanks. In this unit, the hydrocarbons are adsorbed by a bed of activated carbon for purifying the air that exits the system.
Environmental protection authorities in several countries have introduced regulations and laws associated with vapor removal specifications for operators and producers engaged in the processing and storage of petroleum, natural gas, and petrochemical products.
The United States Environmental Protection Agency has implemented the New Source Performance Standard 40 CFR, Part 60, Sub-part OOOO, also known as the 'Quad O, which mandates the implementation of vapor removal by operators in hydrocarbon storage facilities, natural gas processing plants, and natural gas wells. The regulation is aimed at removing at least 95% of vapor produced in hydrocarbon storage units.
The COVID-19 outbreak has impacted the vapor recovery units market owing to disruption of the supply chain, halt in operations, delay in transportation services, as well as travel restrictions. The oil and gas sector has been severely impacted by the pandemic owing to the fall in demand. Manufacturing activities have also been halted owing to stringent regulations across the globe. Other factors, such as reduced oil demand, economic decline, and drop in oil prices, have also impacted the growth of the market.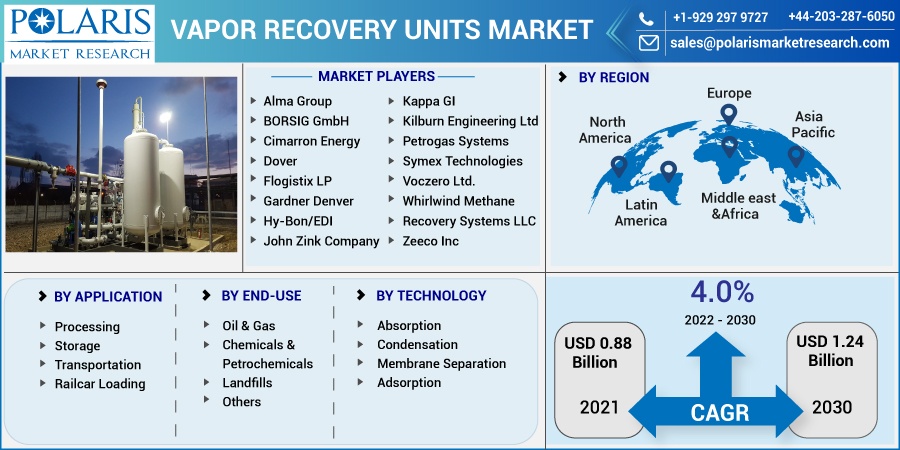 Know more about this report: Request for sample pages
Industry Dynamics
Growth Drivers
The global vapor recovery units market is fuelled by the economic growth in developing countries, rising industrialization, and growing oil and gas production activities. Increasing demand for natural gas to meet energy demands also drives the growth of the vapor recovery units industry. Growth in the global automotive industry, the introduction of stringent emission regulations, technological advancements, and significant investments in research and development encourage market players to develop new products.
They assist in maintaining and protecting the health, safety, and environment of the operating area with reduced HSE risks. They are capable of collecting carcinogenic and flammable gases while improving environmental protection. They also reduce the chances of fire hazards by collecting combustible vapors from the tank.
Greater environmental concerns, increase in crude oil production, and installation of storage tank vents in oil & gas and marine industries has increased the utilization of these units. Greater market demand for oil storage in the Middle East and Africa is expected to offer growth opportunities during the forecast period. However, the high costs of installation and maintenance associated with these recovery units, and price unreliability in the oil and gas sector limit the growth of the market.
Report Segmentation
The market is primarily segmented based on application, end-use, technology, and region.
By Application

By End-Use

By Technology

By Region

Processing
Storage
Transportation
Railcar Loading

Oil & Gas
Chemicals & Petrochemicals
Landfills
Others

Absorption
Condensation
Membrane Separation
Adsorption

North America (U.S., Canada)
Europe (France, Germany, UK, Italy, Netherlands, Spain, Russia)
Asia Pacific (Japan, China, India, Malaysia, Indonesia. South Korea)
Latin America (Brazil, Mexico, Argentina)
Middle East & Africa (Saudi Arabia, UAE, Israel, South Africa)
Know more about this report: Request for sample pages
Transportation segment accounted for a significant share
The vapor recovery units market has been segmented into storage, processing, railcar loading, and transportation. Transportation accounted for a significant share in 2021. Greater demand for fuels, increase in need for safe transportation, technological advancements, and introduction of stringent emission regulations support the market growth. Market players, manufacturers, and private organizations are collaborating to expand and cater to wider applications and develop advanced technologies.
Oil & gas segment accounted for the largest revenue share
The gas venting from the crude oil tank has created environmental concerns over the years. The natural gas liquid content obtained from recovered gas contains a higher BTU value than the methane captured at the upstream separators. These liquids are being sold to petrochemical facilities or used as gasoline additives. These recovery units also offer reduced environmental impacts from drilling.
Increasing demand from upstream and downstream applications and expansion in oil exploration activities support the market growth. Greater environmental and economic benefits offered by these recovery units for oil and gas producers, growth in industrialization, and technological advancements are some factors contributing to the segment growth.
Membrane separation technology is expected to grow at a significant rate during the forecast period
The demand for membrane separation technology is expected to increase during the forecast period. Membrane separation technology offers high recovery, greater performance, and affordable installation and maintenance. The increasing use of membrane separation technology in upstream applications has boosted the growth of this segment.
Asia Pacific is expected to grow at a significant rate during the forecast period
The Asia Pacific, vapor recovery unit market is expected to experience high growth during the forecast period. Increasing oil and gas exploration, the introduction of stringent emission regulations, and rising manufacturing activities contribute to the growth of the vapor recovery units market in the region.
The industrial growth, increase in the application of these recovery units in gas stations and strengthening petrochemicals, chemicals, and pharmaceuticals sectors result in greater demand for vapor recovery units. Rising investments in research and development activities, expansion of international players in this region, and technological advancements are key factors contributing to the growth of this region.
Competitive Insight
The leading players in the vapor recovery units market include Alma Group, BORSIG GmbH, Cimarron Energy, Dover, Flogistix LP, Gardner Denver, Hy-Bon/EDI, John Zink Company, Kappa GI, Kilburn Engineering Ltd, Petrogas Systems, Symex Technologies, Voczero Ltd., Whirlwind Methane Recovery Systems LLC, and Zeeco Inc.
These players are expanding their presence across various geographies and entering new markets in developing regions to expand their customer base and strengthen presence in the market. The companies are also introducing new innovative products in the market to cater to the growing consumer demands.
Recent Developments
In March 2021, SCS Technologies launched a new vapour recovery unit. The new product launch enables the company to expand its portfolio of measurement equipment, parts, and field services. The new product is equipped with a variable speed drive and a bypass recycle valve for optimum runtime, oversized scrubbers, oversized filtration on lubricant injection lines, and suction scrubber filter separators. The new launch is aimed at complying with the EPA 0000a regulations and addressing growing environmental concerns.
In May 2020, Cimarron Energy completed the acquisition of Aereon. The acquisition is aimed at improving the company's offerings in missions control solutions and services for energy and infrastructure market. Aereon offers a wide portfolio of such recovery equipment based on carbon bed absorption and standard design compression technology. The acquisition also enabled the company to offer improved products to its upstream, midstream, and downstream customers.
Vapor Recovery Units Market Report Scope
| | |
| --- | --- |
| Report Attributes | Details |
| Market size value in 2021 | USD 0.88 billion |
| Revenue forecast in 2030 | USD 1.24 billion |
| CAGR | 4.0% from 2022 - 2030 |
| Base year | 2021 |
| Historical data | 2018 - 2020 |
| Forecast period | 2022 - 2030 |
| Quantitative units | Revenue in USD million and CAGR from 2022 to 2030 |
| Segments covered | By Application, By End-User, By Technology, By Region |
| Regional scope | North America, Europe, Asia Pacific, Latin America; Middle East & Africa |
| Key companies | Alma Group, BORSIG GmbH, Cimarron Energy, Dover, Flogistix LP, Gardner Denver, Hy-Bon/EDI, John Zink Company, Kappa GI, Kilburn Engineering Ltd, Petrogas Systems, Symex Technologies, Voczero Ltd., Whirlwind Methane Recovery Systems LLC, Zeeco Inc |