The global lubricant additives market was estimated to be USD 19.28 billion in 2022, and it is anticipated to increase at a CAGR of 3.2% from 2023 to 2032. Lubricant additives are chemical compounds that are blended with base oils to enhance the performance and effectiveness of lubricants. These additives play a vital role in improving the lubricant's properties, protecting machinery and engines, and extending their operational lifespan.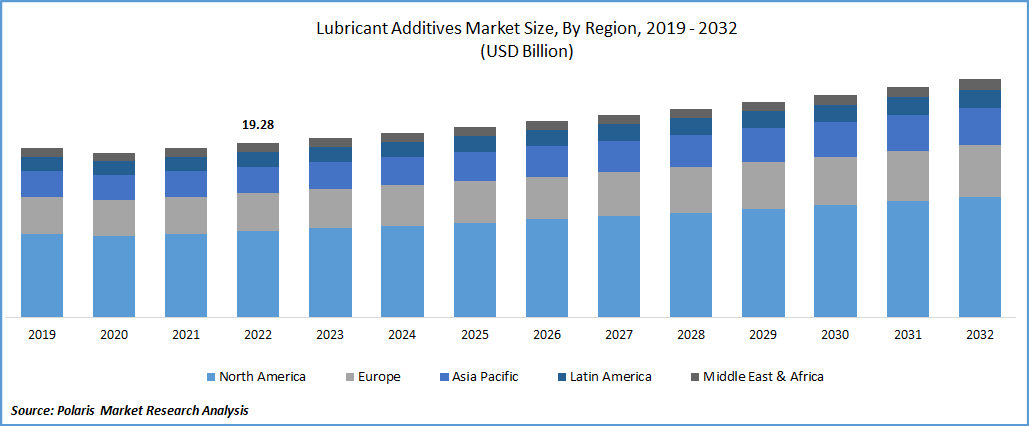 To Understand More About this Research: Request a Free Sample Report
One essential type of lubricant additive is viscosity modifiers. These additives help regulate the viscosity of lubricants, ensuring that they maintain consistent flow and thickness across a wide range of temperatures. By controlling viscosity, lubricants can effectively reduce friction and provide optimal lubrication, even in extreme temperature conditions. Anti-wear agents are another crucial category of lubricant additives. These additives form a protective film on metal surfaces, minimizing friction and preventing direct metal-to-metal contact. By reducing wear and tear, they contribute to extending the lifespan of machinery components and reducing the risk of damage.
In applications where high load and extreme pressure conditions are present, lubricants with extreme pressure (EP) additives are utilized. These additives create a protective layer on metal surfaces, preventing welding or seizure of moving parts. By forming a reactive film, EP additives reduce friction and prevent metal-to-metal contact, ensuring smooth operation and enhanced equipment durability.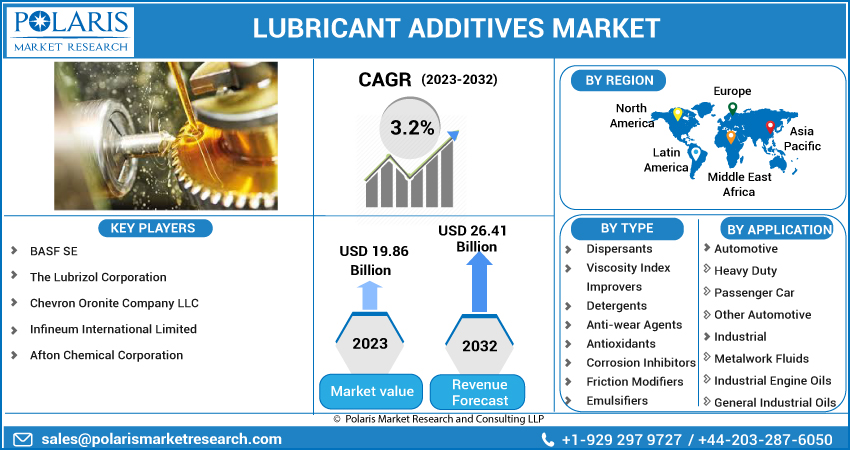 For Specific Research Requirements, Request For Customized Report
Industry Dynamics
Growth Drivers
One of the driving factors behind the development and utilization of lubricant additives is the continuous advancement in machinery and engine technology. As machinery becomes more sophisticated and operates under increasingly demanding conditions, the need for enhanced lubrication becomes crucial. Lubricant additives play a vital role in meeting these requirements by improving the lubricant's performance and providing specialized properties tailored to specific applications.
Another driving factor is the pursuit of improved energy efficiency and reduced environmental impact. Lubricant additives can help optimize energy efficiency by reducing friction and wear in machinery, leading to lower energy consumption. Additionally, additives that promote cleaner engines and reduce harmful emissions contribute to environmental sustainability. As industries strive to meet stringent regulations and improve their environmental footprint, the demand for lubricant additives that offer enhanced efficiency and reduced environmental impact continues to grow.
The desire for extended equipment lifespan and reduced maintenance costs also drives the adoption of lubricant additives. By incorporating additives that offer superior wear protection, corrosion resistance, and oxidation stability, machinery and engines can operate more reliably and require less frequent maintenance. This not only reduces downtime and maintenance expenses but also improves productivity and overall equipment performance.
Furthermore, the expansion of industries such as automotive, manufacturing, construction, and transportation contributes to the growing demand for lubricant additives. These sectors rely heavily on machinery and engines to power their operations, and the efficient functioning of these systems is critical. Lubricant additives provide a cost-effective solution to improve performance, protect against wear and corrosion, and extend equipment life, making them essential for these industries' smooth operations.
Report Segmentation
The market is primarily segmented based on By Type, By Application and By Region.
By Type

By Application

By Region

Dispersants

Viscosity Index Improvers

Detergents

Anti-wear Agents

Antioxidants

Corrosion Inhibitors

Friction Modifiers

Emulsifiers

Others

Automotive

Heavy Duty

Passenger Car

Other Automotive

Industrial

Metalwork Fluids

Industrial Engine Oils

General Industrial Oils

Others

North America (U.S., Canada)

Europe (France, Germany, UK, Italy, Netherlands, Spain, Russia)

Asia Pacific (Japan, China, India, Malaysia, Indonesia. South Korea)

Latin America (Brazil, Mexico, Argentina)

Middle East & Africa (Saudi Arabia, UAE, Israel, South Africa)
To Understand the Scope of this Report: Speak to Analyst
In 2022, the

Dispersant segment

dominated the market of lubricant additives.
The dispersant segment is expected to dominate the lubricant additive market during the forecast period. Dispersants are essential additives used in both the automotive and industrial segments to create additive packages. Their primary function is to suspend insoluble contaminants in the oil, preventing the formation of sludge. Dispersants play a critical role in limiting the buildup of sludge, varnish, and other deposits on surfaces.
In the automotive sector, dispersants are predominantly used in diesel and gasoline engine oils. These oils require effective dispersants to ensure engine protection and prevent the formation of harmful deposits. Dispersants help keep the engine clean by suspending and dispersing contaminants, ensuring optimal lubrication and minimizing the risk of engine damage. Their usage in engine oils accounts for approximately three-quarters of their overall application.
In addition to their role in automotive lubricants, dispersants are also utilized in various industrial lubricants. Industrial equipment, such as machinery and heavy-duty systems, can be prone to the accumulation of contaminants and deposits. Dispersants help prevent the formation of sludge and deposits, ensuring smooth operation and extending the lifespan of the equipment.
The widespread use of dispersants in automotive and industrial lubricants is driven by the need to maintain optimal performance, improve equipment reliability, and reduce maintenance costs. Dispersants are instrumental in ensuring that lubricants effectively clean and protect engine components, allowing them to operate efficiently and with minimal friction.
Overall, the dispersant segment is expected to hold a significant market share in the lubricant additive industry during the forecast period. Its importance in preventing sludge formation and deposit buildup, particularly in engine oils, makes it a vital additive for ensuring the longevity and performance of automotive and industrial equipment.
The automotive segment is expected to hold largest market share in forecast years
The automotive segment is anticipated to have the largest market share in the lubricant industry in the coming years. This can be attributed to various factors driving the demand for lubricants in the automotive sector. One significant driver is the increasing adoption of passenger cars worldwide. As the number of vehicles on the road continues to grow, the demand for automotive lubricants, including passenger car motor oil, is expected to rise.
Passenger car motor oil is projected to maintain its dominance in the lubricant market during the forecast period. This is primarily due to the implementation of EURO norms, which regulate the emissions of nitrogen oxide, carbon monoxide, soot, and hydrocarbons from vehicles. To comply with these regulations, automotive manufacturers and consumers are shifting towards using operationally efficient and low viscosity fuel. This shift in consumer preferences is driving the demand for passenger car motor oil, which is specifically designed to meet the requirements of modern engines and provide optimal performance.
Asia-Pacific garnered the highest share in the lubricant additives market in 2022
In 2022, the Asia-Pacific region emerged as the leader in the lubricant additives market, capturing the highest share in terms of revenue. This dominance is expected to continue throughout the forecast period. Several factors contribute to the region's strong position in the market.
One significant factor is the presence of key players in the lubricant additives industry within the Asia-Pacific region. These companies have established a strong foothold and contribute significantly to the production and distribution of lubricant additives. Their expertise and extensive distribution networks enable them to cater to the growing demand in the region effectively.
Additionally, the Asia-Pacific region boasts a vast consumer base, driven by its large population and increasing industrialization. As economies in the region continue to grow, there is a corresponding rise in the production and ownership of vehicles, machinery, and equipment. This, in turn, drives the demand for lubricant additives to ensure optimal performance, protection, and longevity of these assets.
The economic growth witnessed in the Asia-Pacific region has created favorable conditions for the lubricant additives market. As industries expand and manufacturing activities increase, there is a greater need for lubricants and lubricant additives to support efficient operation and reduce downtime. The region's focus on industrialization and infrastructure development further boosts the demand for lubricant additives across various sectors.
Furthermore, the rising environmental awareness and stringent regulations in the region contribute to the demand for high-quality lubricant additives. Manufacturers and consumers are increasingly adopting environmentally friendly lubricants that offer improved efficiency and reduced emissions. This drives the need for advanced lubricant additives that can enhance the performance and sustainability of lubricants used in the Asia-Pacific region.
Competitive Insight
Some of the notable companies in the lubricant additives industry include BASF SE, The Lubrizol Corporation, Chevron Oronite Company LLC, Infineum International Limited, and Afton Chemical Corporation. These companies, along with others in the industry, continually invest in research and development to introduce advanced lubricant additives that enhance performance, improve fuel efficiency, and meet specific industry requirements. Their expertise and global presence contribute to the growth and development of the lubricant additives market, providing solutions for various lubricant applications in automotive, industrial, and marine sectors.
Recent Developments
In May 2022, BASF Launched Next-generation Antioxidant called Irgatec CR 76. This innovative additive offers exceptional thermal stability and protection against oxidative degradation in lubricants. It helps extend oil life, maintain viscosity, and prevent deposit formation, ensuring long-term lubricant performance.
Lubricant Additives Market Scope:
| | |
| --- | --- |
| Report Attributes | Details |
| Market size value in 2023 | USD 19.86 billion |
| Revenue forecast in 2032 | USD 26.41 billion |
| CAGR | 3.2% from 2023 - 2032 |
| Historical data | 2019 - 2022 |
| Forecast period | 2023 - 2032 |
| Quantitative units | Revenue in USD billion and CAGR from 2023 to 2032 |
| Segments covered | By Type, By Application, By Region |
| Regional scope | North America , Latin America , Europe , East Asia , South Asia , Middle East & Africa |
| Key companies | BASF SE, The Lubrizol Corporation, Chevron Oronite Company LLC, Infineum International Limited, and Afton Chemical Corporation |