The global dry eyes disease market is valued at US $225.6 million in 2021 and is expected to grow at a CAGR of 4.7% during the forecast period. In recent years, the market is expected to grow rapidly during the forecast period. Dry eye affects most of the world's population (middle-aged and older).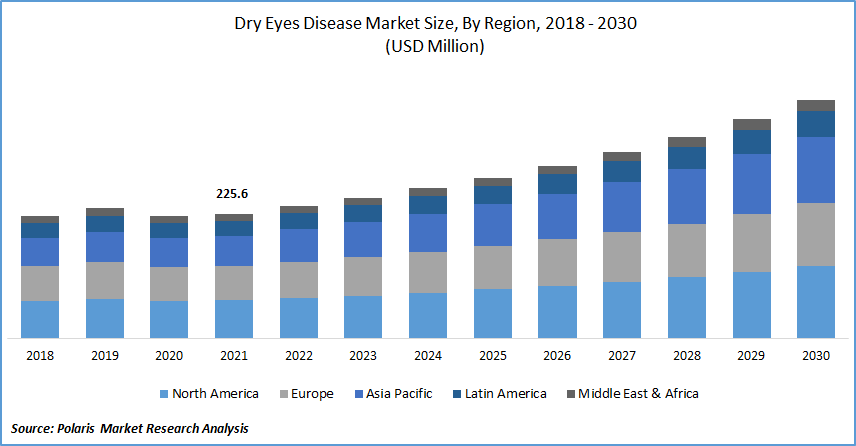 Know more about this report: Request for sample pages
World Aging 2020 estimates that there will be 727 million people aged 65 and over, in 2020. By 2050, this population is expected to grow to 1.5 billion. The proportion of the population aged 65 and more is anticipated to rise from 9.3% in 2020 to about 16.0%, in 2050. The elderly population is expected to grow and we need to accommodate this group.
Keratoconjunctivitis sicca (KCS), is a condition in which the affected eye surface is deficient in lubricant or water. This is a common illness that can affect anyone at any time. The surface of dry eyes overstimulates the production of watery components of tears to compensate for the dryness, which can also be a symptom of watery eyes.
Various diseases such as diabetes, thyroid disease, Sjogren's syndrome, scab, scleroderma, and rheumatoid arthritis also contribute to the spread of dry eye in people. According to statistics, about 425 to 430 million people worldwide have diabetes. Another important factor contributing to the growth of the market is the increase in the elderly population. Given the high prevalence of the syndrome in the elderly, the syndrome market is expected to grow strongly. Other factors driving the growth of this market include increased awareness, increased diagnostic rates, and better treatment options.
Due to the lockdown, some countries such as China, India, Saudi Arabia, United Arab Emirates, and Egypt are facing problems in transporting drugs from one place to another. Players working in the dry eyes disease market face major challenges in many ways due to the COVID-19 pandemic. One of the biggest challenges is the supply of raw materials for the manufacture of pharmaceutical products due to the irregularity of transportation facilities. In addition, drug distributors are experiencing irregular demand for products from retailers.
Industry Dynamics
Growth Drivers
The increased prevalence of dry eye in humans is the main reason behind the growth of the syndrome treatment market. Thyroid disease, cyst, Sjogren's syndrome, diabetes, rheumatoid arthritis, scleroderma, etc. are various diseases that contribute to the high prevalence of dry eye in people.
Another important factor affecting the growth rate of the dry eye syndrome treatment market is the increase in medical costs that contribute to the improvement of infrastructure. In addition, increasing awareness-raising initiatives by public and private organizations will expand the dry eye syndrome treatment market.
In addition, high disposable income and increased demand for the standard of care will lead to an expansion of the syndrome treatment market. Changing dietary patterns and sedentary lifestyles are factors that influence market dynamics during the forecast period. At the same time, the growing elderly population and increasing awareness of the problem will increase the growth rate of the dry eyes disease market.
Report Segmentation
The market is primarily segmented based on drug type, technology, distribution channel, and region.
By Drug Type

By Technology

By Distribution Channel

By Region

· Tear-stimulating

· Topical Corticosteroids

· Immunosuppressive

· Artificial Tears

· Others

· Broadband light

· Meibomian Gland Expression

· Intense Pulsed Light

· Combination (MGX+IPL)

· Hospital Pharmacies

· Retail Pharmacies

· Specialty clinics

· E-commerce

· Others

· North America (U.S., Canada)

· Europe (France, Germany, UK, Italy, Netherlands, Spain, Russia)

· Asia Pacific (Japan, China, India, Malaysia, Indonesia. South Korea)

· Latin America (Brazil, Mexico, Argentina)

· Middle East & Africa (Saudi Arabia, UAE, Israel, South Africa)
Know more about this report: Request for sample pages
The corticosteroid drug segment is expected to see the fastest growth
Corticosteroids are powerful anti-inflammatory drugs. Such drugs are very useful for high efficacy and are primarily prescribed for the acute cases. Often, these companies and doctors targeted therapies with innovative solutions. In addition, new players are entering the industry by focusing on the development of the new steroid formulations to treat DES.
For example, in March 2020, Kala Pharmaceuticals reports and submits preliminary results of additional clinical trials conducted to assess the effectiveness of Inveltys, a product that temporarily relieves signs and symptoms of dry eyes.
The market share of artificial tears for dry eyes will increase significantly by 2028. Artificial tears, also known as lubricating eyes drops, help the tear film work effectively to protect the surface of the eyes. Preservative-free eye drops are traction due to the low additives and may be recommended for people with severe to moderate dry eyes.
E-commerce is expected to occupy a large share of the global market
Based on distribution channels, e-commerce can have a huge share of the worldwide showcase. Due to the effect of COVID-19 widespread, conclusion clients are presently searching for online channels. Patients are inclined toward e-commerce locales for comfort and fetched reserve funds, which can offer assistance to providers streamlining their forms. Online shopping for eyes malady treatment can moreover offer assistance collect quiet criticism and tracking store movement.
Major pharmaceutical organizations are focusing on the development of coronavirus therapies, which has postponed most non-emergency treatments. Meanwhile, the number of patients visiting hospitals has declined significantly, negatively impacting the demand for treatment for the syndrome. Massive production turmoil due to blockages imposed in some parts of the world further slowed industry growth and causes a major inclination toward e-commerce purchasing habits.
North America is expected to hold a significant share of the dry eyes disease market during the forecast period
Geographically, North America has a large share. The growing elderly population in the region is also driving the industry growth. For example, according to the Government of Canada Statistics Report 2019, Canada's elderly population has reached 6,592,611, accounting for 17.5% of Canada's population. Increasing the use of computers or digital screens can reduce blinking, cause DED symptoms, and expand the entire industry.
In expansion, the lion's share of the populace employments computers, and more individuals are always utilizing smartphones, advanced gadgets, and tablet computers. Governments and organizations may utilize progressed innovation amid this period to turn the challenges displayed by COVID-19 into openings.
Virtual eyes care counseling, basically through smartphones, has ended with a help of counseling. For follow-up care of eyes diseases, doctors use images via electronic media. This aftercare was not possible for poor patients in remote areas without telephones. As a result, the supply of local medicines to patients with dry eyes in remote areas has been exhausted.
Competitive Insight
Some of the major players operating in the global dry eyes disease market include Abbott, AbbVie Inc., AFT Pharmaceuticals, Akorn Operating, Company LLC, Allergan, Allostera Pharma Inc., AstraZeneca, Eli Lilly and Company, F. Hoffmann-La Roche Ltd., GlaxoSmithKline plc, I-Med Pharma Inc., Johnson & Johnson Private Limited, Merck & Co., Inc., Merck KGaA, Novaliq GmbH, Novartis AG, Otsuka America, Pharmaceutical, Inc., Pfizer Inc., Sanofi, Santen Pharmaceuticals Co. Ltd., Teva Pharmaceutical Industries Ltd., and Others.
Recent Developments
In January 2022, Sun Pharma announced the launch of its treatment product, Cequa, in Canada. This is the first dry eyes treatment offered by Nanomicellar (NCELL) technology. This technique improves the bioavailability and physicochemical stability of cyclosporine and enhances its penetration into the eyes tissue.
In January 2022, NovaBay Pharmaceuticals launched Avenova Lubricating Eye Drops to treat the symptoms of dry eyes.
Dry Eye Disease Market Report Scope
| | |
| --- | --- |
| Report Attributes | Details |
| Market size value in 2021 | USD 225.6 million |
| Revenue forecast in 2030 | USD 431.7 million |
| CAGR | 4.7% from 2022 - 2030 |
| Base year | 2021 |
| Historical data | 2018 - 2020 |
| Forecast period | 2022 - 2030 |
| Quantitative units | Revenue in USD million and CAGR from 2022 to 2030 |
| Segments covered | By Drug Type, By Technology, By Mode of Administration, By Distribution Channel, Dose, Container Type, By Region |
| Regional scope | North America, Europe, Asia Pacific, Latin America; Middle East & Africa |
| Key companies | Abbott, AbbVie Inc., AFT Pharmaceuticals, Akorn Operating, Company LLC, Allergan, Allostera Pharma Inc., AstraZeneca, Eli Lilly and Company, F. Hoffmann-La Roche Ltd., GlaxoSmithKline plc, I-Med Pharma Inc., Johnson & Johnson Private Limited, Merck & Co., Inc., Merck KGaA, Novaliq GmbH, Novartis AG, Otsuka America, Pharmaceutical, Inc., Pfizer Inc., Sanofi, Santen Pharmaceuticals Co. Ltd., Teva Pharmaceutical Industries Ltd |