The global Epoxy Adhesives market size was valued at USD 7,611 million in 2019 and is anticipated to grow at a CAGR of 6.4% during the forecast period. Epoxy adhesives are used in varied applications such as biochemical, construction, marine, aerospace, and construction among others. There has been an increasing demand for epoxy adhesives from the automotive industry due to its increasing usage in high performing and lightweight vehicles. These adhesives are used for interior and exterior applications such as body panel, load floor, upholstery and carpet, windscreen bonding, and exterior trim among others. The growth in the global automotive sector, increasing demand for modernized vehicles, and growing urbanization is expected to fuel the demand for epoxy adhesives during the forecast period.
Epoxy adhesives are increasingly being used in the aerospace sector for filling, bonding, potting, and repair applications. Epoxy adhesives cater to the stringent requires of the aerospace industry by offering high bond strength, high compressive strength, resistance to cyclic fatigue, improved durability and toughness. Application of epoxy adhesives offers high performance, weight savings, and fuel efficiency for airplanes, helicopters, satellites and UAVs. There has been a significant increase in use in airplanes for applications such as landing gear doors, floor and ceiling panels, overhead storage bins, galleys, and lavatories among others. Growing demand from emerging economies, and technological advancements are factors expected to provide numerous growth opportunities to the global Epoxy Adhesives industry in the coming years.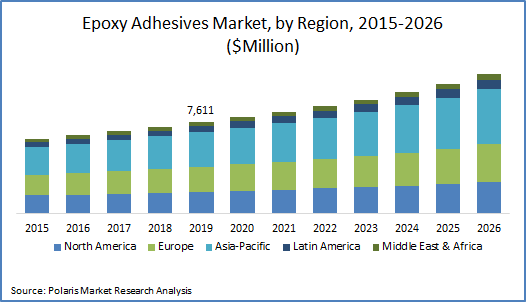 Know more about this report: request for sample pages
Increasing urbanization, growth in industrialization across the globe, and increasing application in the renewable energy sector for bonding, sealing, coating and encapsulation are factors expected to fuel the market growth during the forecast period. The rise in demand for passenger vehicles, coupled with growing electrification of vehicles and increasing need to improve vehicle performance have fueled the growth of the epoxy adhesive market across the globe. Increasing environmental concerns and stringent government regulations regarding carbon emissions have increasing demand for low carbon emitting electric and hybrid vehicles.
The global epoxy adhesives market is fueled by the economic growth in countries such as China, Japan, and India, rising industrialization, and growing penetration of automobiles in Asia-Pacific. Global players are expanding into these countries to tap market potential of the electronics industry, further boosting the market growth. Technological advancements and established R&D institutes in China and Japan further supports the market growth. New product launches and acquisitions by leading players in the market coupled with technological advancements have increased the demand for Epoxy Adhesives across the globe. Growing disposable income, changing lifestyles, increasing investment in the construction industry, and development of public infrastructure would support the growth of the market.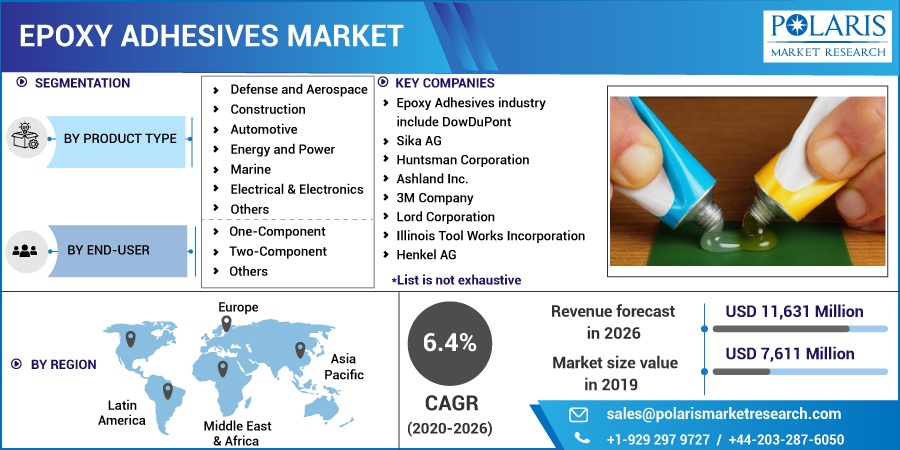 Know more about this report: request for sample pages
Epoxy Adhesives Market Report Scope
The market is primarily segmented on the basis of End-User, Product Type, and Geographic region.
By End-User

By Product Type

By Region

Defense and Aerospace
Construction
Automotive
Energy and Power
Marine
Electrical & Electronics
Others

One-Component
Two-Component
Others

North America (U.S., Canada)
Europe (Germany, UK, France, Italy, Spain, RoE)
Asia Pacific (China, India, Japan, South Korea, RoAPAC)
Latin America (Brazil, Mexico, Colombia, RoLATAM)
MEA (Saudi Arabia, South Africa, Israel, UAE, RoMEA)
Know more about this report: request for sample pages
End-User Outlook
On the basis of End-User, the market is segmented into Defense and aerospace, construction, automotive, energy and power, marine, electrical & electronics, and others. The construction segment dominated the global Epoxy Adhesives market in 2019. In the construction sector, epoxy adhesives find wide range of applications such as laminated woods for decks, walls and roofs, floor and tile repair, and outdoor applications. Epoxy adhesives provide strong bonds to concrete and wood, metal, glass, stone while offering high heat- and chemical-resistance.
The energy and power segment is expected to grow at a significant rate during the forecast period. The increasing use of epoxy adhesives in windmills and solar plants coupled with rising awareness among consumers regarding use of renewable energy sources drives the market growth. Governments across the globe are investing significantly towards the development of renewable sources, and offering incentives and schemes to promote adoption of renewable energy.
Product Type Outlook
The product type segment has been divided into is One-Component, and Two-Component. The two-component epoxy adhesives are used in diverse industries such as aerospace, healthcare, and electronics among others owing to higher versatility. Two component epoxy adhesives cure in ambient temperature, and are capable of adhering to varied surfaces such as rubber, plastics, wood, metals, and ceramics. These adhesives offer high heat resistance while also withstanding other physical and chemical influences.
Regional Outlook
Asia-Pacific dominated the global market in 2019. Increasing urbanization, growing research and development activities, expansion of international players in this region, and technological advancements are some of the additional factors attributed to the growth of this regional segment. The industrial growth in countries such as China, India and Japan, rising automotive penetration, and increasing construction and development activities drives the growth of this region. Rising applications in electronics, aerospace and marine applications has increased the demand for Epoxy Adhesives in the region. Increasing awareness regarding adoption of renewable energy sources and initiatives to promote use of electric vehicles in developing countries of this region boosts the market growth.
Competitive Landscape
The leading players in the Epoxy Adhesives industry include DowDuPont, Sika AG, Huntsman Corporation, Ashland Inc., 3M Company, Lord Corporation, Illinois Tool Works Incorporation, Henkel AG, AdCo UK Limited, Benson Polymers Ltd, 3M Co., Adhesive Technologies Corp., H.B. Fuller, American Chemical Inc., DELO Industrial Adhesives, Collano Adhesives AG, and Alfa International Corporation among others. These players are expanding their presence across various geographies and entering new markets in developing regions to expand their customer base and strengthen presence in the market. The companies are also introducing new innovative products in the market to cater to the growing consumer demands.