Report Summary
The global epoxy resin market size was estimated to be worth 7,253.8 million in 2018 is anticipated to grow at CAGR of 7.5% from 2019 to 2026. Epoxy resins have a property of containing one more than one epoxy group per molecule and are thermosetting resins that make use of suitable cross-linking agents for higher reactivity. Amongst resins, Epoxy resins are respected by being the largest raw material used for different chemical formulations. They find wide applications in manufacture of paints, coatings, printing inks, composites, adhesives, electrical systems and electronics, aerospace applications, petrochemical products and many others.
Highly conducive properties belonging to epoxy resins including high thermal stability, mechanical strength, moisture resistivity, adhesion, heat resistance make epoxy resins the resin of choice for several end-user applications such as laminates, jewelry and insulators. Drivers to growth of epoxy resins market include the ever-growing construction industry and automotive industry, growing lavishly on account of rising disposable incomes, coupled with changing lifestyles.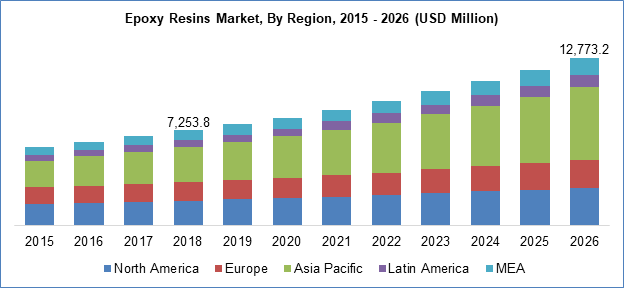 Know more about this report: request for sample pages
Rising demand from water borne coatings, powder coatings, electrical and electronic laminates, flooring and paving is expected to boost growth for epoxy coatings market in forecast period. Thermoplastic resins are most preferred for manufacture of polymer composites attributed with superior properties. Automotive and aviation industry have copious use of epoxy resins for light-weight material underscores its use in both these industries coupled with superlative performance.
Global performance is underscored by capacity installation of wind energy and melting down of conventional sources of energy. The global market has been attributed with a strong market thanks to growth of end-use industries such as paints and coatings and adhesives. The paints and coatings industry advocates two parts of epoxies have been developed for heavy duty services. These epoxy compounds take pride in applications to many formulations of protective coatings, automatic coatings, powder coatings and many other solvent-based paints. Products are used in many dimensions including solid, liquid and solution and are present in every type of paint.
Epoxy Resin Market Report Scope
By Formulation type

By Application

By Region

DGBEA
DGBEF
Novolac
Aliphatic
Glycidylamine
Others

Paints and Coatings
Adhesives
Composites
Electrical & Electronics
Wind Turbines
Others

North America (U.S., Canada)
Europe (France, Germany, UK)
Asia Pacific (India, China, Japan)
Latin America (Mexico, Brazil)
MEA
Know more about this report: request for sample pages
The growth is directly proportional to an increase in consumption of end-user products such as paints, adhesives and many other consumer products. These end-user products have witnessed huge demand due to increase in global population and urbanization, rising per capita income of consumers, advancements in material science, high product differentiation in the industry, majestically coping with large number of market players and their extensive strategic framework.
The product has detrimental effect on the environment that causes restrictions in its growth, whereby it is subject to strict regulatory guidelines. The manufacturing and emissions are regulated by different agencies such as Environmental Protection Agency (EPA). Besides, one of the most important restraints is for epoxy resins that use solvent as coating standard. Solvent borne paints release volatile organic compound in the atmosphere that are supposed to have toxic effects.
Segment Analysis
The market is global audience to many technological developments concerning material stability, high performance and biodegradability. Bio-based epoxy resin is the most recent turnaround solution to bring down or stop the harmful impact on the environment. These are obtained from natural resources such as furan, vegetable oil, vanillin, itaconic and vanillin acid.
Paints and coatings were deduced to be the largest segment accounting for nearly half the market share in 2018. The reason, epoxy resins are used vehemently in paints and coatings is that it dries quickly providing painting with tough coat and extreme hardness.
Epoxy products are raw material to a large number of applications. Amongst many, composites and paints and coatings are two largest end-use application segments. Epoxy resins have found demand in industrial and automotive majors because of heat resistance property that rates better as compared to other raw materials. Bisphenol A concerns present in food and beverages industry is elevated that declines consumption further.
Regional Analysis
Leadership for Asia Pacific is taken for granted in epoxy resins market with China growing at a sedate pace. The region witnesses high growth rate with China producing largest number of powder coatings in the world. India and China are also contributors to leadership of Asia Pacific in epoxy resin market with many end-user industries falling in the fray.
North America fall to second place after Asia pacific in epoxy resin market with low count of leachables use in diverse markets in Europe. Middle East epoxy resin market is growing at a fast pace due to increasing demand from marine and maintenance coatings. Here the epoxy resin coatings are used as primers in automotive and marine paints including corrosion       resistance for metal cans and containers which are expected to increase market growth during forecast period.
Competitive Analysis
Epoxy resins use different reaction mechanisms to produce glycidalmine and novolac and BPA epoxy resins. Global market is highly fragmented and competitive due to presence of large number of market players. The key players in this market include DowDuPont, BASF SE, 3M, Huntsman Corporation, Aditya Birla Chemicals, Covestro and Sika AG.