The global fog computing market was valued at USD 211.35 Million in 2022 and is expected to grow at a CAGR of 40.01% in the forecast period. An increase in the adoption of smart devices, a rise in IoT connectivity, machine-to-machine communication technology, and surging demand for connected devices are the key driving factors for the market. The increasing need for low-latency connectivity and the growth of edge computing are other factors responsible for boosting the market.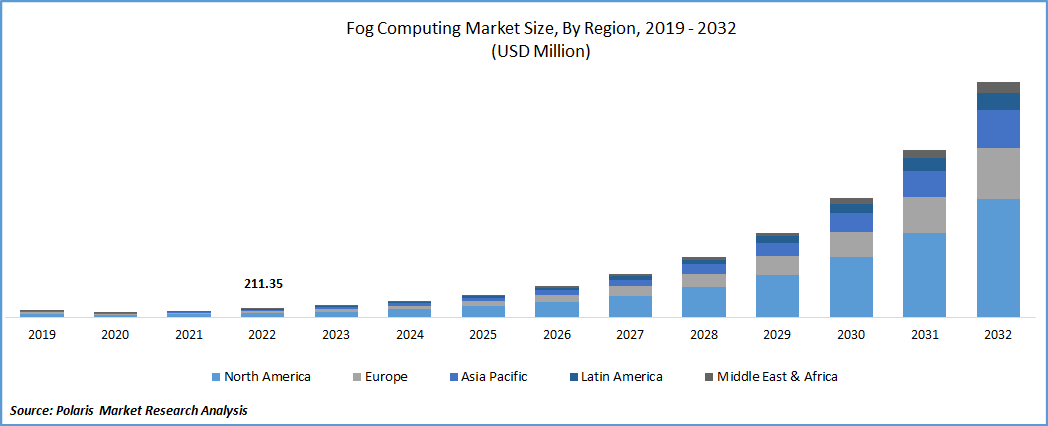 Know more about this report: Request for sample pages
Fog computing is an extension of cloud computing that brings data processing closer to the edge of the network, allowing for real-time data processing and analysis. The term "fog" describes the idea of a cloud closer to the ground, i.e., closer to the edge of the network. It provides several benefits, such as reducing network traffic, enabling real-time processing and decision-making, improving security, and increasing privacy. It also allows for the deployment of applications and services closer to the end-users, resulting in better performance and user experience.
The architecture includes nodes at the network's edge, such as routers, switches, and gateways, which can store and process data locally. It allows faster data processing, reduced latency, and improved bandwidth efficiency. Processing data at the network's edge reduces the amount of data that must be transmitted to the cloud, improving network efficiency and reducing bandwidth usage.
It can be used in various applications, including the Internet of Things (IoT), smart cities, healthcare, transportation, manufacturing, and more. The IoT can process and analyze data from sensors and other devices in real time, allowing for immediate insights and actions. In smart cities, it can manage traffic, monitor air quality, and provide real-time alerts in emergencies. In healthcare, it can be used for real-time patient monitoring, remote diagnostics, and personalized medicine. In transportation and manufacturing, it can be used for real-time tracking of equipment, predictive maintenance, and quality control.
While it is an emerging technology with many potential benefits, some limiting factors may impact the growth and adoption of the market. The need for large-scale, general-purpose platforms is projected to be a key restricting factor in the market. While many solutions are available, most are specialized and designed for specific use cases or industries. It limits the ability of organizations to deploy and scale across different environments and applications.
The architecture involves multiple nodes with different hardware and software configurations, making it difficult to ensure interoperability and standardization across other systems. It can create challenges for developers and limit the ability to scale applications across different environments. While it can improve efficiency and reduce bandwidth usage, it also requires new hardware and software infrastructure investment. It can be a barrier for some organizations, especially smaller ones with limited budgets.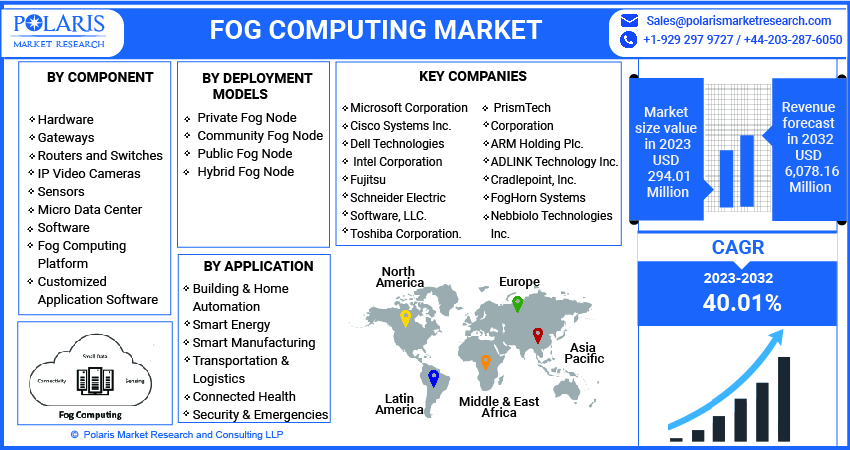 Know more about this report: Request for sample pages
Industry Dynamics
Growth Drivers
The rise in the adoption of smart devices is a major driver of growth in the fog computing market. Smart devices such as smartphones, tablets, smartwatches, and other connected devices generate vast amounts of data that must be processed, analyzed, and acted upon in real time.
The growth of smart devices and the increasing amount of data they generate requires scalable and efficient computing solutions. It enables distributed computing and processing, allowing greater scalability and improved performance. In addition, Smart devices require reliable and high-speed connectivity and can provide improved connectivity between devices, applications, and systems. It is essential for enabling new applications and services.
The increasing need for low-latency connectivity is a significant driver of growth in the fog computing market. Low latency is critical for applications that require real-time data processing and analysis, such as autonomous vehicles, industrial automation, and augmented reality. It can provide improved connectivity between devices, applications, and systems, which is essential for low-latency applications requiring fast and reliable data transfer.
The rollout of 5G networks is expected to accelerate the growth of the market as it enables faster data transfer and low-latency communication. It will facilitate the computing to deliver better performance and reliability, critical for applications such as autonomous vehicles and smart cities. With the growth of digital technologies, there is an exponential increase in data generation. It helps process, analyze, and store data at the network's edge, reducing the need for data transfer to the cloud, thereby reducing latency and improving data processing speeds.
Report Segmentation
The market is primarily segmented based on component, deployment models, application, and region
By Component

By Deployment Models

By Application

By Region

Gateways

Routers and Switches

IP Video Cameras

Sensors

Micro Data Center

Fog Computing Platform

Customized Application Software

Private Fog Node

Community Fog Node

Public Fog Node

Hybrid Fog Node

Building & Home Automation

Smart Energy

Smart Manufacturing

Transportation & Logistics

Connected Health

Security & Emergencies

North America (U.S, Canada, Mexico)

Asia-pacific (China, Japan, India, Australia, Rest of Asia- pacific)

Europe (Germany, UK, France, Spain, Italy, Rest of Europe)

LAMEA (Latin America, Middle East & Africa)
Know more about this report: Request for sample pages
The Fog computing platform segment is accounted to witness the quickest CAGR in the forecast period.
It is a software platform that provides the necessary infrastructure to support this computing technology. It enables the deployment, management, and monitoring of applications and services.
One of the key drivers of the growth of the platform segment is the rise of edge computing. With the development of edge computing, there is a need for platforms that can support data processing and analytics at the network's edge, which is where platforms come in. Another growth driver is the increasing adoption of IoT devices and the resulting explosion in the data generated. The Platforms can support real-time analytics and distributed computing, making them ideal for processing and analyzing this data.
Smart Manufacturing segment is anticipated to dominate the market in forecast period.
Smart Manufacturing is anticipated to dominate the segment in the market. It involves using technologies to improve manufacturing processes and drive operational efficiency. Smart Manufacturing is a key component of the industry 4.0 movement, which seeks to create "smart factories" that are highly automated and interconnected. The technologies are essential for achieving this level of automation and connectivity. It also involves predictive maintenance, which uses data analytics to identify when manufacturing equipment will likely fail. It allows manufacturers to perform maintenance before a failure occurs, reducing downtime and improving efficiency.
North America region is projected to account for major market share in the forecast period.
The major driving factors for the region's dominant position across all the areas can be attributed to the rapid penetration & implementation of IoT and increasing expenditures in this field. Cloud computing has become increasingly popular in North America and is seen as a natural extension of this technology. Many businesses are adopting it to help bridge the gap between the cloud and edge devices, providing a more efficient and effective computing infrastructure.
North America is home to some of the world's leading technology companies, including Amazon, Google, and Microsoft. These companies have invested heavily in technology, giving them a significant advantage over competitors. The Internet of Things (IoT) growth has created a significant demand for solutions in North America. As the number of IoT devices continues to increase, the need for real-time data processing and analytics has become more critical, driving growth.
Competitive Insight
Some of the prominent key players operating in the fog computing market space includes Microsoft Corporation, Cisco Systems Inc., Dell Technologies, Intel Corporation, Fujitsu, Schneider Electric Software, LLC., Toshiba Corporation., PrismTech Corporation, ARM Holding Plc., ADLINK Technology Inc., Cradlepoint, Inc., FogHorn Systems, Nebbiolo Technologies, Inc.
Recent Developments
January 2023: Amazon Web Services (AWS) launched AWS IoT Greengrass 3.0, an update to its edge computing software for IoT devices. The new version includes enhanced security features and support for more programming languages, making it easier for developers to build and deploy fog computing applications.

May 2022: Nokia and Microsoft partnered to develop 5G and edge computing solutions for enterprise customers. The partnership will leverage Nokia's 5G network infrastructure, Microsoft's Azure cloud platform, and Azure Edge Zones to provide low-latency and high-bandwidth computing capabilities.
Fog Computing Market Report Scope
| | |
| --- | --- |
| Report Attributes | Details |
| Market size value in 2023 | USD 294.01 Million |
| Revenue forecast in 2032 | USD 6,078.16 Million |
| CAGR | 40.01% from 2023 - 2032 |
| Base year | 2022 |
| Historical data | 2019 - 2022 |
| Forecast period | 2023 - 2032 |
| Quantitative units | Revenue in USD Million and CAGR from 2023 to 2032 |
| Segments covered | By Component, By Deployment Models, By Application, By Region |
| Regional scope | North America, Europe, Asia Pacific, Latin America, Middle East & Africa |
| Key companies | Microsoft Corporation, Cisco Systems Inc., Dell Technologies, Intel Corporation, Fujitsu, Schneider Electric Software, LLC., Toshiba Corporation., PrismTech Corporation, ARM Holding Plc., ADLINK Technology Inc., Cradlepoint, Inc., FogHorn Systems, Nebbiolo Technologies, Inc. |