The global food inclusions market was valued at USD 13,980.9 million in 2022 and is expected to grow at a CAGR of 6.9% during the forecast period.
The food inclusions market has grown significantly due to the increasing demand for unique and innovative products. Food inclusions are ingredients added to various food products to enhance their taste, texture, and visual appeal. These inclusions can be fruits, nuts, chocolates, cereals, or other ingredients that provide a distinct flavor or texture to the final product.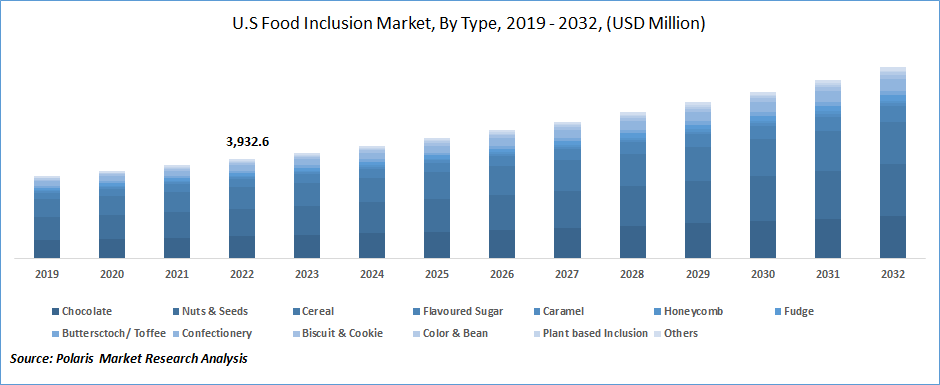 To Understand More About this Research : Request a Free Sample Report
With the growing consumer preference for natural and organic food products, consumers are becoming more conscious of the ingredients used in their food. They are seeking products with clean labels and recognizable ingredients. Food inclusions made from real fruits, nuts, and grains are seen as healthier alternatives to artificial additives and flavorings, driving their demand in the market.
Moreover, the rise of the snacking culture and the demand for convenience foods have also contributed to the growth of the food inclusion market. Inclusions such as dried fruits, chocolate chips, and savory seasonings are increasingly used in snack bars, cereals, and baked goods to add flavor and nutritional value. These inclusions provide a sensory experience and cater to the evolving consumer preferences for indulgent yet nutritious snacking options.
Furthermore, the food service industry has been a major driver of the food inclusion market. Restaurants, cafes, and bakeries incorporate food inclusions in their menu offerings to differentiate themselves and provide unique taste experiences to their customers. Inclusions like crunchy toppings, flavored syrups, or mix-ins in ice creams and desserts are gaining popularity among consumers, driving the demand for food inclusions in the food service sector.
The COVID-19 pandemic brought both challenges and opportunities to the market. Initially, disruptions in supply chains and the closure of food service establishments posed difficulties. However, as the pandemic progressed, trends such as increased demand for packaged and convenience foods, a focus on health and wellness, and the adaptation of food service establishments to takeout and delivery services emerged. These trends provided opportunities for food inclusions to enhance homemade meals, cater to health-conscious consumers, and support the recovery of the food service sector. Nevertheless, logistics and transportation disruptions and increased costs remained challenges for market players.
Industry Dynamics
Growth Drivers
Changing consumer preferences and convenience demand
The market has grown significantly due to the increasing demand for unique and innovative food products with diverse textures, flavors, and visual appeal. Food inclusions, such as chocolate chips, nuts, fruits, and savory ingredients, enhance the eating experience, driving consumer interest and demand.
The rising preference for snacks and convenience has fueled the demand for food inclusions. With busy lifestyles, consumers are gravitating towards convenient and on-the-go options. Food inclusions find extensive application in snacks, confectionery, bakery products, cereals, and ready-to-eat meals, catering to this growing demand for convenience foods.
Food inclusions provide manufacturers with opportunities for product differentiation and customization. By incorporating unique and varied inclusions, companies can create distinct flavors, textures, and appearances, attracting consumers seeking novel food experiences. This ability to offer customized options sets them apart in the market.
Additionally, factors such as growing health consciousness, influences of social media and food blogging, expansion of the foodservice industry, technological advancements, increased focus on product innovation, the growth of the global food industry, and the expansion of distribution channels all contribute to the development of the food inclusions market. These drivers collectively contribute to the market's growth and highlight the importance of meeting consumer preferences, adapting to changing lifestyles, and leveraging technological advancements in the food industry.
Report Segmentation
The market is primarily segmented based on type, application, form, and region.
By Type

By Application

By Form

By Region

Chocolate

Fruit & Nut

Cereal

Flavored Sugar

Caramel

Honeycomb

Fudge

Buttersctoch/ Toffee

Confectionery

Biscuit & Cookie

Color & Bean

Plant based Inclusion

Others

Cereal Products

Snacks & Bars

Bakery Products

Dairy

Frozen Desserts

Chocolate & Confectionery Products

Others

Pieces

Nuts

Flakes & Crunches

Chips & Nibs

Powder

North America (U.S., Canada)

Europe (France, Germany, UK, Italy, Netherlands, Spain, Russia)

Asia Pacific (Japan, China, India, Malaysia, Indonesia, South Korea)

Latin America (Brazil, Mexico, Argentina)

Middle East & Africa (Saudi Arabia, UAE, Israel, South Africa)
To Understand the Scope of this Report : Speak to Analyst
By Type Analysis
Fruit & nut segment accounted for the largest market share in 2022
The fruit and nut segment dominated the market in 2022, primarily driven by the increasing consumer focus on the nutritional content of food and beverages. Consumers are shifting towards organic fruits and are showing a preference for fresh fruits over packaged alternatives. Fruits are extensively used in various applications, such as smoothies, yogurt, and breakfast items, including dried fruits. This trend is expected to contribute to the segment's robust growth.
Similarly, the nut segment is experiencing a surge in popularity as it has become an integral part of the consumer diet. Nuts are widely used in breakfast cereals and snack bars and are consumed daily. The presence of antioxidants in fruits and nuts, which contribute to heart and bone health and healthy skin, further propels market growth in this segment.
Additionally, the chocolate segment is anticipated to grow during the forecast period, particularly driven by the high demand from younger age groups for chocolate powder, syrup, and butter. Furthermore, chocolate finds extensive application in culinary uses such as cookies, muffins, cakes, and confectioneries. The versatile and indulgent nature of chocolate products contributes to the segment's growth in the market.
By Application Analysis
Dairy and frozen desserts segment anticipated to hold Highest CAGR during the forecast period
The dairy and frozen desserts segment is projected to experience highest CAGR in the market. This can be attributed to the wide range of ingredients used to produce dairy products and frozen desserts. Dairy inclusions offer diverse flavors like blue cheese, cream cheese, and cheesecake. These flavors enhance the taste and variety of dairy products, driving consumer demand and market growth.
Furthermore, flavor inclusions such as flavored raisins, marshmallows, fruits, and nuts are extensively utilized to prepare popular frozen desserts like ice cream, ice lollies, and flavored yogurts. These inclusions not only add unique flavors but also contribute to the texture and visual appeal of the products. The growing consumer preference for indulgent and flavorful frozen desserts is fueling the expansion of this market segment.
By Form Analysis
Solid and semi-solid segment is anticipated to dominate the market during forecast period
The solid and semi-solid form is anticipated to dominate the market over the forecast period due to the growing adoption of food products with consistent texture and flavor. The solid and semi-solid form of inclusions provides opportunities for customization, allowing manufacturers to create chunks, nuggets, balls, and various shapes while preserving the food product's color, taste, and flavor. This versatility appeals to consumers seeking unique and visually appealing food experiences, driving market demand.
Furthermore, consuming semi-solid foods is particularly prevalent among individuals who have undergone major bypass surgeries. These individuals require specialized dietary options that provide nutrients while maintaining a suitable texture for consumption. Manufacturers have the opportunity to develop food products that cater to this specific consumer group, creating a lucrative avenue for revenue growth in the market.
Regional Insights
Europe dominated the global market in 2022
Europe, the market for food inclusions holds the largest shares of the market. The region is experiencing changing consumer preferences and tastes, with a growing demand for organic, gluten-free, and vegan options. Countries like France and Russia are particularly driving this demand. Manufacturers focus on developing vegan and gluten-free products incorporated with food inclusions, further fueling market growth in Europe.
The North American region is expected to grow rapidly throughout the forecast period. Consumers can attribute this growth to being increasingly concerned about health and wellness, leading to a shift towards incorporating plant-based foods into their diets. This trend drives the demand for food inclusions as they provide opportunities to include plant-based ingredients in various food products.
Furthermore, factors such as increasing disposable income, evolving dietary preferences, and the presence of major key players with innovative products contribute to the growth of the food inclusion market in North America. Consumers are willing to spend on premium and unique food products, and the region's market is well-positioned to cater to these demands.
Key Market Players & Competitive Insight
The food inclusions market key players offering a wide range of innovative and high-quality food inclusion products. To gain a competitive edge, these companies are focused on product development, expansion into new markets, strategic collaborations, and catering to the evolving consumer preferences for unique and exciting inclusions in various food and beverage products, driving continuous growth and innovation within the food inclusions sector.
Some of the major players operating in the global market include:
ADM (Archer Daniels Midland Company)

Agarna Beteiligungs-AG

Balchem Inc.

Barry Callebaut

Cargill

Chaucer Foods Ltd

Dawn Foods Products, Inc.

Georgia Nut Company, Inc.

IBK Tropic

Kerry Group PLC

Nimbus Foods Ltd

Orchard Valley Foods Limited

Orkla

Puratos

Sensient Technologies Corporation

Sunopta Inc.

Taura Natural Ingredients Ltd.

Tate And Lyle

Trufoodmfg
Recent Developments
In February 2022, ADM acquired Comhan to develop its nutrition business in emerging markets. Both of the companies will work on developing a portfolio with fruits and chocolate flavors that would be applied in bakeries and confectioneries.

In January 2021, Nimbus Foods made an agreement with Herza to develop new products that involve chocolates and extend their product range in the UK.
Food Inclusions Market Report Scope
| | |
| --- | --- |
| Report Attributes | Details |
| Market size value in 2023 | USD 14,919.0 million |
| Revenue forecast in 2032 | USD 27,220.9 million |
| CAGR | 6.9% from 2023 – 2032 |
| Base year | 2022 |
| Historical data | 2019 – 2021 |
| Forecast period | 2023 – 2032 |
| Quantitative units | Revenue in USD million and CAGR from 2023 to 2032 |
| Segments Covered | By Type, By Application, By Form, By Region |
| Regional scope | North America, Europe, Asia Pacific, Latin America; Middle East & Africa |
| Customization | Report customization as per your requirements with respect to countries, region and segmentation. |