The global hydrogen fuel cell vehicle (HFCV) market was valued at USD 1.51 billion in 2022 and is expected to grow at a CAGR of 45.2% during the forecast period. A hydrogen fuel cell vehicle combines hydrogen with oxygen to generate electricity for cars that use petrol, diesel, or gasoline. Several factors drive the market growth, such as the increasing development of varied technologies in the automotive sector that creates growth opportunities for the market.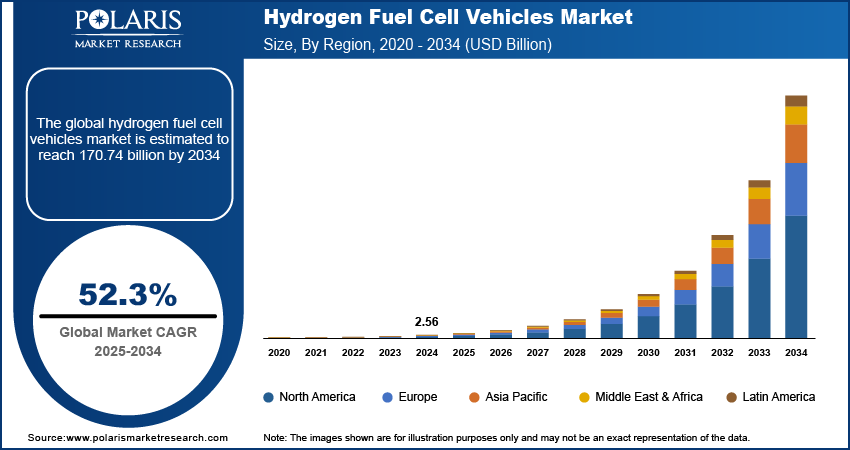 Know more about this report: Request for sample pages
HFCV is a motive-based car using hydrogen as its onboard fuel. Hybrid vehicle power plants transform chemical energy into mechanical energy by burning hydrogen inside an internal combustion engine or responding to electric motors using hydrogen with oxygen in a fuel cell. Because of the development of infrastructure to generate hydrogen, the market is anticipated to experience significant growth.
In addition, national tax rebates, the rising number of OEMs, and the ability of hydrogen refueling stations (HRS) drive market growth. However, it is anticipated that high initial investment in infrastructure will restrict market growth.
In addition, government investments coupled with incentives to drive the demand for HFC vehicles are expected to provide opportunities for growth in the global HFCV industry. Despite the worldwide market receiving a favorable customer reaction, it is also likely to face some restrictions in its development. The absence of infrastructure to promote the implementation of hydrogen fuel cell vehicles drives initial investments, leading prospective market players to imagine their choices in second place. Hydrogen fuel cell vehicles are expensive, which is expected to hamper the market growth to some extent.
As of 2019, three hydrogen cars are publicly available: the Hyundai ix35 FCEV, the Toyota Mirai, and the Honda Clarity. Many other companies are working on the development of hydrogen cars. Hydrogen is pumped as a gas into the fuel cell. On ignition, it combines with oxygen to produce only water and heat with no emission of toxic. However, Hydrogen requires just a 4% mixture with air to burn, so it is easy to detonate a and ns quickly. One of the concerns during storage is leakage. And it takes much energy to compress into an energy density appropriate for vehicle refueling. Vehicles running on hydrogen are much more expensive than gasoline or alcohol.
The COVID-19 pandemic caused severe environmental disruptions, which resulted in a global halt of new car sales and production. OEMs were forced to wait till the production levels were restored once the lockdowns were eased. The car industry depends substantially on capital expenditures and ongoing financing to keep operations running smoothly. As a result, during the first few months of the epidemic, manufacturing stops, which causes demand to decline. This statistically affects automotive fuel cell manufacturers and fuel cell electric vehicle (CEVs) makers.
However, the sector is projected to develop gradually in the post-pandemic future because of rising gas prices and increased demand for environmentally friendly vehicles.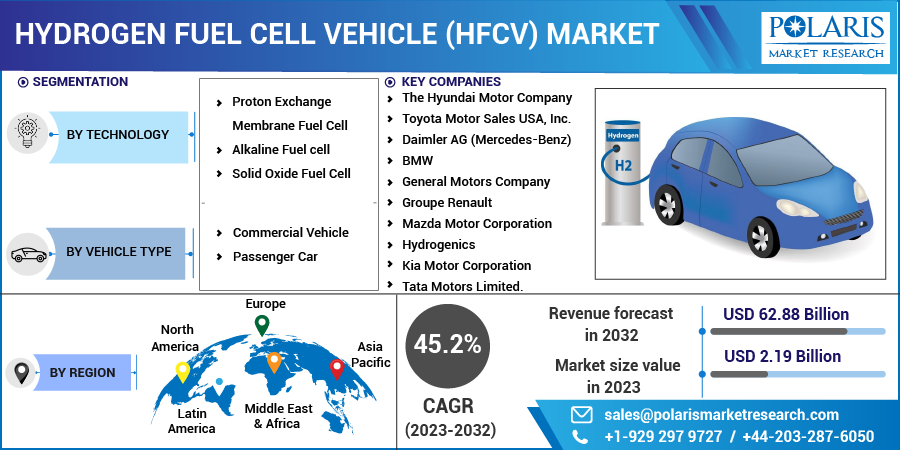 For Specific Research Requirements, Request for a Customized Report
Industry Dynamics
Growth Drivers
Due to the growing concern about environmental degradation and the depletion of natural resources, several technologies that support the eco-friendly concept are being introduced into the hydrogen fuel cell vehicle (HFCV) market. Because people are becoming more conscious of the negative effects of air pollution and the growth in traffic and greenhouse gas emissions, there has been an increase in the use of hydrogen fuel cell vehicles. Because most hydrogen exhaust comprises steam and condensed water, it creates a better driving experience. This is especially important in urban areas where noise pollution is an issue.
Various governments have implemented different policies to address environmental issues. For instance, to reach its goal of 1.5 million zero-emission vehicles by 2025, the U.S. state of California committed funding to construct0 hydrogen filling stations. This initiative supports the market's expansion.
Report Segmentation
The market is primarily segmented based on technology, vehicle type, and region.
By Technology

By Vehicle Type

By Region

Proton Exchange Membrane Fuel Cell

Alkaline Fuel cell

Solid Oxide Fuel Cell

Commercial Vehicle

Passenger Car

North America (U.S., Canada)

Europe (France, Germany, UK, Italy, Netherlands, Spain, Russia)

Asia Pacific (Japan, China, India, Malaysia, Indonesia, South Korea)

Latin America (Brazil, Mexico, Argentina)

Middle East & Africa (Saudi Arabia, UAE, Israel, South Africa)
Know more about this report: Request for sample pages
The proton exchange membrane fuel cell segment accounted for the largest market share in 2022
The proton exchange membrane fuel cell (PEMFC) segment contributes the largest share of the market. Hydrogen gas and oxygen gas are used as fuel by a PEM (Proton Exchange Membrane) cell, and water, electricity, and heat are the reaction products in the cell.
This is a major enhancement over internal combustion engines, nuclear power plants, and coal-fired energy plants, all producing harmful by-products. By directly converting chemical potential energy into electrical energy, fuel cells prevent the "thermal bottleneck." ey are inherently more effective than combustion motors, which first have to transform chemical energy into heat and then mechanical work.
The passenger car segment is expected to dominate the market over the forecast period
The passenger car segment will dominate the market during the forecast period. A new trend witnessed among automotive manufacturers is raising R&D activities to achieve fuel efficiency, focusing on good manufacturing places and short-distance supply to decrease expenses. It is anticipated that the market for hydrogen fuel cell vehicles will propel during the forecast period owing to significant driving factors such as the increased focus on high-quality products, altering consumer lifestyles, and growing expenditure power.
However, to increase the effectiveness in the automotive sector, automotive businesses and passenger car manufacturers constantly seek to emphasize innovation for their product offerings.
North America dominated with the largest market share in 2022
North America accounted for the largest market share in the global hydrogen fuel cell vehicle market and is expected to continue its dominance over the forecast period. In the U.S., HFCV incentives and hydrogen infrastructure continue to experience unparalleled leadership. Furthermore, countries including Japan, the United Kingdom, Germany, and California have announced plans to help finance hydrogen fueling stations in the U.S.
Asia Pacific is expected to propel with the fastest growth rate in the global market due to high demand and highly developed automotive manufacturing capabilities in the region, particularly in China. However, in countries such as Japan and South Korea, the growth of automotive manufacturing sectors continued to promote fuel cell technology strongly.
Competitive Insight
Major global players include The Hyundai Motor Company, Toyota Motor Sales, USA Inc., Daimler AG (Mercedes-Benz), BMW, General Motors Company, Groupe Renault, Mazda Motor Corporation, Hydrogenics, Kia Motor Corporation, and Tata Motors Limited.
Recent Developments
In August 2022, Proton Motor Power Systems PLC, a producer of electric hybrid systems and hydrogen fuel cells, introduced a 90-kilowatt power-producing pack.
In June 2022, Toshiba Energy Systems and Solutions Corp. (Toshiba EES) announced that it would work with Echandia to develop pure hydrogen fuel cell systems for ships. These newly created pure hydrogen fuel cells, which use Toshiba ESS's uninfected hydrogen fuel cells, might be used for continuous marine operation.
Hydrogen Fuel Cell Vehicle (HFCV) Market Report Scope
| | |
| --- | --- |
| Report Attributes | Details |
| Market size value in 2023 | USD 2.19 billion |
| Revenue forecast in 2032 | USD 62.88 billion |
| CAGR | 45.2% from 2023 – 2032 |
| Base year | 2022 |
| Historical data | 2019 – 2021 |
| Forecast period | 2023 – 2032 |
| Quantitative units | Revenue in USD billion and CAGR from 2023 to 2032 |
| Segments Covered | By Technology, By Vehicle Type, By Region |
| Regional scope | North America, Europe, Asia Pacific, Latin America; Middle East & Africa |
| Key Companies | The Hyundai Motor Company, Toyota Motor Sales, USA Inc., Daimler AG (Mercedes-Benz), BMW, General Motors Company, Groupe Renault, Mazda Motor Corporation, Hydrogenics, Kia Motor Corporation, Tata Motors Limited. |