The global kombucha market is valued at USD 2.59 billion in 2021 and is expected to grow at a CAGR of 15.7% during the forecast period. According to the World Health Organization (WHO), harmful alcohol consumption kills nearly 3 million people each year, accounting for 5.3% of all deaths. This has shifted consumer drinking habits to low-alcoholic and non-alcoholic beverages. Consumers, especially Millennials, are embracing a healthier lifestyle and increasingly like low-alcoholic to non-alcoholic and healthier alternatives to alcoholic beverages.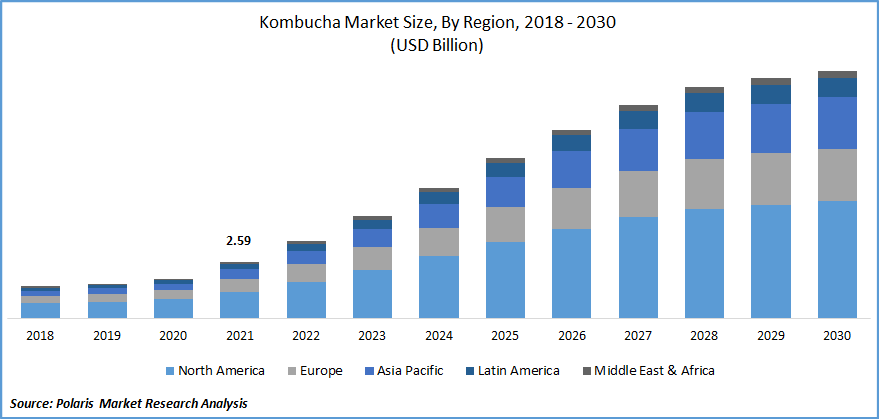 Know more about this report: Request for sample pages
The growing consumer preference for functional beverages with health benefits is actively increasing both consumer interest and demand for beverage the product. For example, according to the Institute of Food Technologists (IFT) 2017, functional beverages held a market share of 76.4% of the total US beverage sector.
Probiotic beverages are generally made from fermented milk, such as yogurt and kefir. However, this is a clear advantage over other probiotic beverages because it is obtained by fermenting sweetened tea and can be consumed by people with lactose intolerance and celiac disease.
According to the International Probiotics Association (IPA). The market value of probiotic supplements in 2015 was USD 4 billion and is expected to grow steadily. In addition, the integration of beverages into the daily diet has significantly boosted the growth of this market.
The global market was moderately affected by COVID-19 and subsequent blockades. Covid and post-covid situations have focused on incorporating immune boosters into the daily diet. This trend also led to increased revenue growth in the market. Despite supply chain disruptions, the industry tends to maintain and increase sales due to a variety of health benefits, while convenience stores, pharmacies, and healthcare stores continue to operate and grow.
The product has also proven to be a useful product for treating long-term Covid or long-term symptoms that people face after recovering from Covid. A wide range of post-Covid applications for treating symptoms such as fatigue, sleep disorders, and muscle aches are also contributing to market expansion and increased revenue.
Trading activities were severely impacted, and R&D projects were suspended due to restrictions and lockdowns that stopped future innovation and product development, but existing products continued to thrive in Covid and the post-Covid situation.
Industry Dynamics
Growth Drivers
According to a 2021 Food Health Survey conducted by the International Food Information Council (IFICx), about 72% of Americans are trying to minimize or limit their sugar intake, and 23% are low-calorie / calorie-free. Increasing demand from diabetics to reduce the amount of sugar consumed in a normal diet is another factor driving profit growth in the market. In addition, the product offers the benefits of green tea.
Studies show that regular consumption of kombucha helps burn calories, reduce tummy fat, control blood sugar levels, and lower cholesterol. These are significantly driving the revenue growth of the market. Kombucha has also become a popular alternative for beer lovers. Hard kombucha, unlike beer, is a great alternative to low-alcohol beverages due to its low alcohol content.
Due to the many benefits of probiotic wellness, making consumers shift towards kombucha, a comparatively healthier choice. As a result, it is offered in many restaurants, cafes, hotels, catering facilities, and other businesses. Increasing demand from the hospitality industry is another critical factor driving revenue growth in the market.
Report Segmentation
The market is primarily segmented based on product, type, material, microbial type, distribution channel, packaging, and regions.
By Product

By Type

By Microbial

By Distribution Channel

By Region

Natural
Flavored

Regular
Citric
Berries
Flowers
Roots
Fruits
Coconut
Herbs
Spices
Others

Bacteria
Mold
Yeast
Others

Supermarkets
Health Stores
Convenience Stores
Online Retailers
Others

North America (U.S., Canada)
Europe (France, Germany, UK, Italy, Netherlands, Spain, Russia)
Asia Pacific (Japan, China, India, Malaysia, Indonesia, South Korea)
Latin America (Brazil, Mexico, Argentina)
Middle East & Africa (Saudi Arabia, UAE, Israel, South Africa)
Know more about this report: Request for sample pages
The organic kombucha segment accounted for a significant share of sales in 2021
Kombucha was a popular beverage in 2021, with organic versions accounting for a significant share of sales. The increasing demand for organic and clean label products is driving growth in sales of natural product. Certain consumer groups prefer products that do not add color or flavor. The original kombucha is tart because of the fermentation process and the amount of SCOBY. No additives are used, but you can change the taste of sugar by increasing or decreasing the fermentation time.
Flavored kombucha gains traction by including fruity flavors such as mango, pineapple, raspberry, and pear kombucha. The addition of flavors serves as a distinguishing factor that makes the product completely different, and also plays an important role in satisfying different taste buds and different personal tastes. Flavored product is widely accepted by Gen Z and Millennials, especially those with specific flavor preferences.
Hypermarket segments accounted for a significant share of 2021 sales
Based on distribution channels, the hypermarket/supermarket segments accounted for a significant share of 2021 sales. The main reasons that enable more sales through this channel are free choice, reasonable prices, and a variety of beverages and beverage one-stop shops. Standardization of properly labeled products and lower profit margins are other factors driving sales growth through supermarkets and hypermarkets. Separate sections for each drink also help with product selection. All of these factors together lead to significant sales growth in this segment.
The online segment is the fastest-growing sales channel. This is due to factors such as the fact that the item can be shipped directly from the seller, with no additional storage costs. Customers can choose the shipping, shipping, and payment options they want, and a better product description will help generate more sales. The expansion of this segment is due to low production costs, discounts, convenience, visiting services, and availability of a wide variety of products.
North America had the largest revenue share in 2021
North America dominated the global market in terms of revenue share in 2021. Changes in people's lifestyles, changing food and drink preferences, and a growing fitness-sensitive population all contribute to the growth of the North American market. Increased consumption of alcoholic beverages has boosted the market for the product, which is a popular alternative to alcoholic beverages.
In Europe, the kombucha market witnessed significant revenue growth during the forecast period due to factors such as affordability and taste. The United Kingdom, France, and Spain are the major countries in the region. Russia is expected to achieve the largest growth in the kombucha market throughout the forecast period as it is a homemade alternative to soft drinks for some people in the country. Due to the stressful lifestyle, stress-related health problems such as hyperacidity, digestive delays, and gastrointestinal disorders are common in Italy.
The Asia Pacific market is growing steadily due to factors such as increased health awareness, a growing presence on social media, and an increase in buzzwords such as probiotics and gut health. The product has rapidly gained attention in the Asia-Pacific region in recent years as a healthier alternative to sugary beverages. Since kombucha was born in Japan and China, several national and regional projects are underway to restore the lost heritage.
Competitive Insight
Some of the dominant players operating in the global kombucha market include Asheville Kombucha Mamas, LLC, Brew Dr. Kombucha, GT's Living Foods, Hain Celestial, Humm Kombucha, KeVita.com, Kosmic Kombucha, LIVE Soda, LLC, NessAlla Kombucha, PepsiCo, Inc., KeVita, Pure Steeps Beverage, LLC, Reeds Inc., Remedy Drinks., Revive Drinks, Suja Life, LLC, and Others.
Recent Developments
In May 2021, the US-based company Qumba Kombucha announced that it would bring two artificial sweeteners free fermented kombucha to the market. Titled flavours of kombucha include Kumbha Hibiscus Blood Orange Powder and Berry Powder.
In April 2021, the US-based Harris Tea Company announced that it had acquired all of the shares of Tetley Harris Food Group, which was formerly part of Tata Consumers Product. The company's goal is to provide its customers with integrated end-to-end services
In January 2021, SkyDiamond Elite CEO Habib Bakshi acquired the kombucha shop, a company specializing in home-brewed kits. The company also has a unique blend of ingredients used in the preparation of the product. As consumers become more health conscious, the company will grow its business through digital marketing and help consumers change their lifestyles in a cost-effective way.
Kombucha Market Report Scope
| | |
| --- | --- |
| Report Attributes | Details |
| Market size value in 2021 | USD 2.59 billion |
| Revenue forecast in 2030 | USD 11.40 billion |
| CAGR | 15.7% from 2022 - 2030 |
| Base year | 2021 |
| Historical data | 2018 - 2020 |
| Forecast period | 2022 - 2030 |
| Quantitative units | Revenue in USD million and CAGR from 2022 to 2030 |
| Segments covered | By Product, By Type, By Microbial, By Distribution Channel |
| Regional scope | North America, Europe, Asia Pacific, Latin America; Middle East & Africa |
| Key companies | Asheville Kombucha Mamas, LLC, Brew Dr. Kombucha, GT's Living Foods, Hain Celestial, Humm Kombucha, KeVita.com, Kosmic Kombucha, LIVE Soda, LLC, NessAlla Kombucha, PepsiCo, Inc., KeVita, Pure Steeps Beverage, LLC, Reeds Inc., Remedy Drinks., Revive Drinks, Suja Life, LLC, and Others. |