The global medical Drones market was valued at USD 110.9 million in 2019 and is expected to grow at a CAGR of 31.6% during the forecast period. The prominent factors responsible for market growth are key government initiatives in providing medical care to the distant areas, rising fear of virus infection due to COVID, and as tool to cut down un-necessary logistics costs.
Moreover, substantial investments in development of advanced medical drones, key technological advancements and growing public acceptance has also fueled the market growth. There are several major benefits that drive their deployment across a variety of end-uses such as in military, in floods or drought affected areas and pandemic affected areas where it is extremely harmful for humans to deliver medical supplies. Moreover, the rising applications of drones in the healthcare sector is also expected to prove a major driving factor to boost market growth.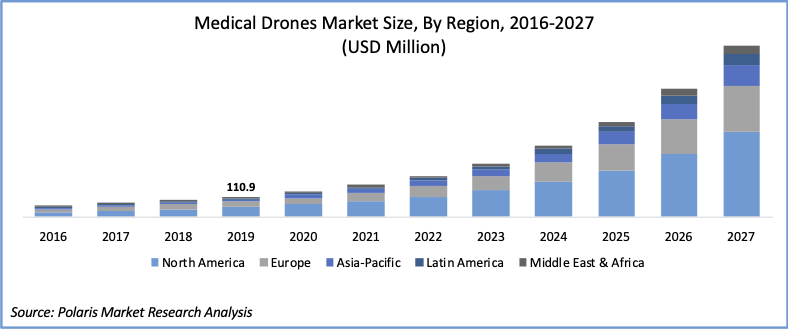 Know more about this report: request for sample pages
Several companies have come on front foot and providing emergency help to the people during this COVID-19 pandemic. For instance, Zipline, the U.S. based medical product delivery company, is even working extensively to distribute vaccines, life-saving drugs, and blood to the remote areas of Rwanda and Ghana with the help of drones to fight against COVID-19 in Africa region. The drones are lightweight and deliver vital packages till 50 miles to clinics. The primary objective of government behind such efforts is to help and save the lives of people in need through the supply of medication whenever required.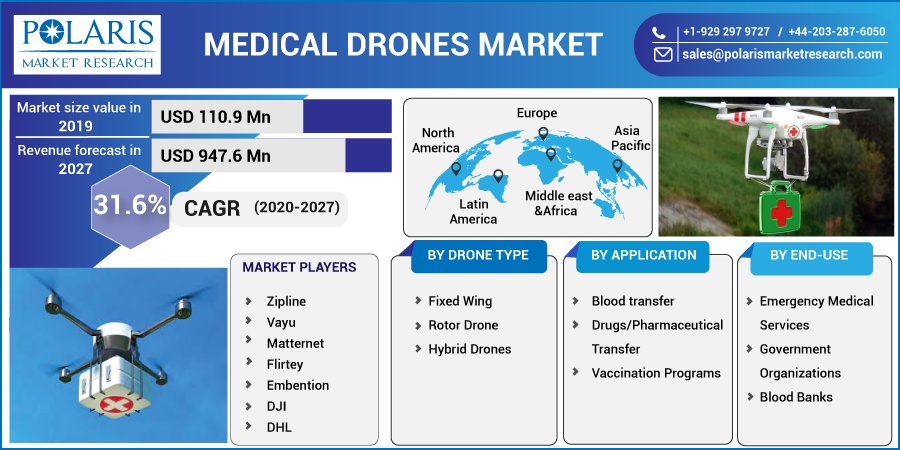 Know more about this report: request for sample pages
Rising government initiatives targeted on developing advanced unmanned Arial vehicles is expected to boost technological developments. For instance, in 2018, Dalsey, Hillblom and Lynn (DHL) and the government of Tanzania partnered to introduce a strategic program referred to as the medical drone delivery program.
Medical Drones Market Report Scope
The market is primarily segmented on the basis of Drone Type, By Application, By End-Use and geographic region.
By Drone Type

By Application

By End-Use

By Region

Fixed Wing
Rotor Drone
Hybrid Drones

Blood transfer
Drugs/Pharmaceutical Transfer
Vaccination Programs

Emergency Medical Services
Government Organizations
Blood Banks

North America (U.S., Canada)
Europe (France, Germany, UK, Italy, Netherlands, Spain, Austria)
Asia Pacific (Japan, China, India, Malaysia, Indonesia. South Korea)
Latin America (Brazil, Mexico, Argentina)
MEA (Saudi Arabia, UAE, Israel, South Africa)
Know more about this report: request for sample pages
Insight by Drone Type
Based upon drone type, the global market is categorized into Fixed Wing, Rotor Drone and Hybrid Drones. Rotor drone is expected to hold the highest share in global market in 2019, owing to various benefits such as its ability to land and take-off vertically which enables the user to operate it within a smaller region with no much area required to land or take-off as against the fixed wing medical drone that requires larger area to take-off and land. The capacity of rotor drone to hover and uniquely deliver agile maneuvering make the rotary wing unmanned Arial vehicle highly suited for applications such as remote inspection where ability to keep undisturbed visual on just one target of longer period of time is needed.
However, the primary drawback of rotor drone is that its design and manufacturing requires greater electronic and mechanical complexity. This makes the repair and maintenance of rotor drones highly time-consuming, greater skills are required by the technician and also, increases the overall operational expenditures. Also, owing to shorter flight range of rotor drone and their lower speed it makes tedious for the operator to make several rounds of flight to survey a large area which takes a lot of more time and also increase the operations costs.
Insight by Application
Based on application segment, the global market is further bifurcated into Blood transfer, Drugs/Pharmaceutical Transfer, Vaccination Programs. Blood transfer application is expected to grow the fastest primarily driven by growing incidence of deaths due to severe bleeding that increases the demand for medical drones. As per the studies, each year, nearly 60,000 people in North America die due to haemorrhage or blood loss. Nearly, 2 million people die worldwide primarily due to the unavailability of key medical supplies on time. Therefore, blood transfer application is expected to grow at the fastest rate in global market.
Insight by End-Use
Based on end-use, the global market is segmented into Emergency Medical Services, Government Organizations, and Blood Banks. Among these, emergency services have occupied a majority of the market share in 2019, mainly due to sustained advancements in drone technology. These drones are generally being deployed for transferring platelets, plasma and blood from the blood banks to clinics and hospitals in remote locations.
Industry Dynamics
Drivers
The rising applications of drones across the healthcare sector is expected to be helpful in driving the growth of the global market. These drones look after the critical requirements of the patients by delivering them the much needed drugs, vaccines, antivenin and blood-related supplies across a range of geographical locations. Quick delivery of the supplies allows the healthcare professionals to offer immediate assistance to the patients while also saving their lives in case of critical cases. Moreover, these drones are also capable of offering the much-needed healthcare supplies on the bed of the patient while avoiding any drug delivery mistakes. Such extensive applications of these drones are expected to fuel the global market growth.
At present, the strict government regulations have posed some confinement on the deployment of drones across the healthcare sector. However, several countries are increasingly allowing the entry of drones in the healthcare sector by altering the administrative policies to enable the entry of medical drones. Such key government initiatives is expected to drive the deployment of these drones in the healthcare sector while boosting the market growth. The stringent regulatory approvals of drones to fly freely is restraining the commercialization of this technology, however, the industry is working towards it in future.
Geographic Overview
Geographically, North America is the largest revenue contributor to the medical drones market and holding a majority of the market share. The growth of North America medical drones market is mainly due to substantial research funding to the development of medical drones and extensive adoption of medical drones across various healthcare facilities such as hospitals, clinics and ambulatory surgical centers (ASCs). Moreover, the presence of key regulations that favor the deployment of drones in the healthcare sector across both United States and Canada also contributes to the market growth in the region.
Furthermore, Europe is also expected to contribute notably to the growth of medical drones in the region mainly due to favorable government initiatives to boost the implementation of medical drones across the medical sector in countries such as Germany, France, United Kingdom, Italy, Belgium, etc. For instance, in 2018, DHL, which is a logistic major in Germany has launched small-sized drones that would be deployed for providing medications to costal and remote locations in the country. DHL has planned to innovate and introduce a new drone that would be capable of vertically taking-off and landing with no requirement of any land for take-off. Moreover, the advanced drone is expected to have temperature-controlled sensors that would enable drone to offer the medical supplies at much-needed temperature conditions.
Competitive Insight
Key players operating in the global market are primarily focused on product innovation, development and strategic acquisitions in order to strengthen their capabilities for research and development of new products. These key strategies enable the companies to strengthen their market position while also boosting their geographical presence. Some of the key players operating in the global market comprises of Zipline, Vayu, Matternet, Flirtey, Embention, DJI, DHL, among others.