The global pregnancy pillow market was valued at USD 587.76 million in 2022 and is expected to grow at a CAGR of 3.3% during the forecast period.
The rising awareness and knowledge about the several health benefits of these types of pillows in terms of relaxation, pain relief, and better blood circulation and rapid emergence of pregnancy pillows as an effective and excellent source of well-being and comfort for pregnant women are the primary factors expected to boost the global market growth. In addition, the increasing number of product promotional activities by key market players with the help of social media and other online channels and the rising penetration of technological innovations in pregnancy pillow design and features are likely to have a positive impact on demand and growth of the market.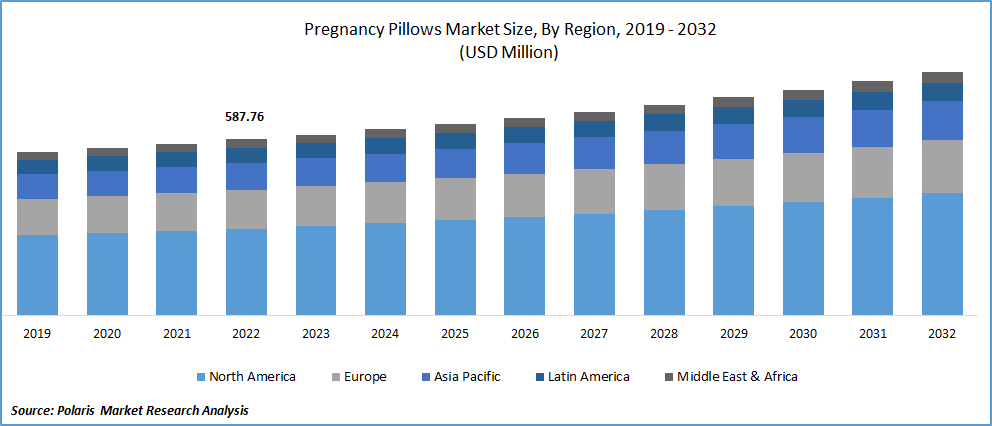 To Understand More About this Research: Request a Free Sample Report
For instance, in September 2022, Bearaby, a leading sustainable home wellness brand, announced the launch of its new ergonomic body pillow named 'The Cuddler,' which provides sustainable and soothing support. The newly designed Cuddler comes with several therapeutic benefits while maintaining sustainability, style, and comfort.
Moreover, some of the major companies operating in the market are implementing pregnancy pillows equipped with smart features and connectivity options, which may include sensors to monitor sleep patterns and provide feedback on sleep quality and can be easily connected to smartphones or other devices, enabling users to track their sleep data and make-adjustments for better sleep, is among the factors gaining huge traction and popularity globally.
Coronavirus worldwide has disrupted global supply chains and caused delays in the production and distribution of various products, including pregnancy pillows, that resulted in a shortage of supply and limited product availability in some regions. However, the pandemic has heightened awareness about health and wellness, including the importance of proper sleep and comfort during pregnancy, which positively influenced the market.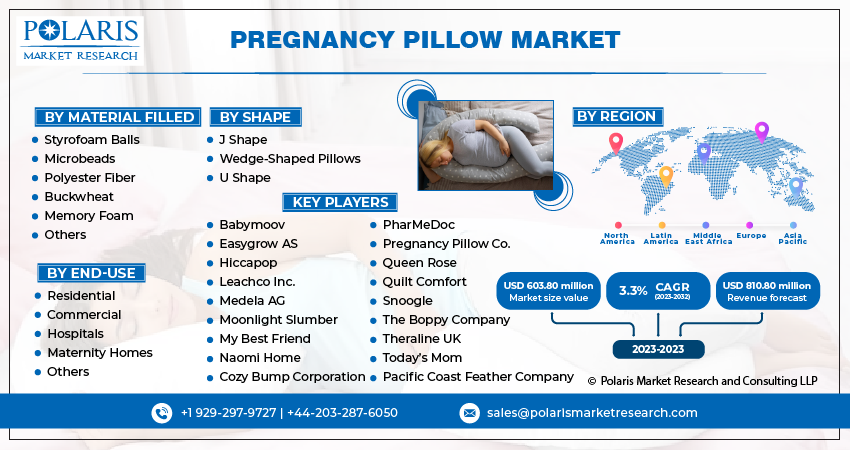 For Specific Research Requirements, Request for a Customized Report
Growth Drivers
Maternal comfort during pregnancy for better sleep.
Maternal comfort during pregnancy is a pivotal driver for the Pregnancy Pillow Market. These specialized pillows offer pregnant women the much-needed support and comfort essential for better sleep, especially during the second and third trimesters when discomfort and sleep disturbances become increasingly common.
Pregnancy places significant strain on a woman's body, leading to discomfort, aches, and pains, particularly in the back, hips, and abdomen. Pregnancy pillows are designed with ergonomic shapes to alleviate these discomforts by providing proper alignment and support. They help reduce pressure on the spine, improve blood circulation, and alleviate common pregnancy-related issues such as acid reflux and swelling.
The desire for restful sleep is universal, and during pregnancy, it becomes even more critical for the overall well-being of both the mother and the developing baby. As expectant mothers prioritize their comfort and sleep quality, the demand for pregnancy pillows continues to grow, making them an indispensable accessory for maternal health and comfort during pregnancy.
Report Segmentation
The market is primarily segmented based on material filled, shape, end-use, and region.
By Material Filled

By Shape

By End-Use

By Region

Styrofoam Balls

Microbeads

Polyester Fiber

Buckwheat

Memory Foam

Others

J Shape

Wedge-Shaped Pillows

U Shape

Residential

Commercial

Hospitals

Maternity Homes

Others

North America (U.S., Canada)

Europe (France, Germany, UK, Italy, Netherlands, Spain, Russia)

Asia Pacific (Japan, China, India, Malaysia, Indonesia. South Korea)

Latin America (Brazil, Mexico, Argentina)

Middle East & Africa (Saudi Arabia, UAE, Israel, South Africa)
To Understand the Scope of this Report: Speak to Analyst
By Material Filled Analysis
Polyester fiber segment accounted for the largest market share in 2022
The polyester fiber segment accounted for the largest market share in 2022 on account of its numerous advantageous characteristics and features, including lightweight, plush, moldable, and soft, allowing the product to be effectively customized as per consumer needs. In addition, polyester fiber is generally more affordable compared to other materials like memory foam or organic fibers, which makes them easily accessible to a wider range of consumers who may be looking for cost-effective options, thereby propelling the segment market.
The memory foam segment is likely to grow at the fastest growth rate throughout the study period, largely attributable to its growing popularity among consumers globally because of durability, resilience, and ability to retain its shape over time, along with the several benefits associated with memory foam-based products for pregnant women who experience increased pressure on their joints, back, and muscles.
By Shape Analysis
The U-shaped segment is expected to hold a substantial market share in 2022
The U-shaped segment is anticipated to hold a significant market share in 2022, mainly due to its capability to provide support to the entire body, including the head, neck, back, hips, and legs. Further, it helps alleviate common pregnancy discomforts such as back pain, pelvic pain, and restless nights, allowing pregnant women to get better sleep. Additionally, various brands and manufacturers have recognized the demand and have introduced their versions of U-shaped pillows, offering different materials, sizes, and features to cater to diverse customer preferences.
With increased awareness about the importance of maternal health, pregnant women across the globe are seeking products that prioritize their well-being, thereby largely adopting pregnancy pillows which are designed to promote proper spinal alignment, reduce strain on joints, and improve blood circulation, which in turn, have paved the way for demand for products that prioritize comfort and health during pregnancy.
By End-Use Analysis
The residential segment is projected to witness the highest growth during the forecasted period.
The residential segment is projected to gain the highest growth rate over the anticipated period, mainly driven by an increasing number of expecting mothers becoming conscious about their health and well-being during pregnancy and continuously rising consumer disposable incomes across both developed and developing economies, resulting in increased consumers willing to spend on products that enhance their comfort and well-being.
The hospital's segment led the industry market with a substantial share in 2022, which is largely accelerated by a rapid surge in the number of hospitals providing comprehensive pre and postnatal care to expectant mothers and a number of hospitals prioritize the well-being and comfort of their patients, thereby opting for pregnancy pillows, as it helps in improving the quality of sleep for pregnant women, reducing discomfort, and relieving pressure on various body parts.
Regional Insights
North America region dominated the global market in 2022
The North American region dominated the global market with the largest share in 2022 and is projected to maintain its market dominance throughout the study period. The regional market growth can be mainly attributed to increasing awareness among pregnant women about the benefits of using pregnancy pillows during pregnancy, along with the region's overall economic stability and rising disposable income levels that have enabled pregnant women to spend more on products that enhance their comfort and well-being. Furthermore, the region has experienced a steady increase in pregnancy rates over the last few years. Hence, the significant increase in the number of women entering motherhood is leading to a larger target market for pregnancy-related products, including pregnancy pillows, and creating higher growth opportunities.
The Asia Pacific region is expected to emerge as the fastest growing region with a healthy CAGR over the next coming years, owing to the rising prevalence and proliferation of urbanization and changing lifestyles in the region coupled with the growing number of manufacturers investing in product innovation to introduce new advanced features and designs in their offerings.
Competitive Insight
The pregnancy pillow market is fragmented and is anticipated to witness competition due to several players' presence. Major service providers in the market are constantly upgrading their technologies to stay ahead of the competition and to ensure efficiency, integrity, and safety. These players focus on partnership, product upgrades, and collaboration to gain a competitive edge over their peers and capture a significant market share.
Some of the major players operating in the global market include:
Babymoov

Cozy Bump Corporation

Easygrow AS

Hiccapop

Leachco Inc.

Medela AG

Moonlight Slumber

My Best Friend

Naomi Home

Pacific Coast Feather Company

PharMeDoc

Pregnancy Pillow Co.

Queen Rose

Quilt Comfort

Snoogle

The Boppy Company

Theraline UK

Today's Mom
Recent Developments
In April 2022, Sleepsia announced the launch of its new manufacturing facility in Manesar, Gurugram, India, after receiving funding of around 2 million, allowing the company to launch a new range of products, including pregnancy pillows. The company is heavily investing in its production facilities and cutting-edge machinery to scale its operations.

In December 2021, BEDGEAR introduced its new Flow Cuddle Curve pillow & The Body Pillow, which includes a unique design in order to meet the specific sleep needs of customers. The newly developed Body Pillow is engineered to provide pressure relief, helping all kinds of people, including pregnant and postpartum women.
Pregnancy Pillow Market Report Scope
| | |
| --- | --- |
| Report Attributes | Details |
| Market size value in 2023 | USD 603.80 million |
| Revenue forecast in 2032 | USD 810.80 million |
| CAGR | 3.3% from 2023 – 2032 |
| Base year | 2022 |
| Historical data | 2019 – 2021 |
| Forecast period | 2023 – 2032 |
| Quantitative units | Revenue in USD million and CAGR from 2023 to 2032 |
| Segments covered | By Material Filled, By Shape, By End-Use, By Region |
| Regional scope | North America, Europe, Asia Pacific, Latin America; Middle East & Africa |
| Customization | Report customization as per your requirements with respect to countries, regions, and segmentation. |