The global contactless biometrics market was valued at USD 18.69 billion in 2021 and is expected to grow at a CAGR 15.2% during the forecast period. The adoption of contactless biometrics solutions is increasing owing to their precision and efficiency in verifying the identity of an individual. Contactless biometrics is a verification method wherein an individual can be authorized with machine sensors without any human touch.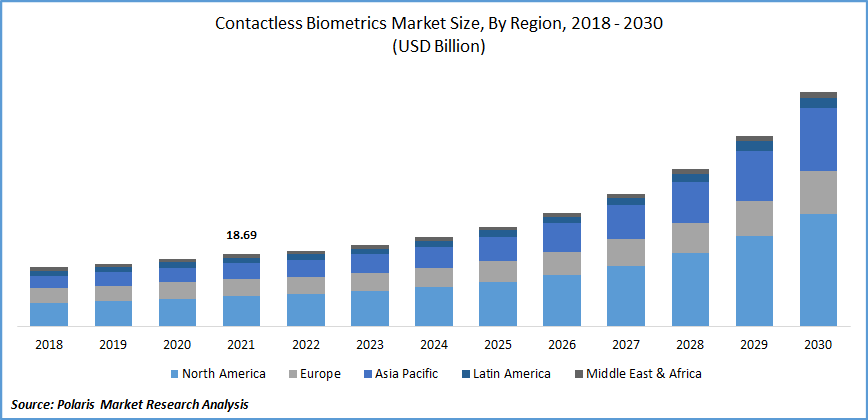 Know more about this report: Request for sample pages
Contact authentication can be done through various technologies such as facial recognition, iris scanner, voice recognition, hand vein capturing, and other methods. Moreover, biometrics devices are being integrated with almost every device in modern society, from smartphones and laptops to homes and automobiles.
Car manufacturers are also opting for this sensory system that grants easier access to users. This enables the use of functionalities, such as installing the camera near the rear-view mirror of modern cars to be integrated with contactless biometrics functionalities that can capture facial and iris recognition of the user while they are approaching the vehicle.
The COVID-19 pandemic had a positive impact on the global contactless biometrics market and its opportunities. Business operations in the electronics sector were interrupted during the pandemic, which caused a major shift in consumer preference towards the use of the system in government and public sector applications. However, restrictions on the transportation of goods and import & export activities during the pandemic resulted in a reduced supply of biometrics and other related products.
Government and authorities globally had to enforce restrictions on travel, and neighborhood shops were instructed to close operations, due to which, the industry experienced a bit of slowdown in sales of products in the government and other utility sectors.
However, governments and law enforcement organizations were implementing numerous schemes, such as e-passports, vaccination certifications, and nationwide identity card programs during the pandemic with the help of the system, propelling the growth of the contactless biometrics market.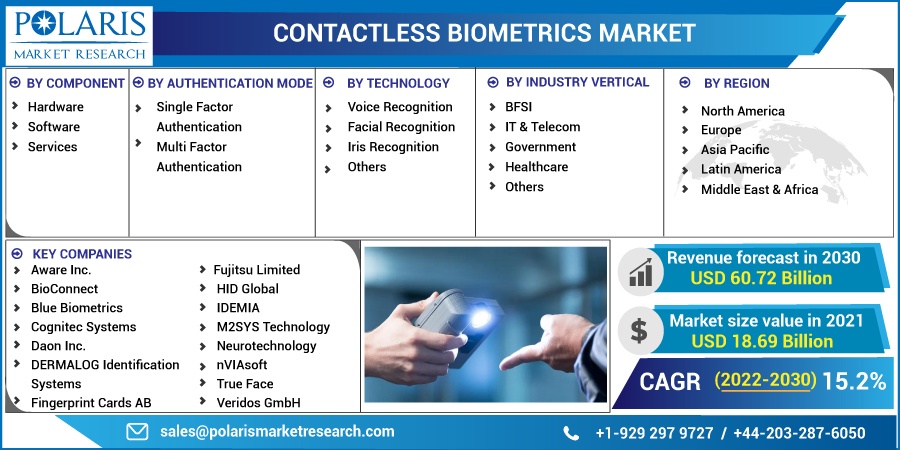 Know more about this report: Request for sample pages
Industry Dynamics
Growth Drivers
The growth of the global contactless biometrics market is primarily driven by the increasing usage of contactless devices. A number of banks have introduced applications that can utilize touchless authentication systems to identify their customers using technologies such as voice recognition and voice data analysis for secure telephone banking applications. Major banks such as HSBC, Santander, Barclays, and digital bank, Atom are developing similar applications for faster authentication of customers.
According to research conducted by BBC news and HSBC in May 2019, over 30% more mobile devices are anticipated to be using mobile authentication as a security system in the coming few years. Such instances support the growth of the contactless biometrics market.
Report Segmentation
The market is primarily segmented based on component, authentication mode, technology, industry vertical, and region.
By Component

By Authentication Mode

By Technology

By Industry Vertical

By Region

Hardware
Software
Services

Single Factor Authentication
Multi Factor Authentication

Voice Recognition
Facial Recognition
Iris Recognition
Others

BFSI
IT & Telecom
Government
Healthcare
Others

North America (U.S., Canada)
Europe (France, Germany, UK, Italy, Netherlands, Spain, Russia)
Asia Pacific (Japan, China, India, Malaysia, Indonesia. South Korea)
Latin America (Brazil, Mexico, Argentina)
Middle East & Africa (Saudi Arabia, UAE, Israel, South Africa)
Know more about this report: Request for sample pages
Hardware segment accounted for a considerable share in 2021
By component, the contactless biometrics market is segmented into hardware, software, and services. The market for the hardware segment is expected to hold a considerable share. This authentication entails using some aspect of a user's physical characteristics to verify their identity.
The mode of such authentication can be fingerprint recognition, an iris scan, a retina scan, or any other physical feature. However, to get the input of the user in a form that a computer can comprehend and process, physical hardware devices are required that are designed to scan specific physical attributes of the user.
The increase in demand for PCs, smartphones, wearable devices, tablets, and notebooks and the rising trends for better security and privacy in such devices is promoting the introduction of contactless systems, such as face recognition sensor technology, which has increased the level of security of mobile phones. Moreover, growing mobile payment transactions are also on the rise, which further empowers the development of hardware-based authentication solutions.
Single factor authentication accounted for the largest market share
By authentication mode, the contactless biometrics market is segmented into single factor authentication (SFA) and multi-factor authentication (MFA). Among this single factor authentication is expected to be the largest market in the contactless biometrics market.
Single factor authentication is the most common authentication scheme used in mobile banking and other common applications. The use of authentication credentials, such as a username and password, is referred to as single factor authentication. The main disadvantage of this scheme is that passwords can be easily guessed or stolen by using various brute-force algorithms. Moreover, single-factor authentication can include iris recognition, facial recognition, geometric pattern recognition, fingerprint recognition, voice recognition, palm recognition, and others.
SFA is considered less secure than MFA, especially when the identifier has a vulnerable password. However, with the authenticated security solutions, even single factor authentication can still provide the appropriate level of security as duplication of a fingerprint or facial features is still a lot harder than regular text-based passwords, allowing its adoption in critical operations that need faster access.
Facial recognition segment accounted for the largest market share
By technology, the contactless biometrics market is categorized into voice recognition, facial recognition, iris recognition, and others. The facial recognition segment is expected to account for the largest share during the forecast period.
Facial recognition is a technique that can compare a human face in a digital picture or video to a database of previously stored faces. Facial recognition is commonly used in system authentications to assist in identifying the facial traits of an individual. This type of identification is useful for a variety of business and law enforcement purposes, as it can ease the process of identification of individuals.
Nowadays, facial recognition technologies are utilized as a form of verification for a range of reasons ranging from timekeeping to access control. By automating employee time monitoring, a face recognition attendance system may save businesses money.
There has been a huge surge in demand for the use of contactless authentication technology since the outbreak of the COVID-19 pandemic. The benefits of facial recognition and the use of attendance systems, such as Truein, have been acknowledged by the industry during the pandemic period. Workplaces and multi-tenant workplaces were able to minimize the frequency of individual interaction, lowering the danger of viral transmission during the period.
BFSI segment to grow at the fastest CAGR during the forecast period
By industry vertical, the contactless biometrics market is categorized into BFSI, IT & telecom, government, healthcare, and others. The contactless biometrics market in the BFSI is expected to grow during the forecast period. In addition, increasing incidences associated with identity theft, cybercrime, and financial fraud have encouraged banks and financial institutions to adopt advanced system solutions.
Furthermore, contactless biometrics solutions leverage unique biological patterns, which are found in iris facial patterns, voice prints, and others. These patterns rarely repeat themselves and can be considered as unique for each person, allowing them to be used as a key to keeping users' information safe and offering security from online frauds and thefts, driving the growth of this segment.
North America region will lead the global contactless biometrics market by 2030
The North American region is expected to account for a larger share in the contactless biometrics market owing to its early adoption of the technology. In addition, contactless systems are represented as portable devices that are embedded, either in any smartphone or externally, as hardware that is utilized for executing such procedures.
These are broadly utilized by enterprises and government bodies for verification and identifying authentication purposes. Moreover, the rise in implementation of this system features in smartphones is further anticipated to drive the growth of the North American contactless biometrics market.
Competitive Insight
Some prominent players operating in the global market include Aware Inc., BioConnect, Blue Biometrics, Cognitec Systems, Daon Inc., DERMALOG Identification Systems, Fingerprint Cards AB, Fujitsu Limited, HID Global, IDEMIA, M2SYS Technology, Neurotechnology, nVIAsoft, True Face, and Veridos GmbH.
Recent Developments
In March 2022, Aware, Inc. applied adaptive authentication and announced the support of Flutter Version 2.10 into its Knomi mobile authentication platform.
In October, 2020, HID Global collaborated with Temenos, a banking software company to enhance the user experience of Temenos's customers in Temenos Marketplace, which already has integrated HID's multi-factor authentication solution. Temenos customers are spread across financial institutions and demand secure mobile and online transaction experience. HID Global is providing Temenos with its HID ActivID authentication platform with risk profiling technology.
Contactless Biometrics Market Report Scope
| | |
| --- | --- |
| Report Attributes | Details |
| Market size value in 2021 | USD 18.69 billion |
| Revenue forecast in 2030 | USD 60.72 billion |
| CAGR | 15.2% from 2022 - 2030 |
| Base year | 2021 |
| Historical data | 2018 - 2020 |
| Forecast period | 2022 - 2030 |
| Quantitative units | Revenue in USD billion and CAGR from 2022 to 2030 |
| Segments covered | By Component, By Authentication Mode, By Technology, By Industry Vertical, By Region |
| Regional scope | North America, Europe, Asia Pacific, Latin America; Middle East & Africa |
| Key companies | Aware Inc., BioConnect, Blue Biometrics, Cognitec Systems, Daon Inc., DERMALOG Identification Systems, Fingerprint Cards AB, Fujitsu Limited, HID Global, IDEMIA, M2SYS Technology, Neurotechnology, nVIAsoft, True Face, and Veridos GmbH. |