The global fitness app market was valued at USD 2.76 billion in 2022 and is expected to grow at a CAGR of 15.3% during the forecast period.
A fitness app is a downloadable application for smart devices such as laptops, phones, and tablets that focuses on health and fitness. These apps are available on various platforms, including Android and iPhone (iOS). According to Health Works Collective, an online public health resource, over 97,000 fitness and health apps are available for tablets and mobile devices. A significant number of smartphone users, particularly those in the 18 to 29 age group, have installed health apps, with approximately 15% utilizing them. Additionally, about 52% of users access health-related information through their devices. These fitness apps cover various categories, including care management, vital sign monitoring, health and wellness, women's health, medication management, and consultancy.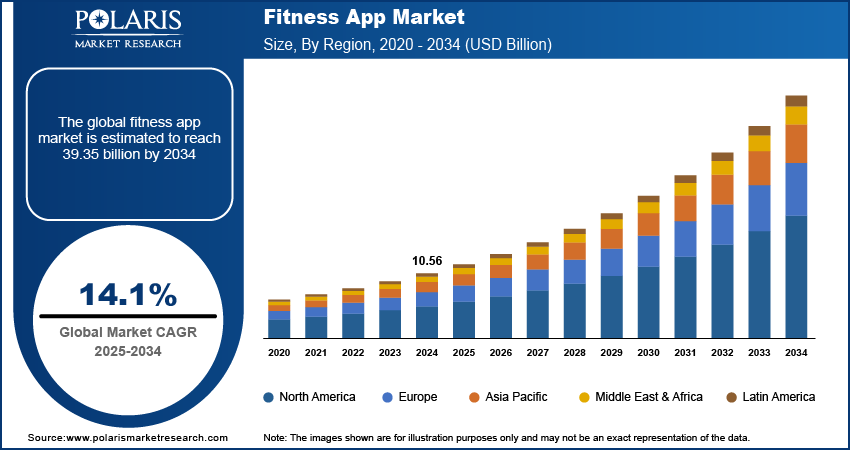 To Understand More About this Research:Request a Free Sample Report
One of the main drivers for the growth of the fitness app is the growing health problems among youth from a sedentary lifestyle. It has created a demand for fitness apps that can help address these issues. Furthermore, the increasing demand for fitness apps designed for women contributes to the market's expansion. Moreover, integrating artificial intelligence technology and continuous research and development efforts have led to the development of online training regimes, increasing the demand for fitness apps. These advancements are expected to impact the market value of fitness apps positively.
The global COVID-19 pandemic has forced millions of individuals worldwide to find alternative ways to stay physically active since clubs and training studios were closed due to lockdowns. As a result, there has been a significant surge in the download of fitness software as people turn to home-based training. In 2020, fitness and health software downloads increased by 46% globally, according to the World Economic Forum. India, in particular, experienced a remarkable growth of 156% in downloads, contributing to the industry's expansion.
Moreover, not only did the number of downloads increase, but the percentage of daily active users also rose by 24% in 2020. It indicates a higher usage of fitness software due to its compatibility and has driven the demand for these products. Even as the threat of the coronavirus diminishes in certain regions, many health applications remain popular due to their convenience, commitment, impressive analytics, and interactive features.
For example, the fitness app Strava offers cross-training sessions and heart rate-focused training tailored to the user's capabilities. Another example is HealthifyMe, which introduced HealthifyMe Studio in 2020, providing online interactive classes to expand its market presence. These factors are expected to drive the growth of the fitness app market in the foreseeable future.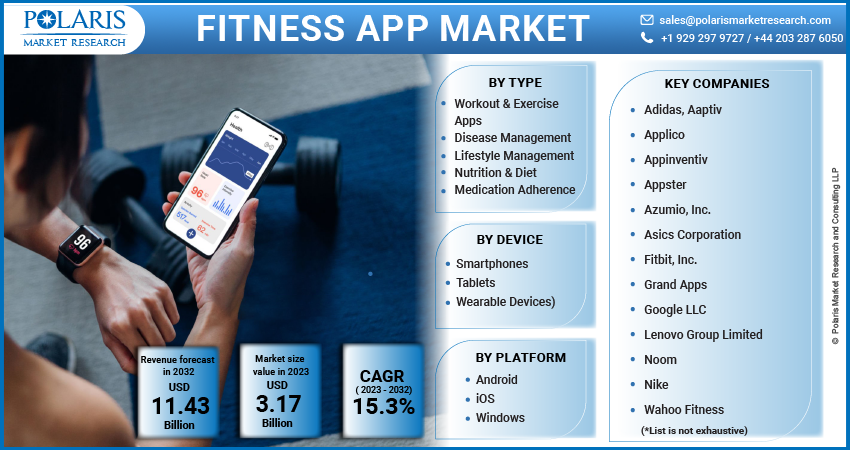 For Specific Research Requirements, Request for a Customized Report
Industry Dynamics
Growth Drivers
The rising awareness about health software
The rising awareness about the features offered by health software, such as activity tracking, personal training, nutrition and diet tips, meditation and yoga guidance, and more, has contributed to an increased demand for these applications. These features enable users to reach their health and fitness goals easily and conveniently.
Fitness software has proven successful in helping individuals achieve their health objectives without needing expensive gym memberships or extensive physical effort. This affordability and convenience have generated users' positive perceptions of fitness apps. As a result, there is a growing inclination toward utilizing these apps, due to an increased demand for fitness software.
The availability of features like personal training allows users to receive customized workout plans tailored to their specific needs and fitness levels. Activity tracking features help individuals monitor their progress, set goals, and stay motivated throughout their fitness journey. Additionally, features like yoga, meditation guidance, and diet and nutrition tips provide holistic support for overall well-being.
Considering these factors, the demand for fitness software will continue growing over the forecast period. As people become more conscious of their health and seek convenient and cost-effective ways to stay fit, the fitness app is projected to grow significantly.
Report Segmentation
The market is primarily segmented based on type, platform, device, and region.
By Type

By Platform

By Device

By Region

Workout & Exercise Apps

Disease Management

Lifestyle Management

Nutrition & Diet

Medication Adherence

Smartphones

Tablets

Wearable Devices

North America (U.S., Canada)

Europe (France, Germany, UK, Italy, Spain, Netherlands, Belgium, Russia)

Asia Pacific (Japan, China, India, Indonesia, South Korea)

Latin America (Brazil, Mexico, Argentina)

Middle East & Africa (Israel, South Africa)
To Understand the Scope of this Report:Speak to Analyst
Android segment is anticipated to witness a highest market share over the forecast period
The Android segment is anticipated to witness the highest market share over the forecast period due to the large number of Android users in Asia and the continuous advancements in smartphone Android technology. Android devices are widely used in Asia, due to a significant market share for fitness apps.
However, iOS is expected to dominate the market in terms of revenue. It is primarily due to the strong demand for iOS products in North America and Europe, such as iPhones and iPads. These regions have a substantial customer base for Apple products, and the brand's reputation for quality and innovation contributes to its revenue dominance.
Smartphones held the fastest market share in 2022
In 2022, the smartphone segment held the fastest market share due to the rapid increase in smartphone users worldwide. For instance, approximately 80.0% of the global population owns a smartphone, which is expected to rise further in the coming years.
The widespread adoption of smartphones has significantly contributed to the popularity and accessibility of fitness apps. With smartphones becoming an integral part of people's daily lives, individuals can easily access fitness apps anytime and anywhere. This convenience has led to a surge in the demand for fitness apps among smartphone users.
Furthermore, smartphones offer advanced features and capabilities that enhance the user experience of fitness apps. These devices are equipped with sensors, such as accelerometers and heart rate monitors, which can track various fitness metrics. Additionally, smartphones provide a platform for seamless integration with other health and fitness accessories, such as smartwatches and fitness trackers, further expanding the functionalities of fitness apps.
North America dominated the global market in 2022
In 2022, North America dominates the global fitness app market due to several factors, including the high health consciousness among the population, rising concerns about obesity and other health issues, and the widespread adoption of smartphones and digital technologies in the region. Additionally, the COVID-19 pandemic further accelerated the demand for fitness apps as people sought to stay fit and active while adhering to social distancing measures. The presence of established fitness app providers, a strong fitness culture, and the availability of advanced infrastructure and resources also contributed to North America's dominance in the global market over the forecast period.
However, the Asia Pacific region is set to experience significant growth due to increased investment in health and fitness due to the pandemic. Factors such as rising disposable income and the growing usage of smartphones will contribute to expanding the industry in this region.
Furthermore, the demand for fitness software in Asia will be boosted by increasing disposable income, growing smartphone users, and the rising popularity of smartwatches and fitness bands. Additionally, partnerships among major players will positively influence market growth. For example, Google's launch of Google Fit for the iOS platform, which provides fitness-related recommendations from the World Health Organization, will contribute to the industry's expansion in this region.
Competitive Insight
Some of the major players operating in the global market include Adidas, Aaptiv, Applico, Appinventiv, Appster, Azumio, Inc., Asics Corporation, Fitbit, Inc., Grand Apps, Google LLC, Lenovo Group Limited, Noom, Nike, Samsung Electronics Co., Ltd., Under Armour, Inc., Wahoo Fitness, and TomTom International BV.
Recent Developments
In January 2021, Andorfins was introduced by Andi Dorfman, a unique product that provides users with advanced features, including various fitness challenges, goals, and workout plans. Additionally, in January 2020, Cure. Fit, an Indian startup, acquired Onyx, a fitness product based in California.

In June 2020, HealthifyMe, a health and nutrition app, introduced HealthifyMe Studio, a platform that offers live-streaming interactive workouts. This feature allows users to engage in real-time fitness sessions, enhancing their exercise routines and overall fitness experience.
Fitness App Market Report Scope
| | |
| --- | --- |
| Report Attributes | Details |
| Market size value in 2023 | USD 3.17 billion |
| Revenue forecast in 2032 | USD 11.43 billion |
| CAGR | 15.3% from 2023 – 203 |
| Base year | 2022 |
| Historical data | 2019 – 2021 |
| Forecast period | 2023 – 2032 |
| Quantitative units | Revenue in USD million/billion and CAGR from 2023 to 2032 |
| Segments Covered | By Type, By Platform, By Device, By Region |
| Regional scope | North America, Europe, Asia Pacific, Latin America; Middle East & Africa |
| Key Companies | Adidas, Aaptiv, Applico, Appinventiv, Appster, Azumio, Inc., Asics Corporation, Fitbit, Inc., Grand Apps, Google LLC, Lenovo Group Limited, Noom, Nike, Samsung Electronics Co., Ltd., Under Armour, Inc., Wahoo Fitness, and TomTom International BV. |