The global impregnating resins market was valued at USD 1.84 billion in 2022 and is expected to grow at a CAGR of 6.0% during the forecast period.
There is a rising demand for impregnating resins, especially in the electrical sector, which is driving market growth. These resins are used for various applications, such as rotors and motors in vehicle powertrain systems, transformers in electricity distribution, and household appliances. The market growth is largely due to the need for generators, motors, and industrial machinery to be highly productive and have a long lifespan.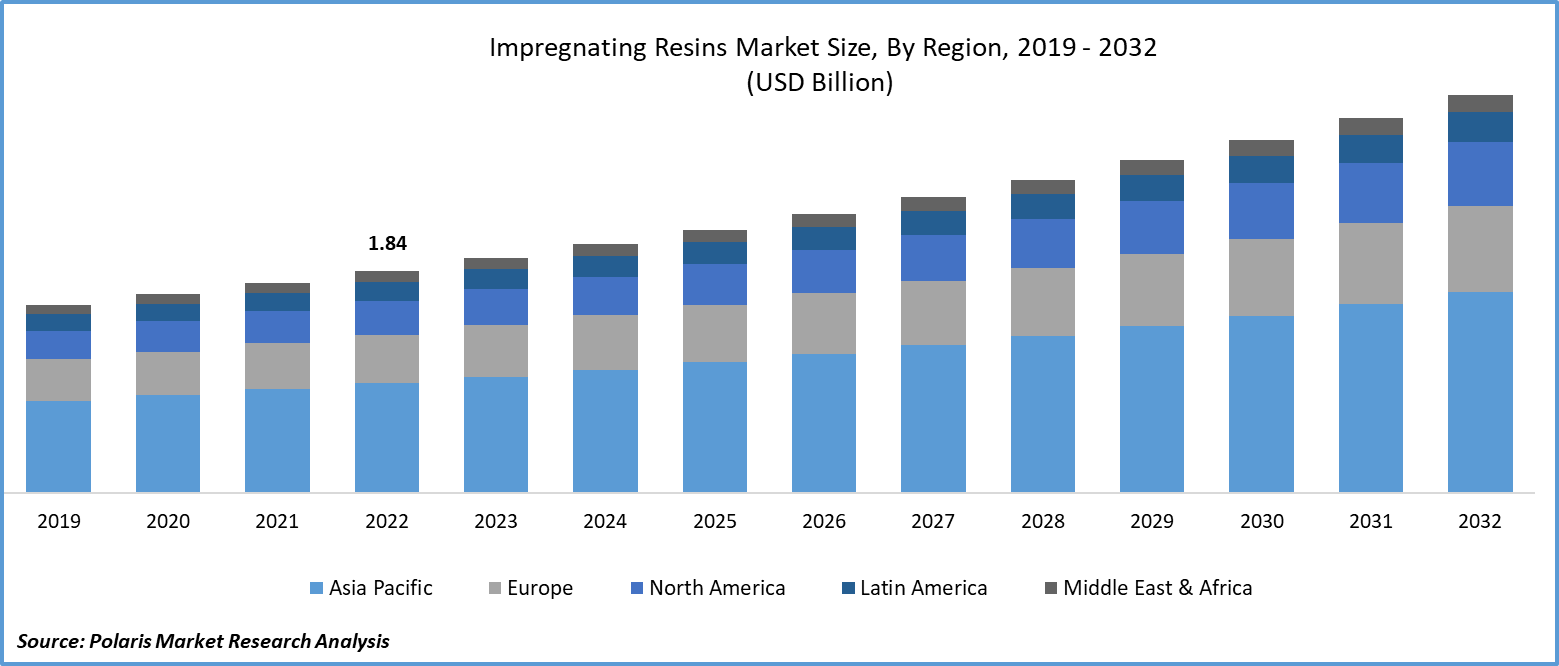 To Understand More About this Research: Request a Free Sample Report
As the installation of electrical grids nationwide increases, the demand for transformers, which play a crucial role in adjusting voltages to accommodate the fluctuating power generation from renewable sources, has also increased. This rising demand for transformers has led to a boost in the need for impregnating resins utilized in transformers for thermal regulation and performance enhancement.
The growing popularity of electric vehicles is driven by advancements in EV technology, energy efficiency, and environmental concerns. As more consumers and industries transition towards electric vehicles, there is expected to be a significant increase in demand for impregnating resins to support the insulation needs of EV components during the forecast period. This rising demand aligns with the broader trend of transitioning to cleaner and more sustainable transportation solutions, contributing to the growth of the impregnating resin market.
The increased demand for electric vehicles, driven by concerns about climate change and air pollution, has led to a surge in the adoption of electrically powered motors and rotors. These components require insulation, leading to an increase in the demand for impregnating resins, which is expected to continue during the forecast period.
Industry Dynamics
Growth Drivers
Growing adoption of impregnating resins in electrical and electronics industries
The increased use of impregnating resins in the electrical and electronics industries is driven by the need to improve the insulation, protection, and performance of electronic components. Impregnating resins are known for their excellent dielectric properties and their ability to resist moisture and chemicals. They are increasingly used to protect sensitive electronic components from environmental factors, ensuring their long-term reliability. The constant advancements in electronic technologies, such as the growing popularity of electric vehicles, renewable energy systems, and the miniaturization of electronic devices, also boost this trend. All these factors demand reliable and durable insulation solutions, making impregnating resins a critical enabler of innovation in the sector.
Electric vehicles rely on impregnating resins to insulate critical components such as motors and rotors. These resins act as electrical insulators, safeguarding the components from electrical currents and environmental factors. By providing effective insulation, impregnating resins enhance the overall performance, durability, and safety of electric vehicles. Moreover, the increasing adoption of renewable energy sources like wind and solar power necessitates the expansion and improvement of the electrical grid. Transformers play a crucial role in adjusting voltages to match the varying power generation from renewables, thus accommodating these fluctuations effectively.
Report Segmentation
The market is primarily segmented based on form, type, application, and region.
By Form

By Type

By Application

By Region

Solventless

Solvent-based

Polyurethane

Polyester

Epoxy

Polyesterimide

Others

Powertrain System

Home Appliances

Transformer

Others

North America (U.S., Canada)

Europe (France, Germany, UK, Italy, Netherlands, Spain, Russia)

Asia Pacific (Japan, China, India, Malaysia, Indonesia. South Korea)

Latin America (Brazil, Mexico, Argentina)

Middle East & Africa (Saudi Arabia, UAE, Israel, South Africa)
To Understand the Scope of this Report: Speak to Analyst
By Form Analysis
Solvent-less resins segment accounted for the largest share in 2022
Solvent-less resins segment held the largest share of the market in 2022. Solventless impregnating resins have gained prominence due to their unique characteristics. Unlike solvent-based resins, they do not contain volatile organic compounds (VOCs) or harmful solvents, making them environmentally friendly and safe for use. This factor aligns with the growing global emphasis on eco-friendly products and sustainable practices, leading to an increased preference for solventless resins.
Moreover, solventless impregnating resins offer higher performance in terms of insulation, adhesion, and durability. They provide excellent electrical insulation properties, ensuring the safety and efficiency of electrical components. Additionally, these resins exhibit superior adhesion to various substrates, enhancing the overall stability and reliability of the insulated parts. Their exceptional durability makes them ideal for applications requiring long-term performance and resistance to environmental factors.
Solvent-based impregnating resins exhibit a higher dissipation factor and increased water absorption tendency at elevated temperatures, primarily because of air voids formed during the curing process. Solventless impregnating resins like solventless polyester impregnating resin have effectively addressed this challenge. These resins act as native additives, serving various functions such as inhibitors, catalysts, and reactive diluents to mitigate the mentioned issues.
By Type Analysis
Epoxy resins segment accounted for the largest share in the market
The epoxy resins segment currently holds the largest market share. This is because epoxy-based impregnating resins are preferred over other options due to their exceptional chemical resistance, thermal stability, and excellent electrical insulation properties. Epoxy resins are known for their remarkable chemical resistance, making them resistant to various corrosive substances and chemicals. This characteristic ensures the longevity and durability of the materials they are applied to, especially in environments where exposure to corrosive agents is a concern.
Moreover, epoxy-based impregnating resins exhibit outstanding thermal stability, allowing them to withstand high temperatures. They maintain their structural integrity even under thermal conditions exceeding 400°F (approximately 204°C). Such heat resistance makes them ideal for applications where exposure to elevated temperatures is common, ensuring the materials remain stable and functional.
Polyurethane resins are anticipated to exhibit the fastest growth with highest CAGR rate, due to the unique properties it offers, including enhanced thermal conductivity, superior electrical insulation with minimal vibrations, a stronger bond, and the absence of bubbles within the resin-winding mass. These resins exhibit boosted thermal conductivity, which means they efficiently transfer heat. This makes them valuable in applications where heat dissipation is crucial. Enhanced thermal conductivity ensures that the components stay within optimal temperature ranges, preventing overheating and maintaining their operational efficiency.
Furthermore, the absence of bubbles within the resin-winding mass is a significant advantage. Bubbles can weaken the structural integrity and electrical properties of the insulation. Polyurethane resins eliminate this issue, ensuring consistent and reliable insulation, contributing to the longevity and reliability of the components.
By Application Analysis
Powertrain segment accounted for the largest share in 2022
The powertrain segment has the largest market share in the impregnating resin industry. This is because impregnating resins play a critical role in enhancing the performance and lifespan of various electrical components. They are commonly used to impregnate electrical windings of rotors and stators in electric motors, hybrid motors, generators, hydraulic motors, pumps, and the coils within transformers. Impregnating resins serve as insulating materials that create a protective layer, enhancing the components' electrical insulation properties. This insulation is crucial for preventing short circuits and electrical failures and ensuring the safe and efficient operation of these devices.
The transformer segment is expected to grow rapidly due to the increasing demand for transformers resulting from the expansion of transmission and distribution activities. This expansion is a key driver for the impregnating resin market. As transformers play a central role in electricity supply systems, it is crucial to ensure their longevity, reliability, and safety through the application of impregnating resins. This leads to sustained growth of this segment in the global market.
Regional Insights
Asia Pacific will grow at rapid pace throughout the forecast period
Asia Pacific exhibited the highest growth rate over the study period. This dominance is attributed to the region's high population concentration, particularly in emerging economies like India and China. The increased disposable income, growing adoption of electric vehicles, and rising demands for advanced transmission and distribution systems have significantly fueled the demand for impregnating resins in this region.
Additionally, favorable government initiatives like Faster Adoption and Manufacturing of Electric and Hybrid Vehicles (FAME) in India offer subsidies as incentives. This has gained significant popularity among the Indian populace, leading to a surge in demand for impregnating resins used in vehicle powertrain systems.
Key Market Players & Competitive Insights
The market is primarily centered on exploring innovative materials that integrate diverse properties, with the expectation that these materials will gain significant traction within the industry during the forecast period.
Some of the major players operating in the global market include:
3M

Aditya Birla Group

ADVANCED ELECTRICAL VARNISHES

Axalta Coating Systems Germany

BASF

Bawa Polymers

Bodo Möller Chemie GmbH.

ELANTAS

Henkel AG

Huntsman International

JYOTI ENTERPRISES

Momentive Performance Materials

Robnor ResinLab

VON ROLL

VUKI a.s.

Wacker Chemie
Recent Developments
In April 2023, Ahlstrom introduced Ahlstrom ECO, a novel impregnation made from renewable lignin for automotive filter media. This product was developed to decrease reliance on resins derived from fossil fuels.
Impregnating Resins Market Report Scope
| | |
| --- | --- |
| Report Attributes | Details |
| Market size value in 2023 | USD 1.95 billion |
| Revenue forecast in 2032 | USD 3.30 billion |
| CAGR | 6.0% from 2023 – 2032 |
| Base year | 2022 |
| Historical data | 2019 – 2021 |
| Forecast period | 2023 – 2032 |
| Quantitative units | Revenue in USD billion and CAGR from 2023 to 2032 |
| Segments covered | By Form, By Type, By Application, By Region |
| Regional scope | North America, Europe, Asia Pacific, Latin America; Middle East & Africa |
| Customization | Report customization as per your requirements with respect to countries, region and segmentation. |