The global oil free air compressor market was valued at USD 11.80 billion in 2022 and is expected to grow at a CAGR of 4.6% during the forecast period.The growing demand for contamination free air, better air quality for critical environments, and to reduce the total cost of ownership are some of the major factors which are driving the growth of this market. These days' businesses are focusing more of cost-cutting by implementing energy-efficient compressors. They provide different advantages such as lower maintenance cost along with less expensive filter replacements. They also reduce the extra energy which is required to maintain the pressure drops in the filters, thus reducing the cost of ownership.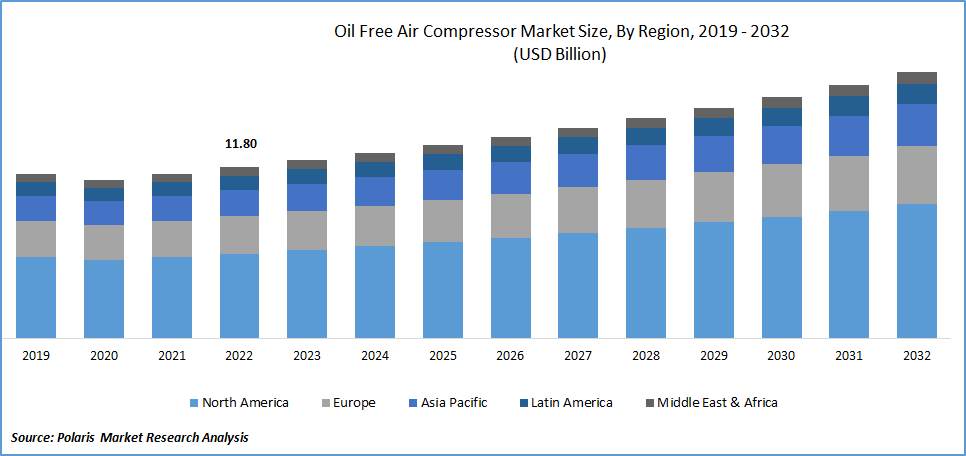 To Understand More About this Research: Request a Free Sample Report
According to the Centre for Sustainable Systems at the University of Michigan predicts that the urban population in the U.S. will increase from 83% to 89% by 2050. The food and beverage business in the United States is changing as a result of this trend. This includes collaborations with distribution channels, mass-market brand development, product innovation, online presence, organic growth methods, and mergers and acquisitions. Automated filling, packing, and bottling lines in the industry rely on valves and actuators controlled by compressed air, but the accumulation of airborne oil can cause disruptions and stoppages, driving the demand for solutions in this Oil Free Air Compressor Market.
The COVID-19 pandemic lockdowns in 2020, imposed by governments around the world to limit the spread of the virus. As a result, various sectors and industries, including the oil & gas industry, faced setbacks. According to the International Organization of Motor Vehicle Manufacturers, the U.S. sold 14.5 million light vehicles in 2020, making it the second-largest market for both car manufacturing and sales worldwide. The U.S. also exported 1.4 million new light automobiles, 108,754 medium and heavy trucks, and automotive parts worth $66.7 billion to over 200 markets globally in 2020, totaling over $52 billion. Additionally, the use of oil-free compressed air in automotive painting offers advantages, which can drive market expansion in the automotive sector in the region.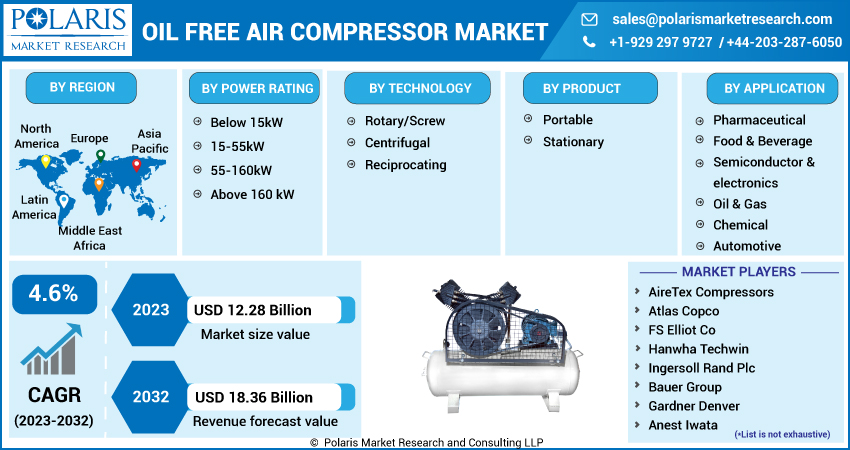 For Specific Research Requirements, Speak With the Research Analyst
Industry Dynamics
Growth Drivers
The increasing demand for energy-efficient air compressors is a notable trend observed in the oil free air compressor market. As businesses and industries focus on sustainability and environmental responsibility, energy efficiency has become a key consideration in their operations. This trend is particularly relevant in the oil-free air compressor market, where the need for clean and contaminant-free compressed air is critical in various applications, such as pharmaceuticals, food and beverage, electronics, and healthcare.
Energy-efficient air compressors are designed with advanced technologies that minimize energy consumption and reduce operational costs. These compressors are equipped with features such as variable speed drives (VSD), which allow the compressor to adjust its speed based on demand, resulting in optimized energy usage. Additionally, advanced control systems and monitoring tools enable operators to monitor and optimize compressor performance, further improving energy efficiency.
The growing awareness of environmental concerns, along with stringent regulations and standards for emissions and energy efficiency, are driving the demand for energy-efficient air compressors in the oil-free air compressor market. Businesses and industries are increasingly seeking sustainable solutions that reduce their carbon footprint and operating costs while maintaining reliable and high-quality compressed air supply. As a result, the adoption of energy-efficient air compressors is expected to continue to grow in the oil-free air compressor market.
Report Segmentation
The market is primarily segmented based on power rating, technology, product, application and region.
By Power Rating

By Technology

By Product

By Application

By Region

Below 15kW

15-55kW

55-160kW

Above 160 kW

Rotary/Screw

Centrifugal

Reciprocating

Pharmaceutical

Food & Beverage

Semiconductor & electronics

Oil & Gas

Chemical

Automotive

Others

North America (U.S., Canada)

Europe (France, Germany, UK, Italy, Netherlands, Spain, Russia)

Asia Pacific (Japan, China, India, Malaysia, Indonesia, South Korea)

Latin America (Brazil, Mexico, Argentina)

Middle East & Africa (Saudi Arabia, UAE, Israel, South Africa)
To Understand the Scope of this Report: Speak to Analyst
15-55kW power-rating segment was the dominant market segment in 2022
The 15-55kW power-rating segment was the dominant market segment in 2022. Increasing awareness about air quality and environmental impact has led to stricter government regulations on emissions, prompting oil-free air compressor manufacturers to develop energy-efficient products.
The Canadian government has also allocated USD 200 million in 2022 for energy efficiency funding, particularly targeting low-income households. Additionally, workplace compressors are required to comply with Occupational Health & Safety (OHS) regulations, driving demand for improved air quality and reliability in the market.
Reciprocating segment held the significant market revenue share in 2022
The reciprocating segment was the leading market segment in 2022. Reciprocating compressors, known for their positive displacement mechanism, are favored for their low maintenance cost, ability to generate high pressures, flexibility in usage, and high efficiencies. These factors are expected to drive the demand for reciprocating compressors during the forecast period.
Reciprocating and rotary compressors are the most common types of air compressors, while centrifugal compressors are used in severe or extreme applications. Centrifugal compressors find application in wellhead casing gas reduction, gas boosting, flare removal, gas blanketing, gas evacuation, gas gathering, vapor recovery (VRU), and increased oil recovery. These factors are expected to contribute to the growing demand for oil-free air compressors in the coming years.
Stationary segment is projected to grow at the fastest rate
Stationary oil air compressors are fixed in a specific location and are commonly preferred for long-term projects, as well as heavy-duty applications in the automotive, machinery, and industrial sectors. However, compared to portable compressors, stationary compressors are expected to have slower growth due to special installation requirements.
The stationary product segment is projected to grow at the fastest growth rate during the forecast period. These products are known for their high-quality and larger tank size, resulting in higher air-compression capacity, which makes them popular in industries such as oil & gas and construction. These factors are expected to drive demand for stationary air compressors in the coming years.
Oil & Gas segment is expected to exhibit a fastest growth rate during the forecast period.
The oil & gas application segment is expected to exhibit a fastest growth rate during the forecast period. Air compressors play a crucial role in various operations in the oil & gas industry, including petroleum refining, petrochemical synthesis, pipeline transportation, and gas injection. Oil-free air compressors are gaining popularity in this industry due to their low maintenance requirements, energy efficiency, reduced environmental impact, and lower risk of product contamination. These factors are expected to drive market growth in the forecast period.
Clean air is essential in the healthcare industry for pill manufacturing, culture vessels, aeration tanks, and packaging. Medical air compressors are also used as key components in medical air systems to convert power into potential energy in pressurized air.
North America dominated the global market in 2022
North America region dominated the market revenue share in 2022. This can be attributed to the increasing demand for oil-free air compressors from major industries in the region, including manufacturing, healthcare, energy, and oil & gas. These compressors are favored for their cost-effective operation, optimal performance at varying speeds, and reduced maintenance requirements. Additionally, the oil-free air compressor market in the U.S. and Canada has remained stable and is expected to continue without any significant decline.
Asia Pacific is projected to experience a significant demand growth for oil-free air compressors during the forecast period. This growth can be attributed to factors such as increasing urbanization, rising expenditures on manufacturing facilities, and infrastructural development in countries like Indonesia, Singapore, and Japan. The Advanced Manufacturing Business Development Mission, as stated by the International Trade Administration, aims to assist American manufacturers of advanced manufacturing systems in exploring export opportunities in these markets.
The favorable prospects for U.S. businesses in these countries stem from their robust and expanding sophisticated manufacturing sectors, which are strategically positioned in the Asia Pacific region. Additionally, initiatives such as Make in India have also resulted in the establishment of manufacturing hubs in India, further driving the demand for oil-free air compressors in the region.
Competitive Insight
Some of the major players operating in the global market include AireTex Compressors, Atlas Copco, FS Elliot Co, Hanwha Techwin, Ingersoll Rand Plc, Bauer Group, Gardner Denver, Anest Iwata, Kaeser Kompressoren, Boge Kompressoren, Mehrer Compression GmbH, Cook Compression, Frank Technologies, Hitachi Industrial Equipment Systems Co., Ltd. Rolair Systems, Sullair Corp among others.
Recent Developments
In March 2021, Atlas Copco AB acquired Cooper Freer Ltd., to strengthen its market presence in key regions in the U.K.

In June 2019, Elgi Compressors USA presented the AB 'always Better' series of oil-free screw compressors as a replacement for traditional oil-free compressors. The AB series compressors provide oil-free solutions that guarantee the highest level of compressed air quality.
Oil Free Air Compressor Market Report Scope
| | |
| --- | --- |
| Report Attributes | Details |
| Market size value in 2023 | USD 12.28 billion |
| Revenue forecast in 2032 | USD 18.36 billion |
| CAGR | 4.6% from 2023 – 2032 |
| Base year | 2022 |
| Historical data | 2019 – 2021 |
| Forecast period | 2023 – 2032 |
| Quantitative units | Revenue in USD billion and CAGR from 2023 to 2032 |
| Segments Covered | By Power Rating, By Technology, By Product, By Application, By Region |
| Regional scope | North America, Europe, Asia Pacific, Latin America; Middle East & Africa |
| Key Companies | AireTex Compressors, Atlas Copco, FS Elliot Co, Hanwha Techwin, Ingersoll Rand Plc, Bauer Group, Gardner Denver, Anest Iwata, Kaeser Kompressoren, Boge Kompressoren, Mehrer Compression GmbH, Cook Compression, Frank Technologies, Hitachi Industrial Equipment Systems Co., Ltd. Rolair Systems, Sullair Corp |